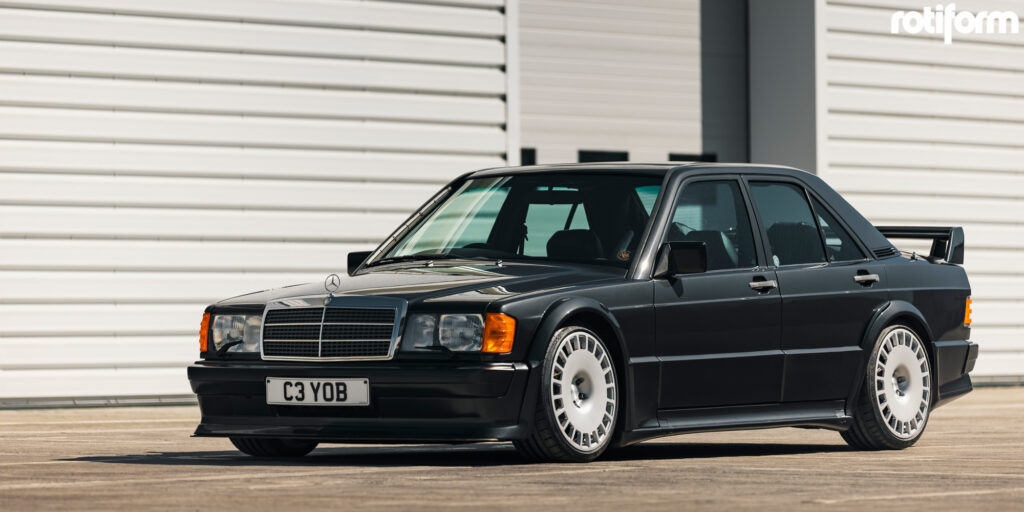 DTM Supreme!
Mercedes-Benz has enjoyed a long history of racing and one of their most iconic road-going racers was the 190E 2.3-16 that found its way into the United States. Originally, Mercedes-Benz wanted to participate in a racing series and settled on Deutsche Tourenwagen Meisterschaft (DTM) where it was required to make a road-going model. The 190E 2.3-16 was born with its detuned Costworth engine and this model with Rotiform wheels is sitting pretty as a sterling examples of '80s power.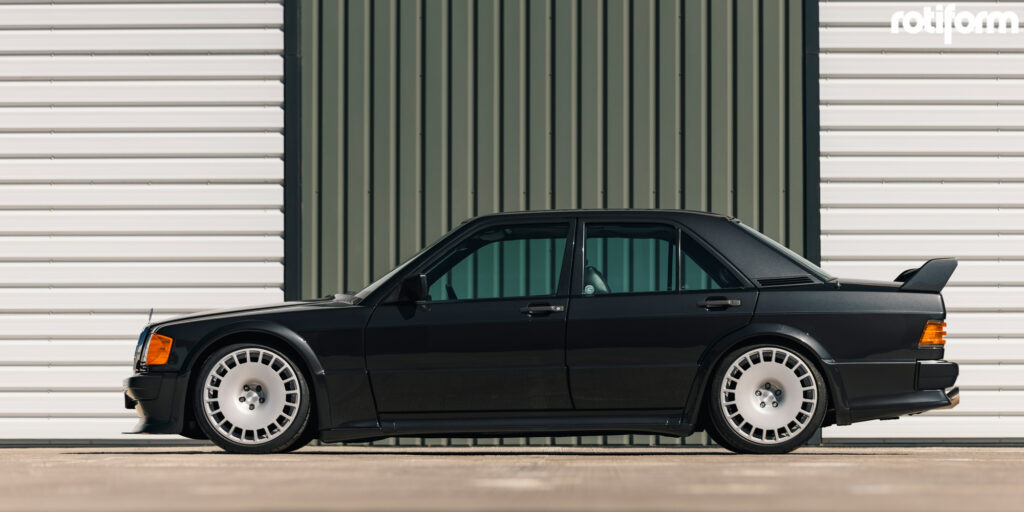 The Mercedes-Benz 190E 2.3-16 boasted a 2.3-liter engine that was modified by Cosworth to increase power and performance. The engine was upgraded to fit four valves per cylinder (hence the '16' designation), different exhaust port sizes, camshaft profiles, Bosch fuel injection, and more. For US-based models, the 190 2.3-16 boasted 167 horsepower at 5,800 RPM and 162 lb-ft. of torque at 4,750 RPM. That power was sent through a dog-leg Getrag five-speed manual transmission to the rear Rotiform wheels.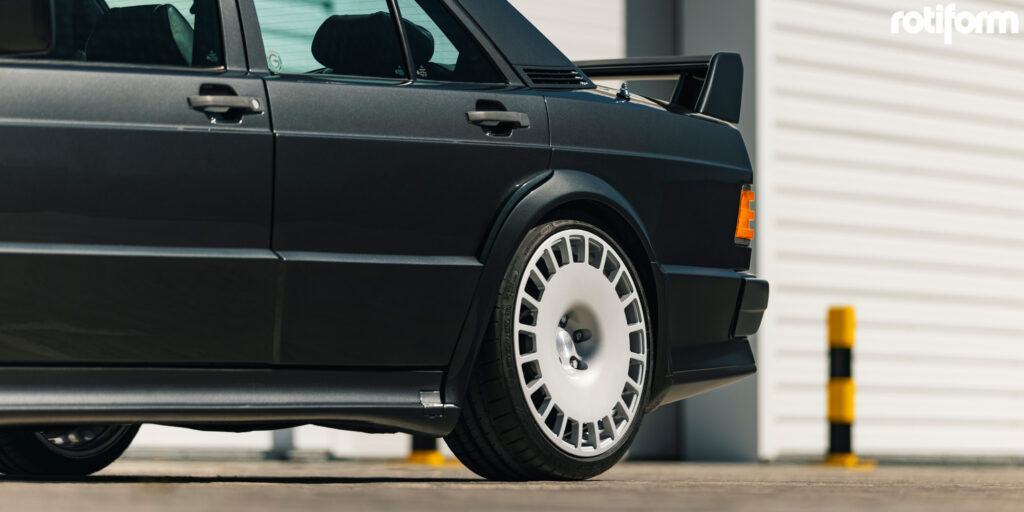 The Mercedes-Benz 190E 2.3-16 also was host to a ton of other goodies that made it ready to rip around the track. Visually, a new aerodynamic body kit complete with front bumper, side skirts, rear bumper, and iconic rear spoiler helped to cut the coefficient of drag down to just 0.32 – one of the lowest for a sedan at the time. Lift was also dramatically reduced. A new suspension dropped the ride height down that puts the Rotiform wheels right in the fenders. It's stiffer, has quicker dampers, fatter anti-roll bars, stiffer bushings, and a unique self-leveling suspension at the rear axle. There's also a standard LSD and Mercedes-Benz ASD electronic locking differential for the sake of traction.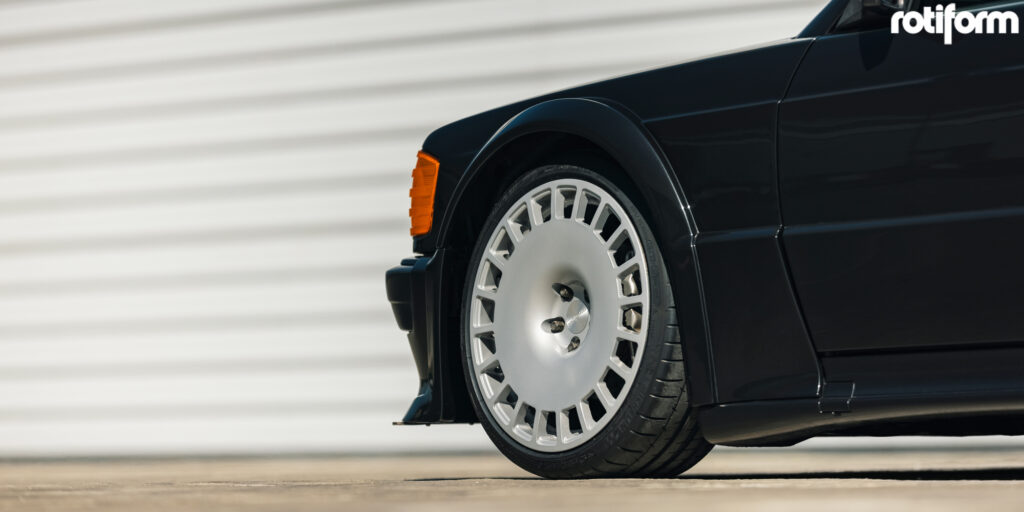 This iconic '80s racer is sporting a set of Rotiform VCE rims. These forged Rotiform wheels feature a retro style that's reminiscent of the rally and road-racing cars of the time. For this fitment, the Rotiform VCE rims were installed in an 18-inch diameter and wear a smooth period-correct Satin Grey finish for an OEM-like look. Each one of the Rotiform VCE rims wears sticky 225/35 ZR18 Michelin tires for all the grip you could want when hitting the track.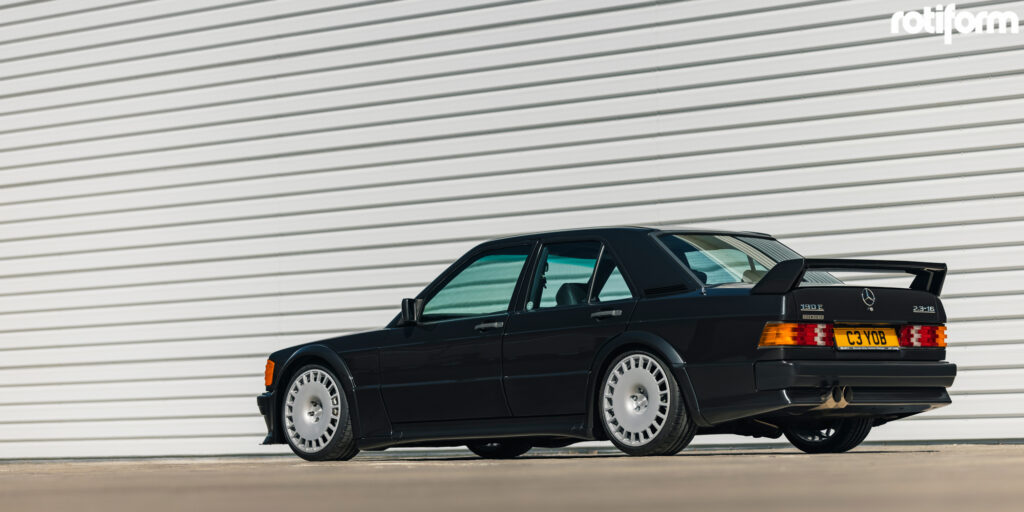 The Mercedes-Benz 190E 2.3-16 might not be the fastest or quickest car on the racetrack, but this bad boy and its Rotiform VCE wheels will certainly be one of the biggest eye-catchers.
Fitment Specifications:
Vehicle: Mercedes-Benz 190E 2.3-16
Wheels: Rotiform VCE
Wheel Diameter: 18 inches
Wheel Finish: Satin Grey
Tires: Michelin
Tire Size: 225/35 ZR18
Source: Rotiform