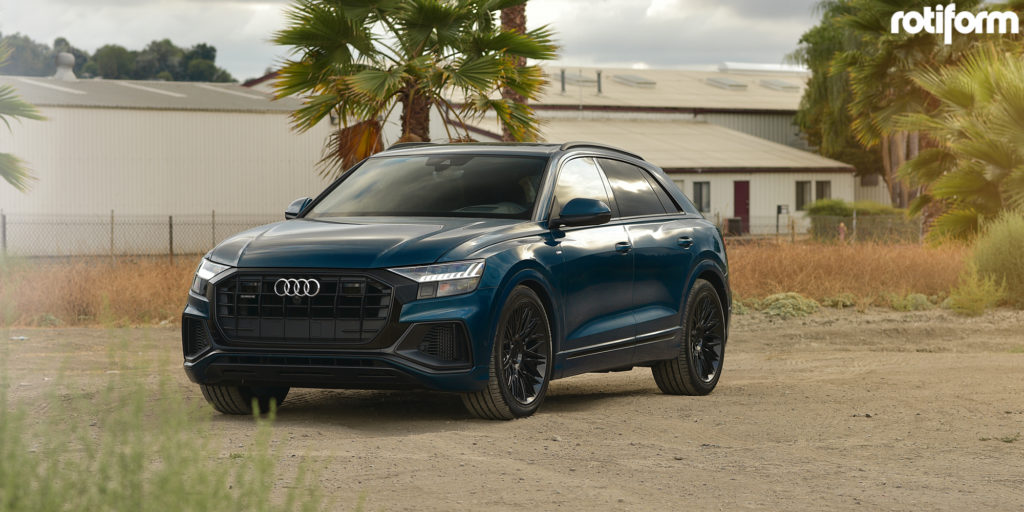 Sleek and Stylish.
The Audi Q8 is the brand's latest entry into the four-door mid-size SUV coupe game. It's a mouthful of a segment and may sound ridiculous, but consumers are buying them up in droves. This sleeker coupe may be better looking than a traditional SUV, but it's also less functional. But who cares when you look better, right? Especially with a new set of Rotiform wheels.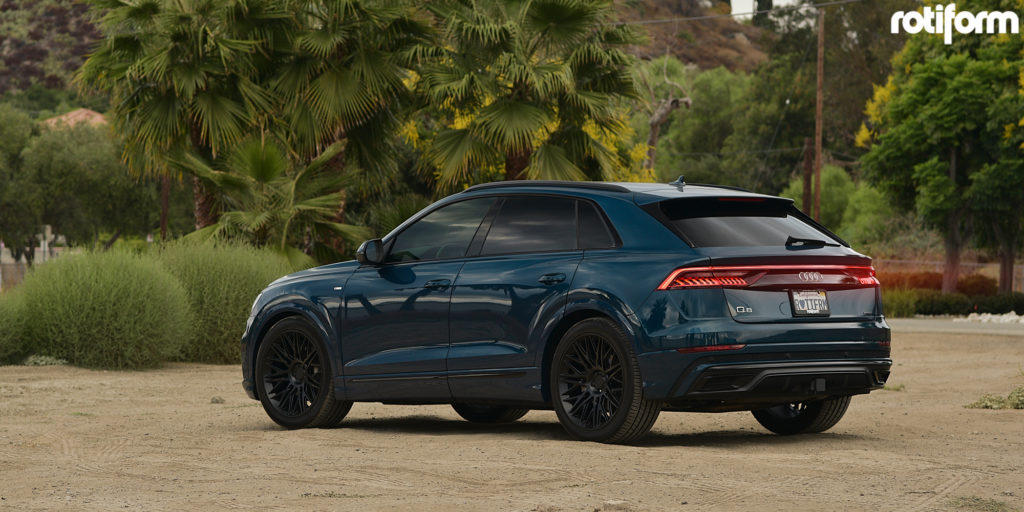 The Audi Q8 was just recently introduced and put into production sporting a range of diesel and gasoline engines along with a higher-performance SQ8 variant. Here, the gasoline-powered Audi Q8 is seen sporting its 3.0-liter twin-scroll turbocharged V-6 engine. In stock form, this motor cranks out 335 bhp from 5,200 to 6,400 RPM and 369 lb-ft. of torque from 1,370 to 4,500 RPM. That's sent through an eight-speed automatic transmission to all four Rotiform wheels, resulting in a 0-60 mph acceleration time of just 5.9 seconds and a top speed of 155 mph.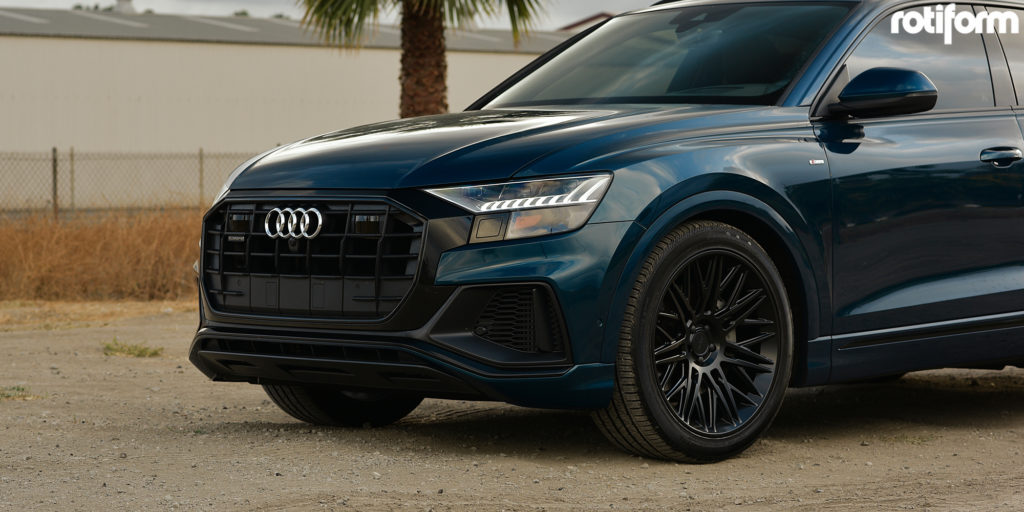 Those numbers are pretty impressive, but so is the four-door crossover coupe's styling. The Audi Q8 is sleeker and slimmer than the Q7 models while also sitting lower and more aggressive. The design language is modern but clean and features a dynamic grille in Black that contrasts the deep Galaxy Blue Metallic paint that's also contrasted by the new Rotiform wheels.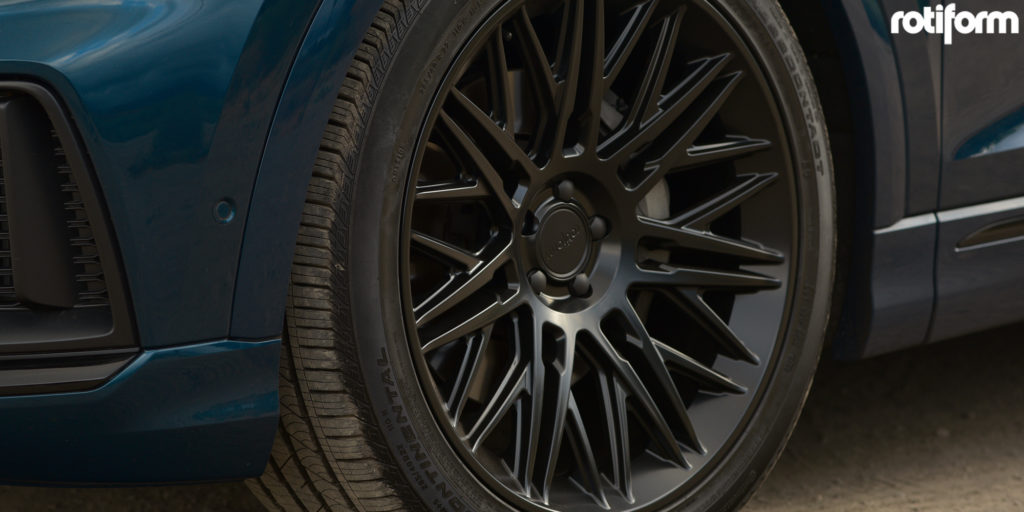 Sitting neatly just beneath the fenders is a new set of Rotiform JDR rims. These Rotiform wheels feature a concave profile and a two-layered mesh design that matches the European feel of the crossover SUV. For this fitment, the new Rotiform JDR rims measure 22 x 10.0 at the front and rear and sport a Matte Black finish to match the contrasting trim found throughout the body.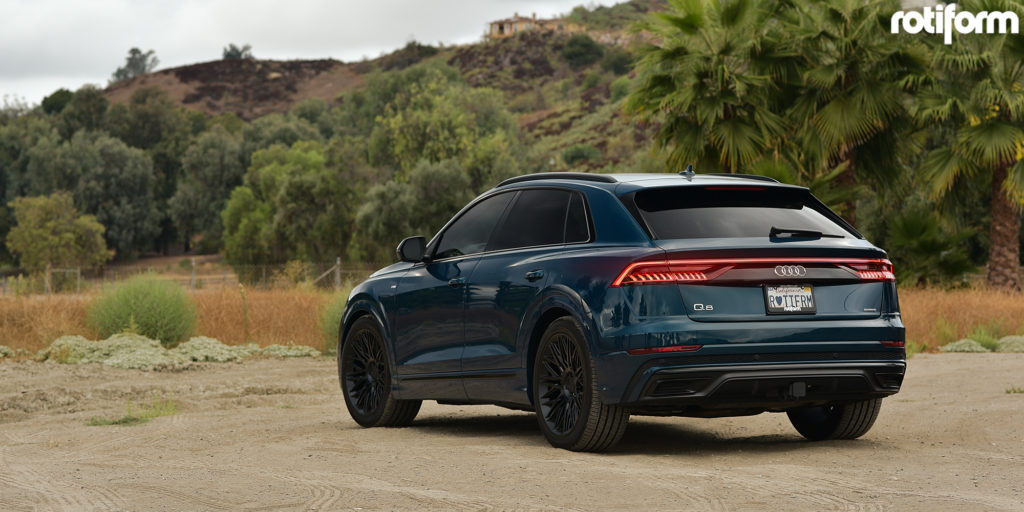 The Audi Q8 might not be the most capable SUV but it's definitely one of the best-looking – especially with a proper set of Rotiform JDR wheels.
Fitment Specifications:
Vehicle: Audi Q8
Wheels: Rotiform JDR
Wheel Finish: Matte Black
Wheel Size: 22 x 10.0
Credit: @ayoandrsn
Source: Rotiform