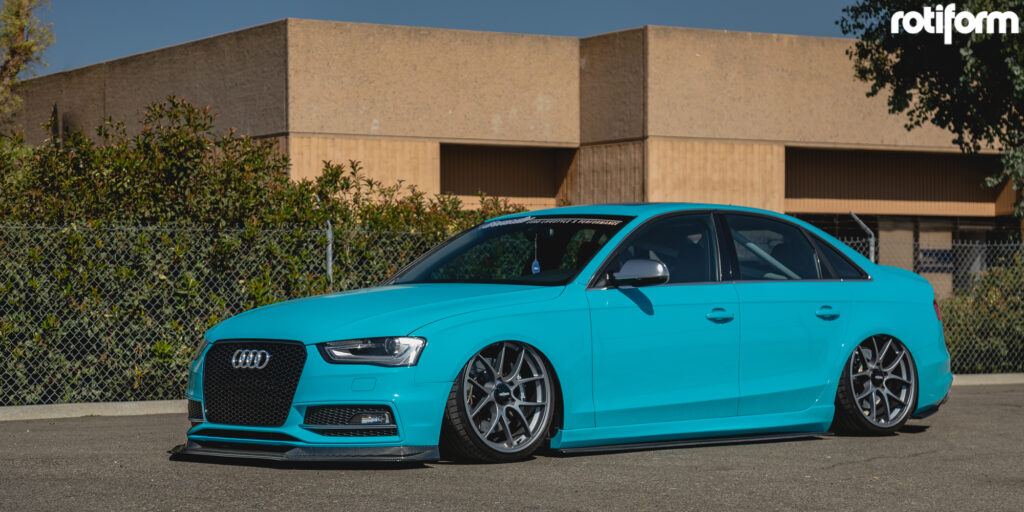 Clean and Low.
The Audi S4 has always been a fun, sporty alternative to the standard A4 model lineup without going big-time into the high-powered, high-cost RS 4 model. It serves up quite a bit of exhilaration and just enough athleticism to generate some excitement on the road. This Sky Blue B8 Audi S4 comes packed with supercharged power, nimble handling, and stunning looks thanks to its new wrap and Rotiform rims.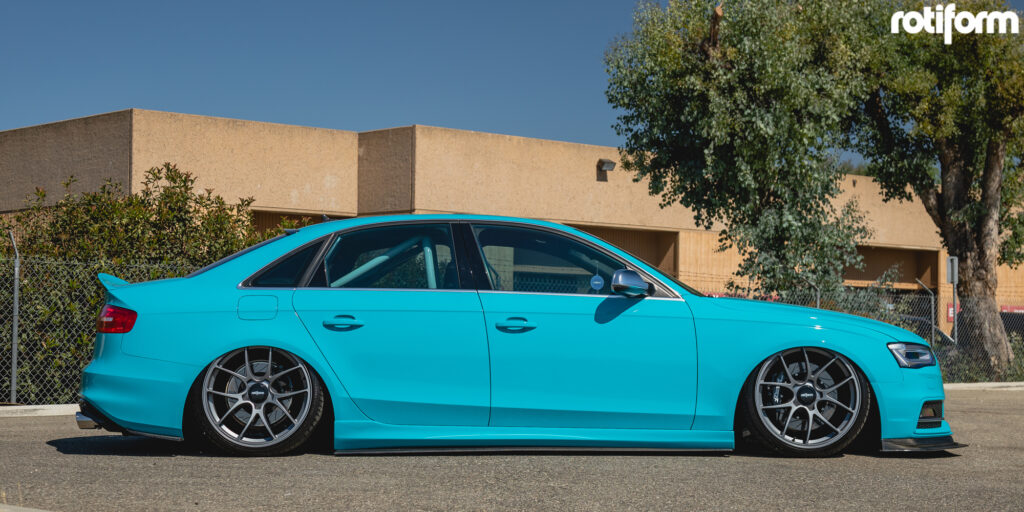 The B8-generation Audi S4 comes standard with a 3.0-liter TFSI supercharged V-6 despite the 'V6T' badge on the front fenders. Here, it serves up a healthy 329 bhp from 5,500 to 7,000 RPM and 325 lb-ft. of torque from a low 2.900 to 5.300 RPM. That's sent to all four Rotiform rims through a choice of six-speed manual or seven-speed dual-clutch transmissions. Armed with this power, the Audi S4 can scoot to 62 mph from rest in just 5.1 seconds – more than enough to have some fun in traffic.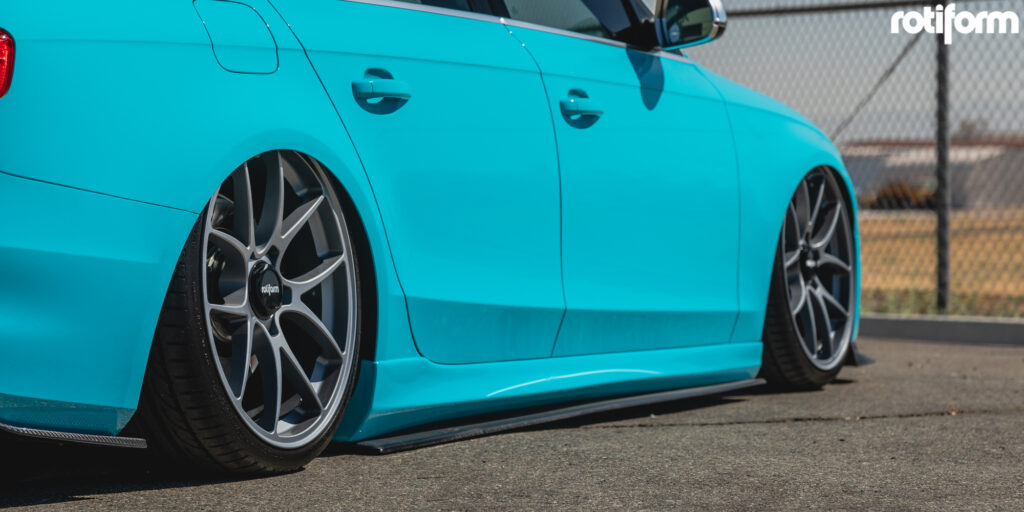 This Audi S4 also benefits from a list of other goodies. There's a new exhaust system that lets that supercharged V-6 engine scream. Elsewhere, there's a new carbon fiber rear spoiler and splitter, new side skirts, and a new front splitter to sharpen up the sport sedan's looks. Tucking in the new Rotiform rims is a new air suspension that allows for a true slammed look. Throw on a Sky Blue vinyl wrap and you have yourself a head-turner!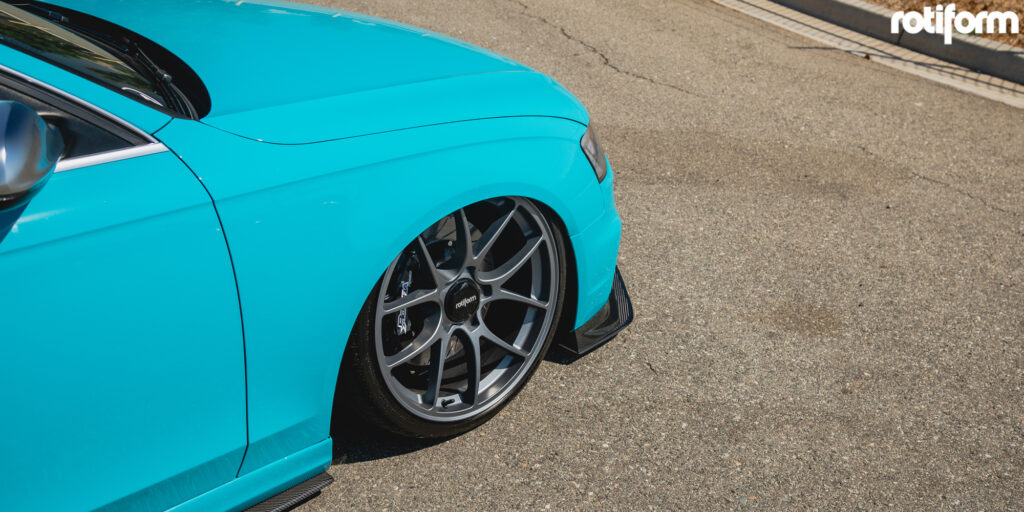 The weapon of choice beneath the fenders is a new set of Rotiform LTN wheels. These Rotiform rims have a classic mesh design with step lip inside. Each Rotiform LTN wheel sports a Satin Titanium finish that works well with the new Blue wrap and measure a solid 20 x 10.0 at the front and rear for a commanding stance.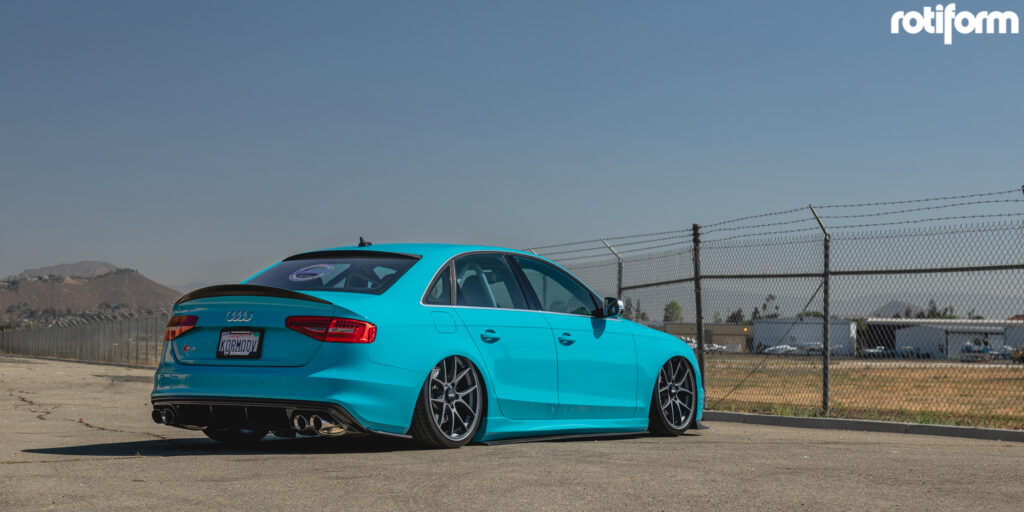 The B8-generaton Audi S4 may no longer be in production, but that's not going to stop this Blue S4 with Rotiform LTN rims, slammed suspension, and carbon fiber aero from making quite a bit of visual and audible noise!
Fitment Specifications:
Vehicle: Audi S4
Wheels: Rotiform LTN
Wheel Finish: Satin Titanium
Wheel Size: 20 x 10.0
Source: Rotiform