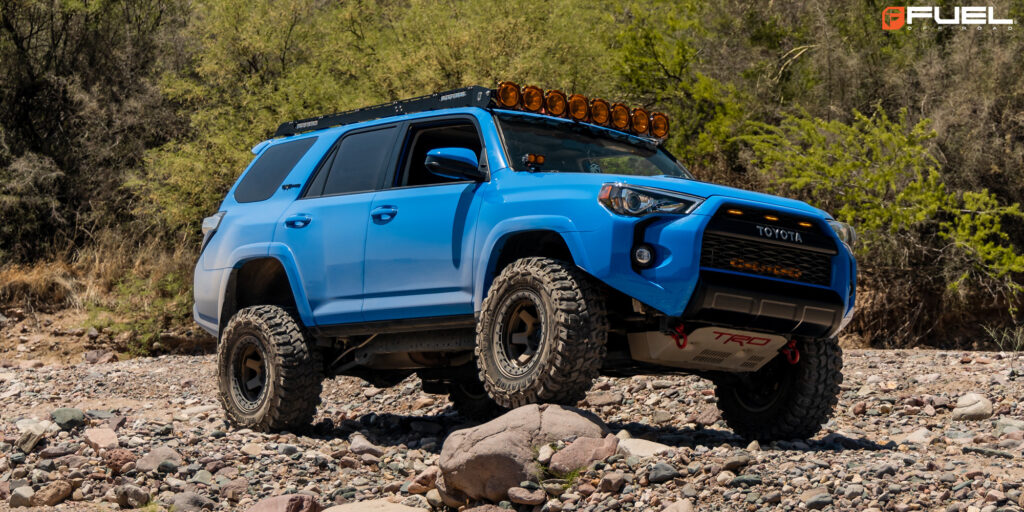 Voodoo Blue Beast.
There's a new kid on the block and it's this Voodoo Blue Toyota 4Runner that's been upgraded with all sorts of OEM and aftermarket modifications for the sake of off-roading and looking good. This Toyota 4Runner TRD Pro comes pretty equipped from the factory but these new upgrades, Fuel rims, and Gladiator tires make it even more fun and exciting to take through the trails.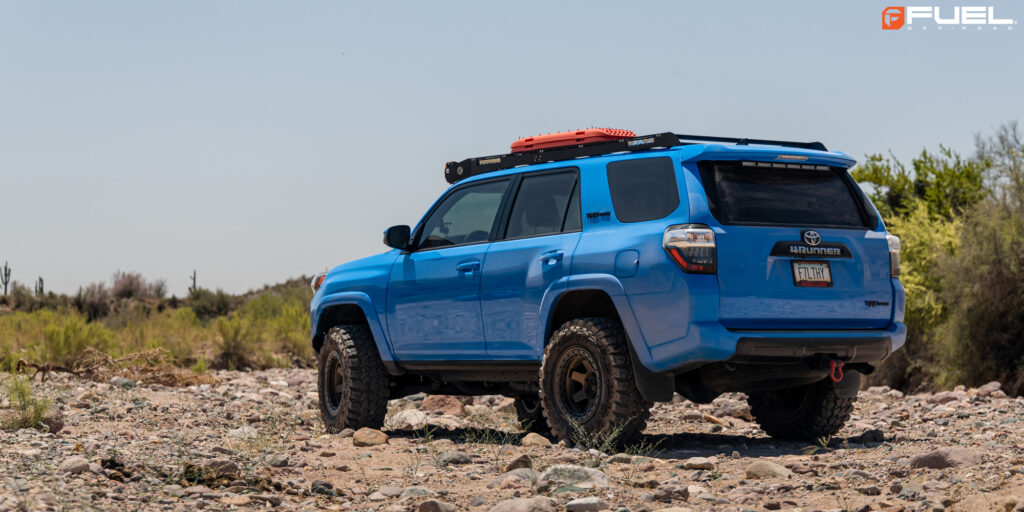 The Toyota 4Runner TRD Pro features the same basic platform and powertrain as the standard models, giving it quite the starting point for off-road fun. There's a 4.0-liter, naturally-aspirated V-6 engine that generates 270 horsepower and 278 lb-ft. of torque. That's sent through a five-speed automatic transmission to either the rear or all four Fuel rims. Those numbers might not be earth shattering, but they are more than enough to get the body-on-frame SUV to move all over the earth.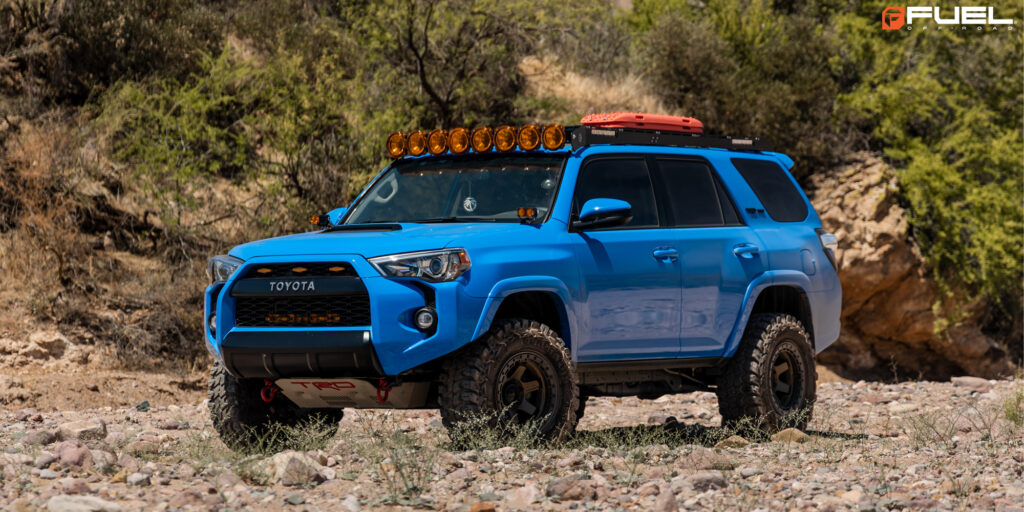 For the TRD Pro models, the 4Runner gains a new set of TRD Bilstein shocks, TRD front springs, and a new TRD front skid plate. For the 2019 model year, VooDoo Blue was also offered as an exclusive color. This owner added their own special touch by adding new Yellow KC lights and matching front grille LED light bar and lights while Red tow hooks and a painted 'TRD' sits below on the skid plate. A beefed up suspension helps make room for the new Fuel rims and Gladiator tires while a roof rack sits up top for all the cargo on long trips.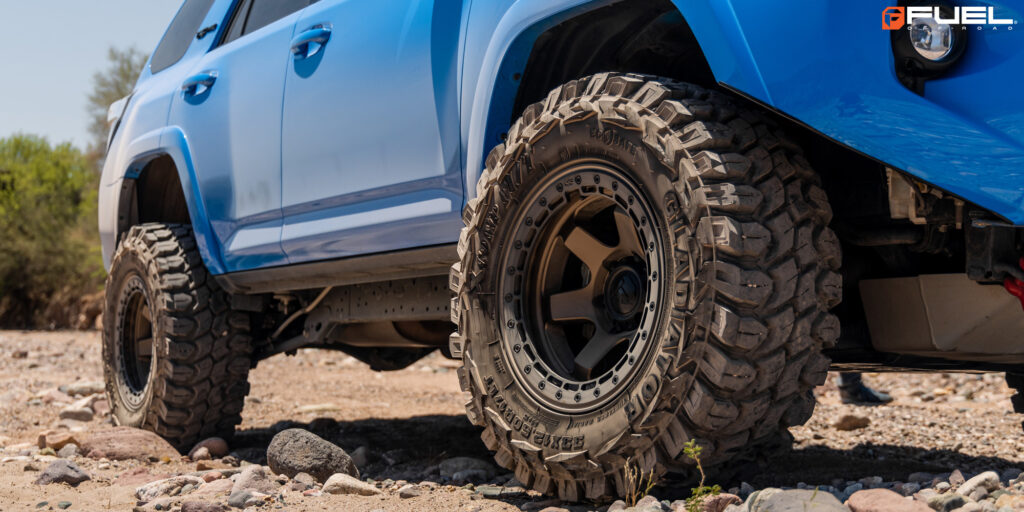 Helping to churn through any kind of terrain thrown at the 4Runner is a new set of Fuel Block Beadlock – D122 wheels and meaty Gladiator tires. This fitment sees the Fuel rims installed in a 17-inch diameter at the front and rear, and finished with a Matte Black and Black beadlock ring combo. These six-spoke, concave Fuel Block Beadlock – D122 wheels are also shod in 33 x 12.50 R17 LT Gladiator X Comp M/T tires, ensuring that grip is never in short supply no matter what kind of terrain is beneath.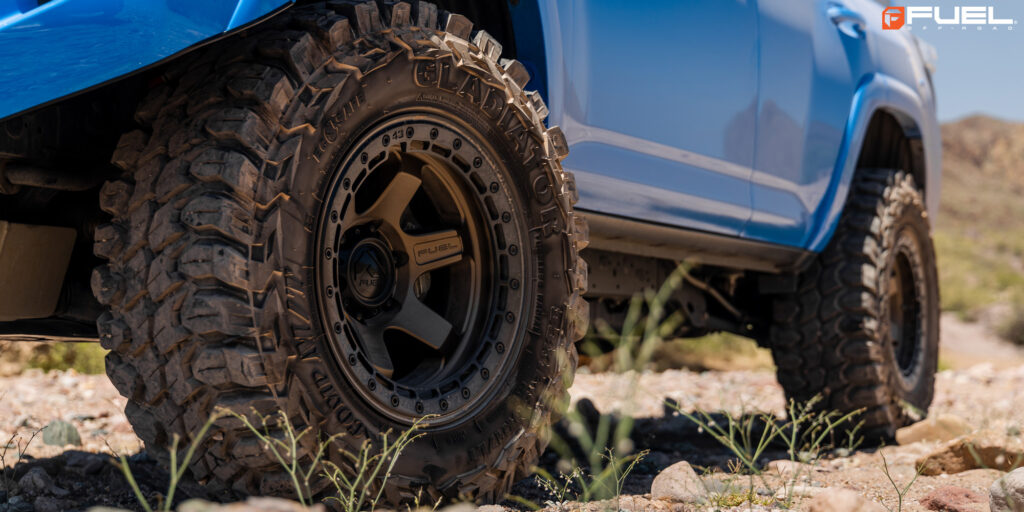 This Toyota 4Runner TRD Pro is easily going to stand out on the trails thanks to its new Fuel Block Beadlock – D122 rims, Gladiator X Comp M/T tires, and Voodoo Blue exterior.
Fitment Specifications:
Vehicle: Toyota 4Runner TRD Pro
Wheels: Fuel Block Beadlock – D122
Wheel Finish: Matte Black with Black beadlock ring
Wheel Diameter: 17 inches
Tires: Gladiator X Comp M/T
Tire Size: 33 x 12.50 R17 LT
Source: Fuel Offroad