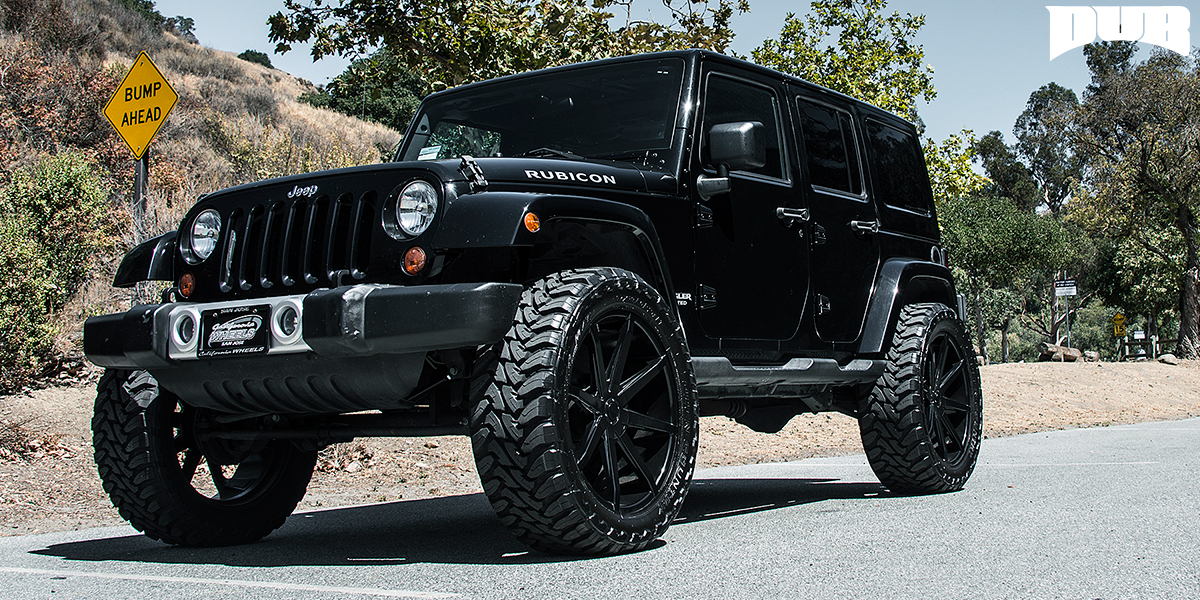 The dark side of off road.
There's something powerful and tough about taking your vehicle off road. Blazing your own trail gives you a sense of freedom and power, and the Jeep Wrangler has been a vehicle of choice for many off road enthusiasts for years. Their factory Wrangler wheels are more than happy to go over dirt, mud, snow, gravel, rock, and any other kind of dirty terrain that sits in their path. Sometimes it's good to showcase that off road power with a darker style and this 2007 Jeep Wrangler Rubicon has got it down. From the black DUB rims to the lifted suspension and beefed up tires, this SUV is ready and willing.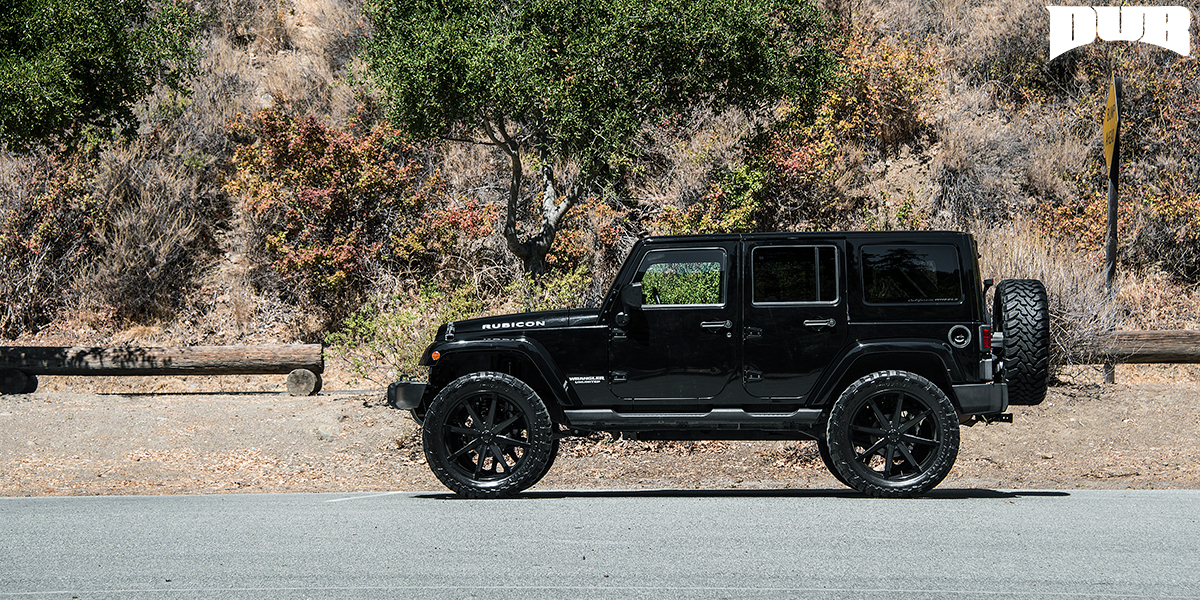 While the 2007 model-year Jeep Wrangler Rubicon doesn't pack the same punch as its Pentastar-powered younger siblings, it still manages to hold its own. Powering all four of the Wrangler wheels is a 3.8-liter V6 engine churning out 202 horsepower and 237 lb-ft. of torque. That's a respectable figure for an off road SUV and its sinister all-black coat with DUB rims and upgraded suspension.
The main focus for the Jeep Wrangler Rubicon was below the waistline. Things started off with the factory set of Jeep Wrangler wheels being replaced with a new set of DUB rims. The one-piece DUB Push – S110 rollers wear a slick gloss black finish that perfectly matches the factory paint. In addition, the eight-spoke DUB Push – S110s measure a staggering 24 x 9.5 at the front and rear axles – a massive boost over the factory Wrangler wheels.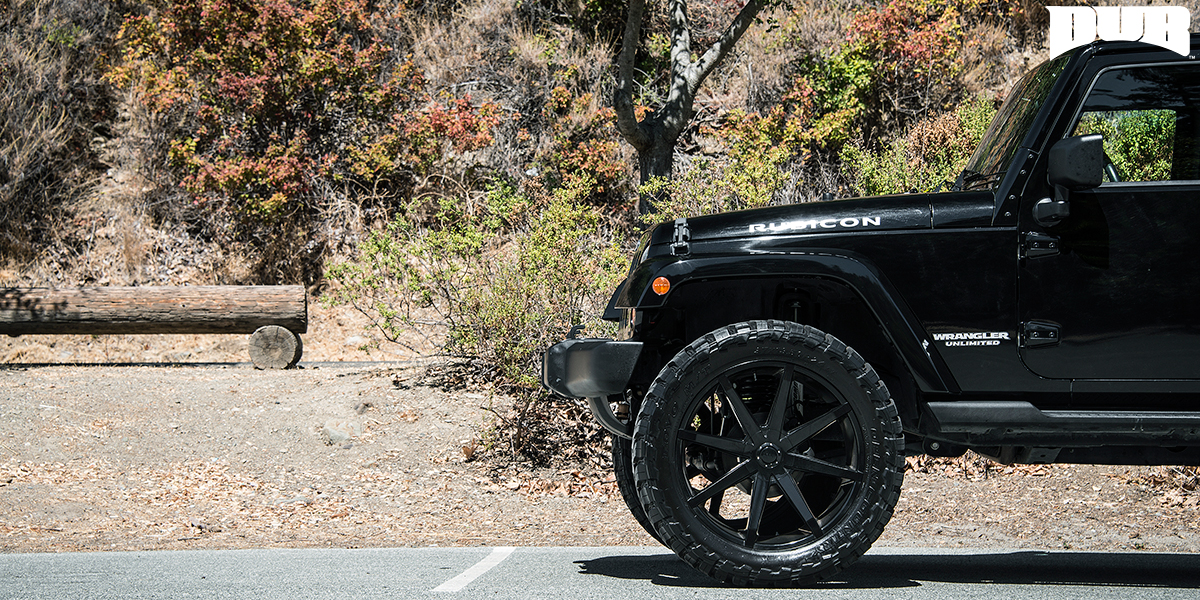 Next up was a new set of tires. The sheer size of the new DUB rims meant the factory tires could not be used. So, a new set of Toyo Open Country M/T tires measuring 37 x 13.5 x 24 were installed at the front and rear axles and allow for the Jeep Wrangler Rubicon to be even more proficient on its off road adventures.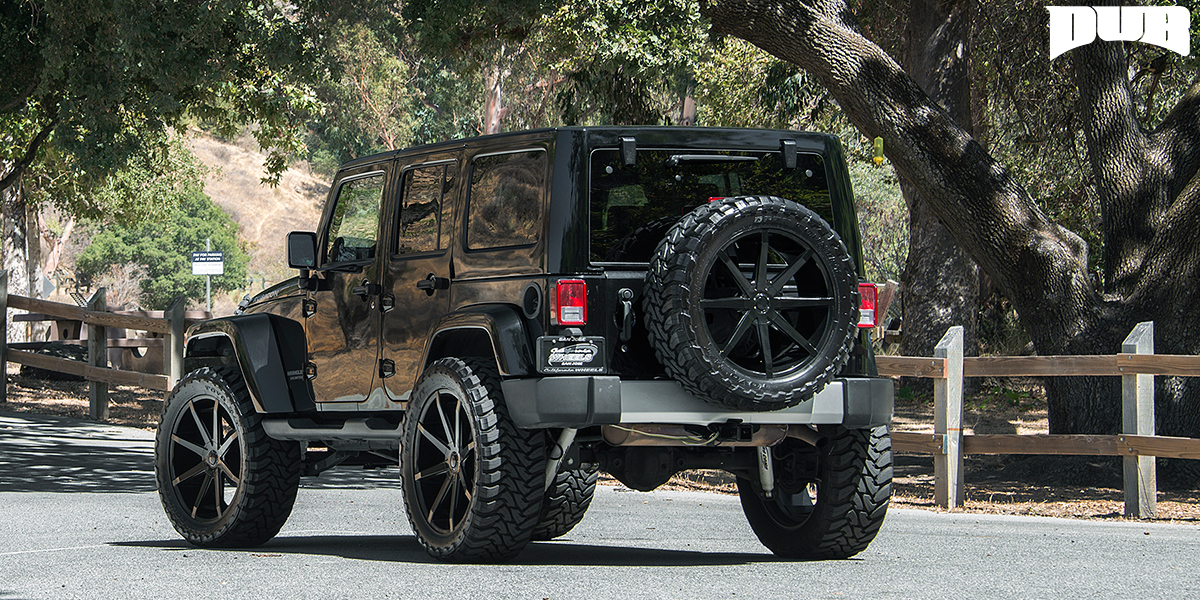 The final touch for the Jeep Wrangler Rubicon was a new suspension. The added size of the wheels required that more room be provided under the wheel wells. To achieve this, the Jeep Wrangler was outfitted with a new 4.0-inch Pro Comp lift kit and Pro Comp track bar that ensures more vertical wheel travel and space as well as more capability on rugged terrain.
The 2007 Jeep Wrangler may not be the most hardcore off road vehicle around but it certainly looks mean and powerful with its all-black upgrades.
Fitment Specifications:
Vehicle: 2007 Jeep Wrangler Rubicon
Wheels: DUB Push – S110
Wheel Finish: Gloss Black
Wheel Size: 24 x 9.5
Tires: Toyo Open Country M/T
Tire Size: 37 x 13.5 x 24
Suspension: 4.0-inch Pro Comp lift kit and Pro Comp track bar
Source: DUB Wheels