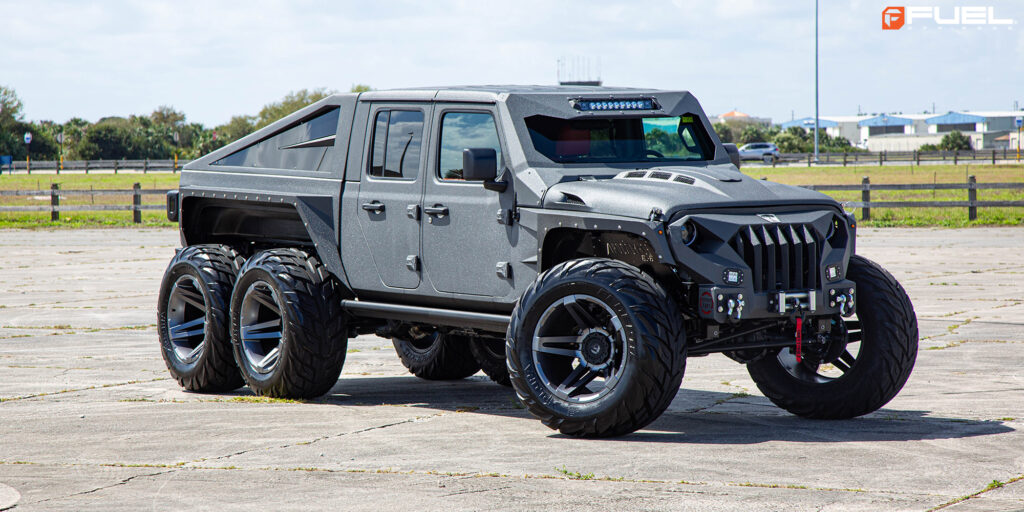 Ready for an all-out assault!
If the apocalypse ever comes a knockin', you can be rest assured that you're prepared with a Jeep Gladiator Apocalypse G 6×6 in what remains of your driveway. Built by SoFlo Jeeps in Ft. Lauderdale, Florida, these custom-tailored monsters are ready for any kind of challenges that get thrown their way from the collapse of society as we know it or just a fun off-road stroll through the mud. This monster of a machine is packing some serious power, style, and excitement, and is wearing a fresh set of Fuel rims.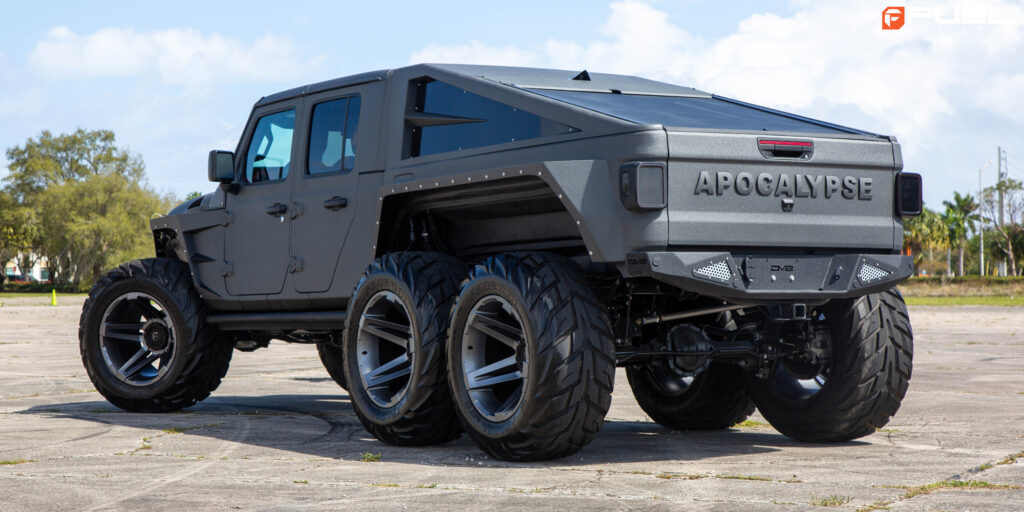 The Gladiator Apocalypse G 6X6 is a sight to behold and packs some serious heat under the custom-made Predator hood is a standard 300-horsepower engine that drives all six Fuel rims. For those that want an even bigger dose of power, they can opt for the Corvette's 6.2-liter LS3 V-8 engine for an additional $30,000. The full-time six-wheel drive features a re-geared and re-assembled 5.13 axle that includes an "unbreakable" middle axle with Detroit Tube Track Locker and 9.0-inch differential.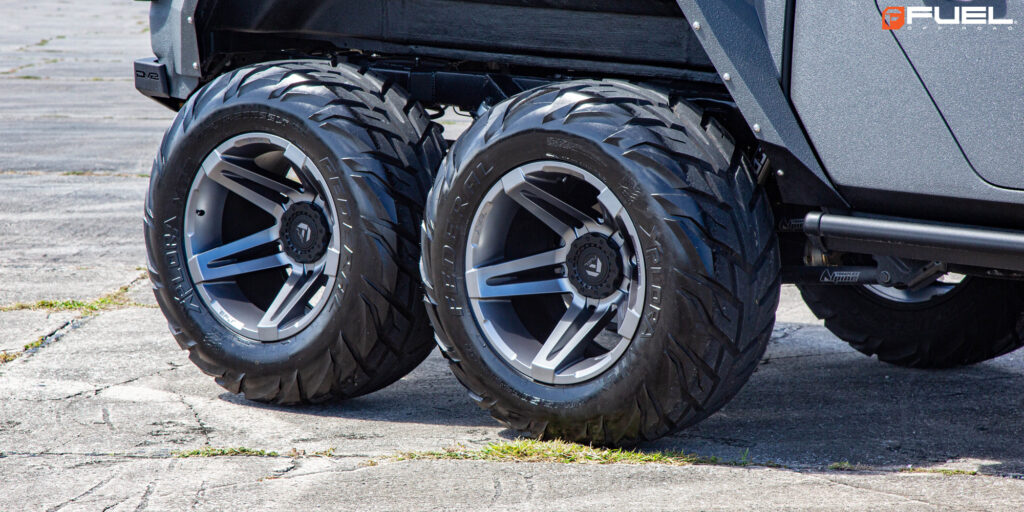 This bad boy can tow 12,000 pounds while sitting on a 5.0-inch lift kit with Falcon Shocks. That gives each axle and the Fuel rims a whopping 14.0-inches of travel, making it ideal for off-roading situations. Visually, the Jeep Gladiator Apocalypse G 6×6 features a steel front Grumper with winch, custom fenders, and a custom roll cage for a wedge-shaped rear profile. New LED headlights and app-controlled Halo lights shine ahead alongside light bars and undercarriage rock lights. Each door can also be removed and entry/exit is easy thanks to automatic power side steps.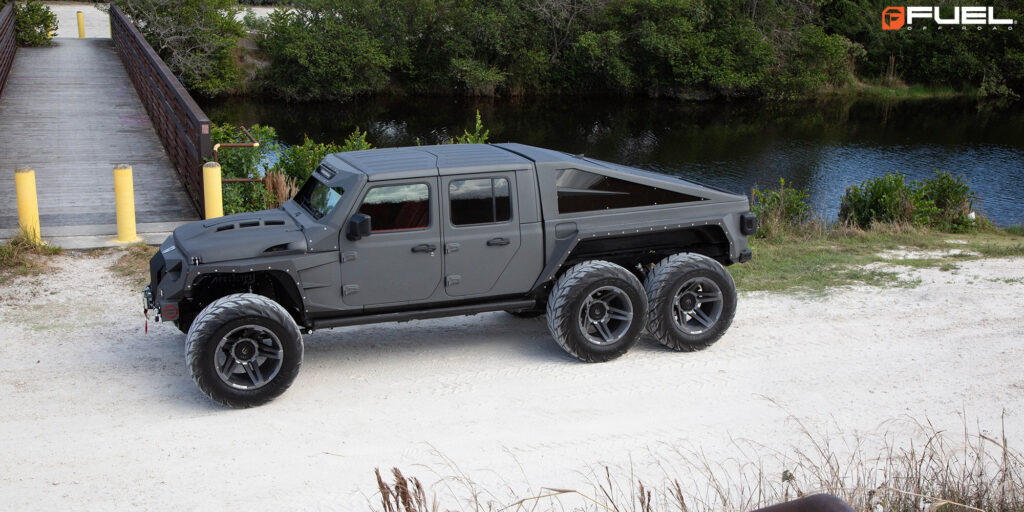 Hitting the pavement, mud, dirt, or bodies of zombies is a new set of Fuel SFJ – D764 wheels. These five-twin-spoke Fuel rims feature a deep concave depth and fit perfectly on this monster of a Jeep. For this fitment, the new Fuel SFJ – D764 wheels were installed in a 20-inch diameter with Matte Anthracite finish and shod in 40 x 15.50 R22 MTS XPLORA MTS tires that offer unrivaled on- and off-road traction.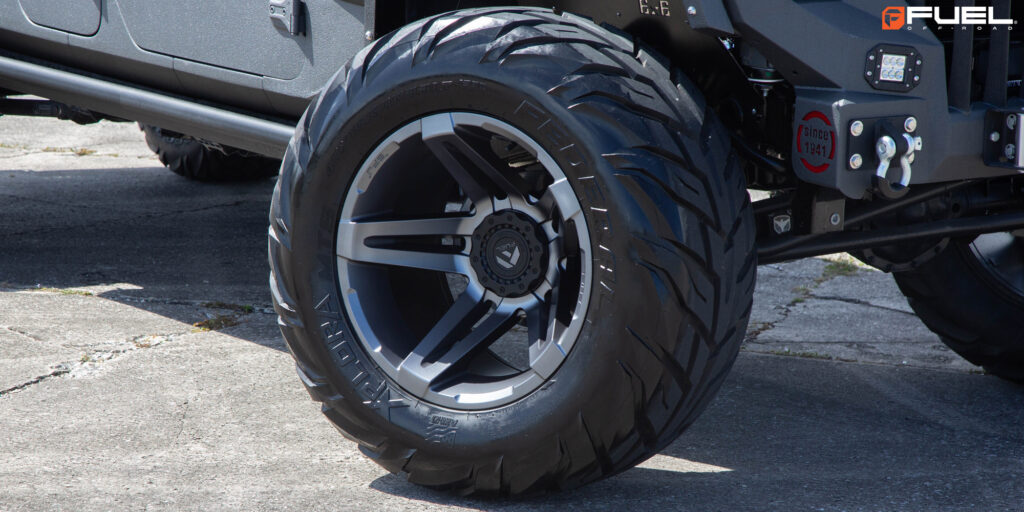 If you're looking to make a statement or just survive the end of the world, the Jeep Gladiator Apocalypse G 6×6 is going to give you a pretty good chance, especially with its Fuel SFJ – D764 rims.
Fitment Specifications:
Vehicle: Jeep Gladiator Apocalypse G 6×6
Wheels: Fuel SFJ – D764
Wheel Finish: Matte Anthracite
Wheel Diameter: 20 inches
Tires: XPLORA MTS
Tire Size: 40 x 15.50 R22 LT
Source: Fuel Offroad
Build Credit: SoFlo Jeeps