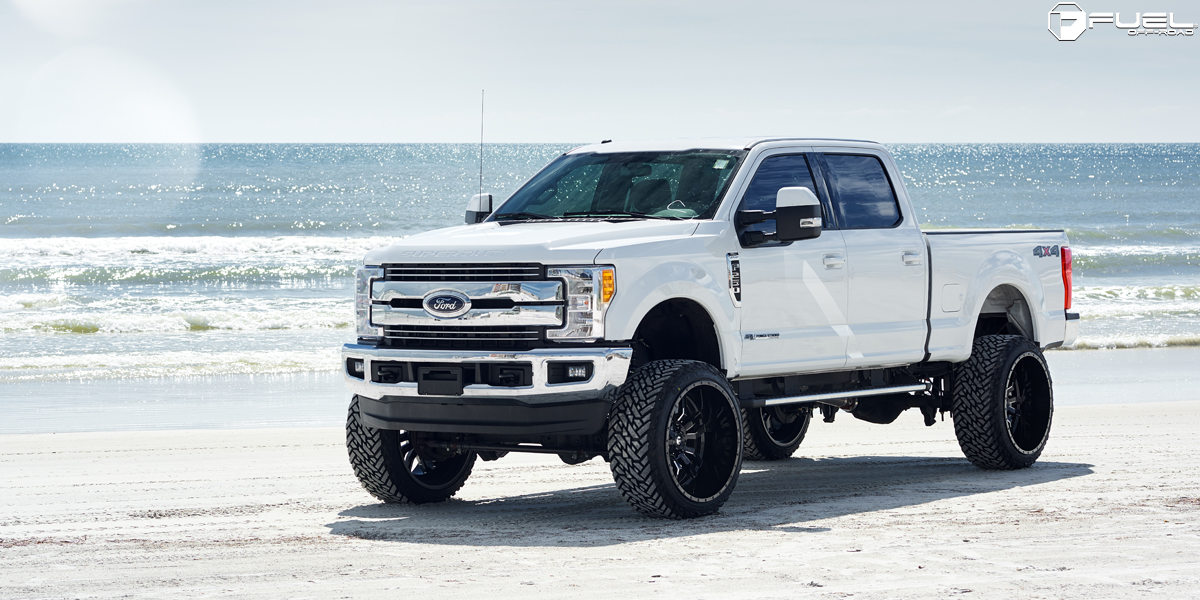 Bummin' it on the beach.
We're all entitled to a vacation once in a while. The best time to go is summer, after all, and this Ford F-250 Super Duty is more than happy to take a break from work and spend a day in the sand showing off its Fuel Wheels.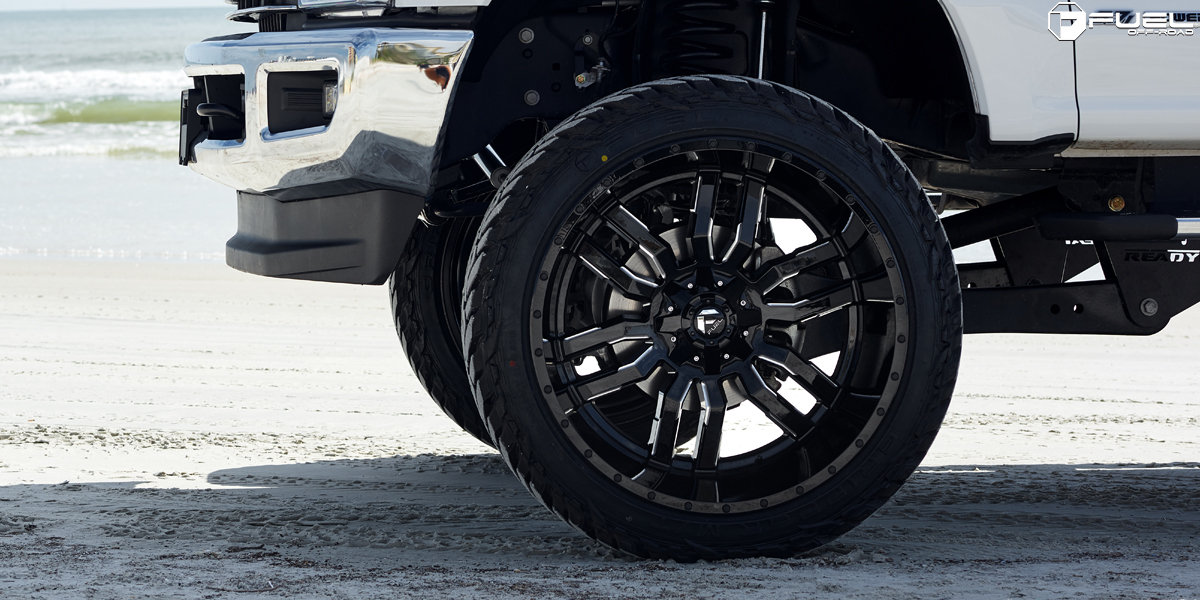 The Ford F-250 Super Duty is all about work. It's designed to haul, tow, plow, carry, and everything in between for those that need to get jobs done. At its heart is a 6.7-liter PowerStroke turbodiesel V-8 engine pushing out 450 horsepower at 2,800 RPM and 935 lb-ft. of torque at 1,800 RPM to those rear Fuel Wheels. That's more than enough to pretty much move anything.
This Ford F-250 Super Duty has all that and a bag of chips. It's a bit more unique thanks to the owner installing a darker tint on the windows to contrast that White body and keep things private. There's also a generous suspension lift that makes more than enough room for the massive Fuel Wheels. This also ensures that the monster of a truck can overcome off-road obstacles with ease. To assist with entry and egress from the lift kit, there's a new pair of side steps as well.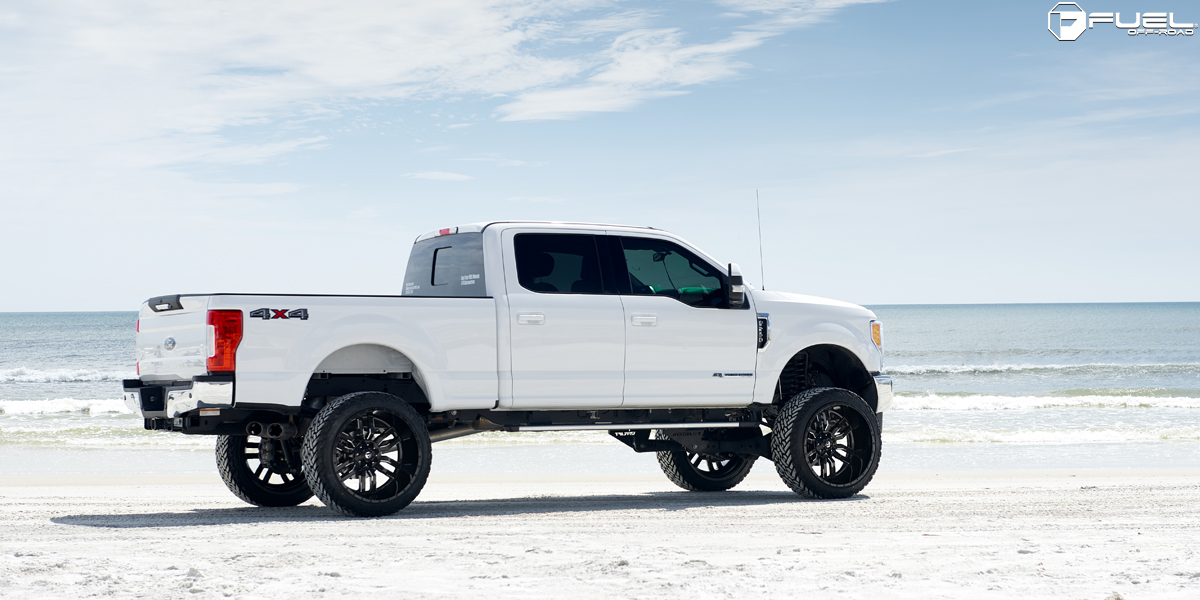 This fitment stars the Ford F-250 Super Duty and its new Fuel Sledge – D595 rims. Here, the new Fuel Wheels were installed with a Gloss Black and Milled finish that contrasts the White body of the truck well. The Sledge – D595 rims were installed in a massive 26 x 14.0 size at the front and rear that perfectly. Each wheel is also shod in Fuel Gripper M/T tires that are made to grip anything off road especially with all the torque from that diesel engine.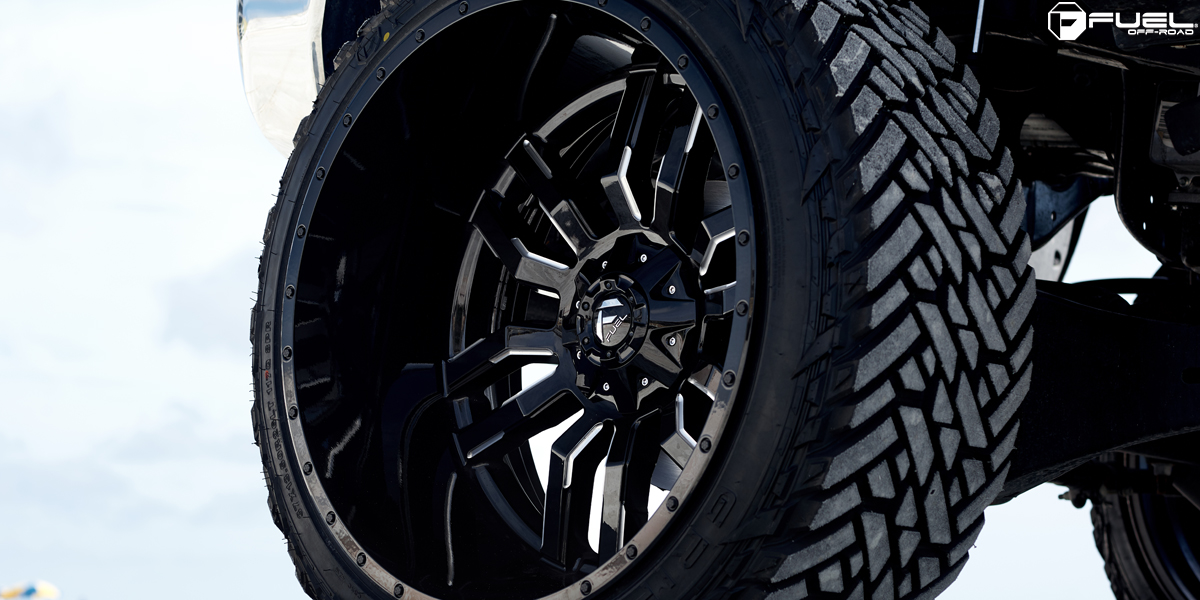 If you're looking to have some fun on the beach and take a break from work, this Ford F-250 Super Duty on Fuel Sledge – D595 rims can show you a thing or two!
Fitment Specifications:
Vehicle: Ford F-250 Super Duty
Wheels: Fuel Sledge – D595
Wheel Finish: Gloss Black and Milled
Wheel Size: 26 x 14.0
Tires: Fuel Gripper M/T
Source: Fuel Offroad