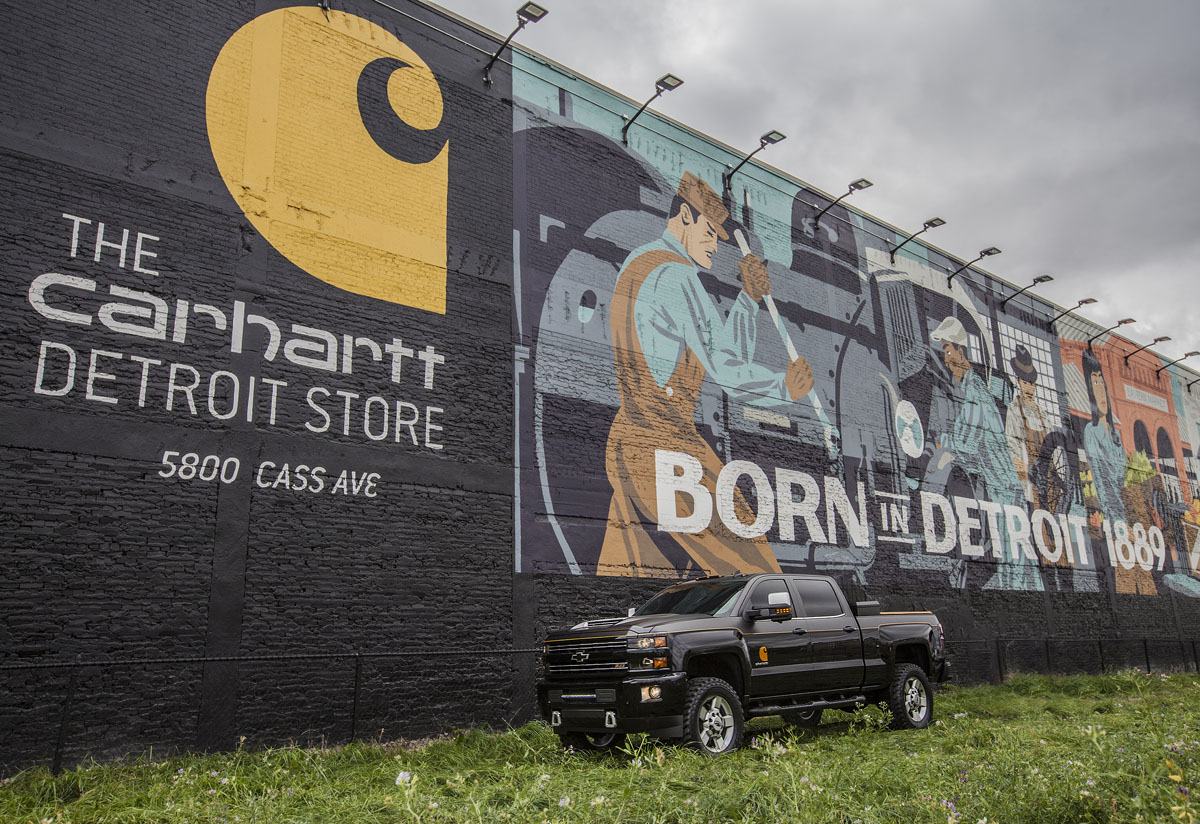 A natural fit.
Many truck owners that use their vehicle for work own some kind of Carhartt apparel. The American brand has been making quality workwear for quite some time and a partnership with Chevrolet on a new truck concept makes for a perfect fit. The new 2017 Chevrolet Silverado 2500HD Carhartt concept has unique material, a special exterior design, custom wheels, and more that celebrates their dedication to getting the job done.
"Chevrolet HD trucks are designed for hard work, and just like your favorite Carhartt, their functionality transcends the workplace to become a style statement," said Sandor Piszar, Chevrolet Truck marketing director. "This concept vehicle mirrors the lifestyles of countless Chevy truck owners, demonstrating the personal connections with the ools of their trades."
"Thousands of people go to work every day and earn their paycheck in a Chevy truck while wearing a Carhartt," said Piszar. "Those products' durability and versatility earn respect and loyalty that's passed on — and that's exactly what this concept explores."
The exterior of the Chevrolet Silverado 2500HD Carhartt concept is more distinct, thanks to the new two-tone Carbon Flash exterior with the upper portion being matte black and the bottom being high-gloss black. A special Carhartt gold pinstripe separates the two colors as it runs along the beltline. New custom wheels and more distinguish it even more.
Inside, a Jet Black interior features the classic Carhartt duck brown material on the seats, arm rests, door panels, and more along with their triple-stitched seams. Carhartt logos are worn by the headrests as well. As a special touch new antique nickel trims are used on the doors, center console, and instrument panel.
"When Carhartt and Chevy started working together on this concept truck, we quickly realized that our mutual respect for hardworking people and the utility they expect from our brands would equal the ultimate truck for anyone who works and plays in the rugged outdoors," said Tony Ambroza, senior vice president of marketing at Carhartt. "For more than 127 years, Carhartt has designed workwear by solving for the needs and practical ways hardworking people use every product we make, and that's the same kind of thinking we applied to this collaboration."
Under the hood of the 2017 Chevrolet Silverado 2500HD Carhartt concept is the new Duramax 6.6-liter turbodiesel V-8 engine. A total of 445 horsepower and 910 lb-ft. of torque drives the new custom wheels with ease and provides more than ample power for towing or trailering.
Elsewhere on the exterior, the new Silverado 2500 HD Carhartt concept has larger trailering mirrors, black bowties at the front and rear, side steps, a bed-mounted tool box, perimeter bed lighting, and antique nickel accents on various components. Even the new 20-inch custom wheels feature the special antique nickel finish.
The new 2017 Chevrolet Silverado 2500HD Carhartt concept was shown at the 2016 SEMA Show in Las Vegas.
Source: Chevrolet