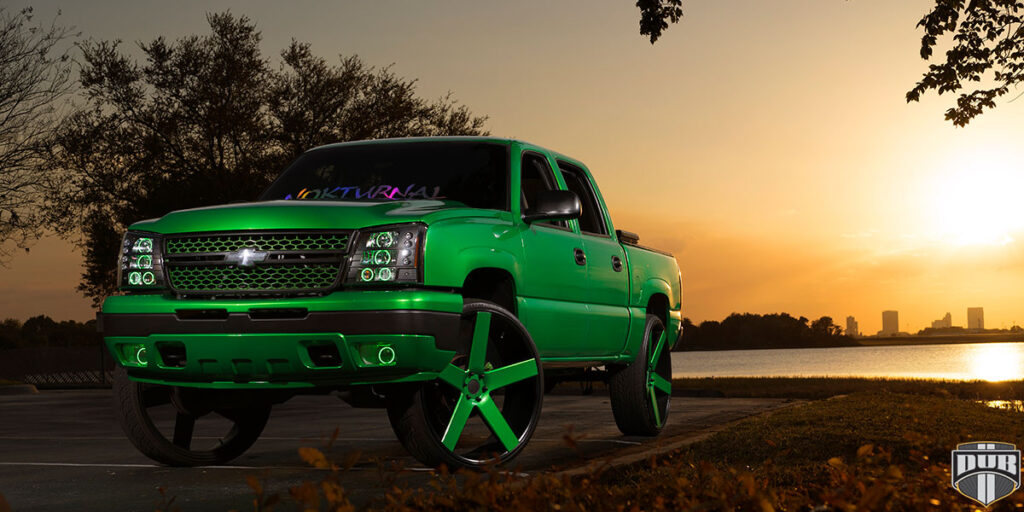 Ghoulishly Green.
The Chevrolet Silverado has a long lineage and history that predates its 1998 debut. This history has made the truck what it was, and is, today. The first-gen models were on an entirely new platform and brought the pickup into the new age. This first-gen model is still turning heads, albeit with extensive suspension and body modifications along with color-matching DUB wheels.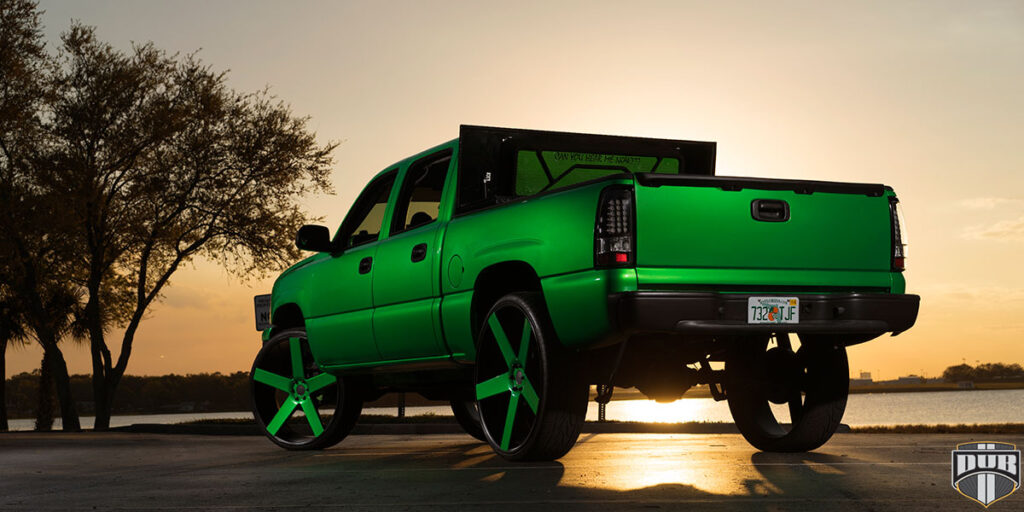 The first-gen Chevrolet Silverado could be had with an array of powertrain options. There was the Vortec 4300 V6, Vortec 4800 V8, and the Vortec 5300 V8 but also a high-output Vortec 6000 6.0-liter V-8 engine that cranked out 345 horsepower at 5,200 RPM and 380 lb-ft. of torque at 4,000 RPM. These could be had in four wheel or two-wheel drive layouts with four-speed automatics or five-speed manuals. This bad boy is rocking a V-8 and still has plenty of muscle to move those DUB wheels around with ease.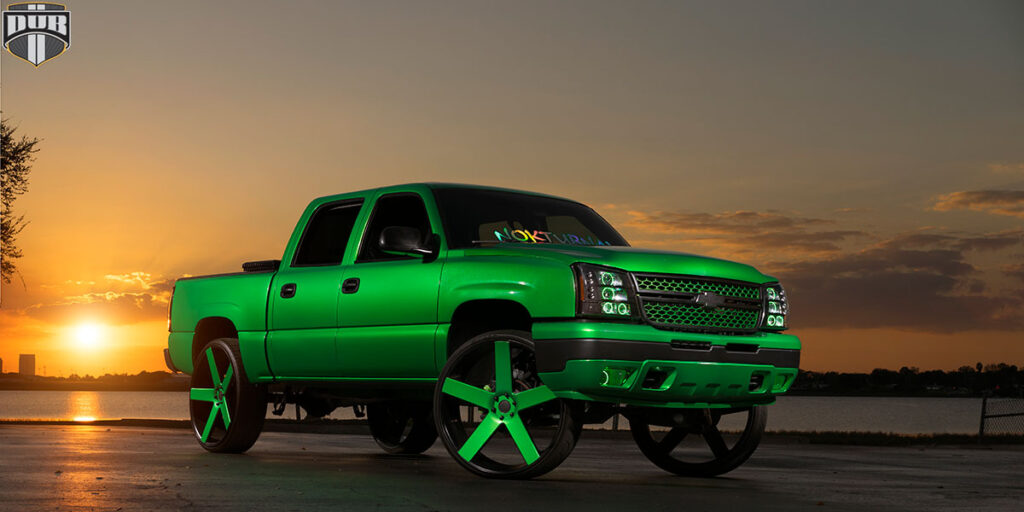 This is definitely not your average first-gen Chevrolet Silverado. There's nothing light duty about this bad boy starting with the vibrant Green exterior. The entire body now ears a smooth satin Green color that is matched by the grille mesh, custom headlights, front bumper, fog lights, and DUB wheels. Other aspects were given a contrasting Black color such as the grille, door handles, front bumper, side mirrors, and headlight housings. There's also a considerable suspension lift kit that allows the new DUB Baller – S116 rims to have clearance.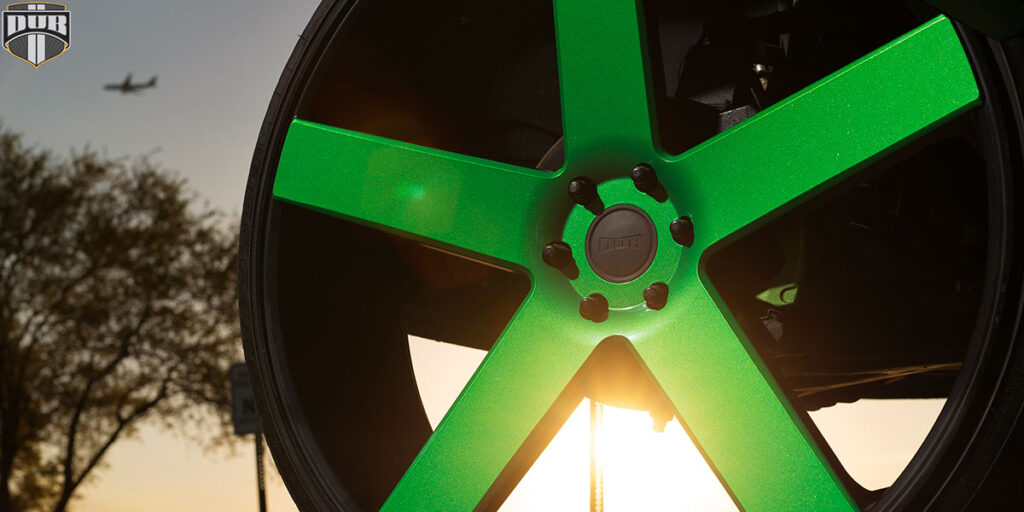 Other than the eye-catching color, the other star of the Silverado show here is the new DUB Baller – S116 rims. These five-spoke DUB wheels measure a hefty 30 x 10.0 at the front and rear and turn this truck into an absolute wagon on the road. Each one of the DUB Baller – S116 rims also boasts a color-matched Green finish and low-profile tires.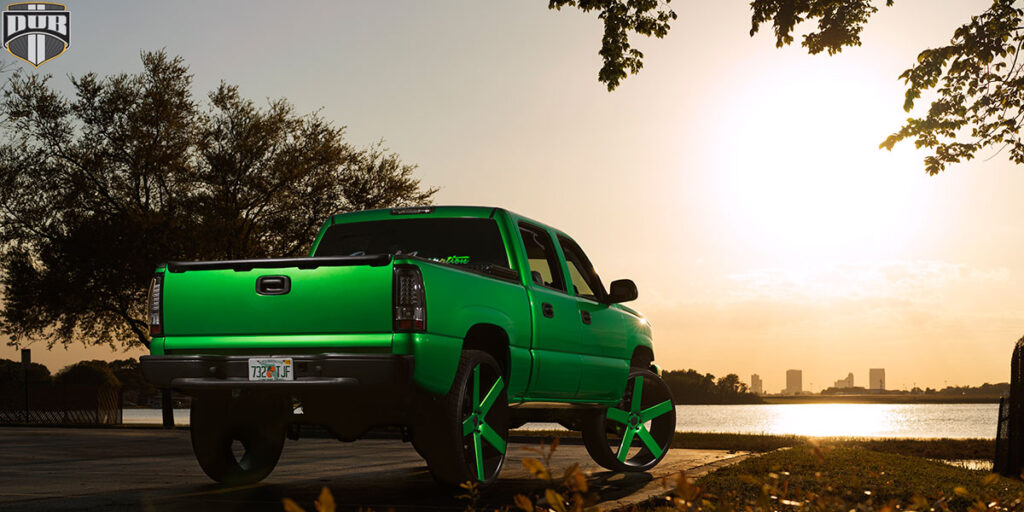 The first-gen Chevrolet Silverado may not be the newest truck on the block, but you can bet that this customized Green bad boy with DUB Baller – S116 wheels is still going to be quite the head-turner.
Fitment Specifications:
Vehicle: Chevrolet Silverado 1500
Wheels: DUB Baller – S116
Wheel Size: 30 x 10.0
Wheel Finish: Color-matched Green
Source: DUB