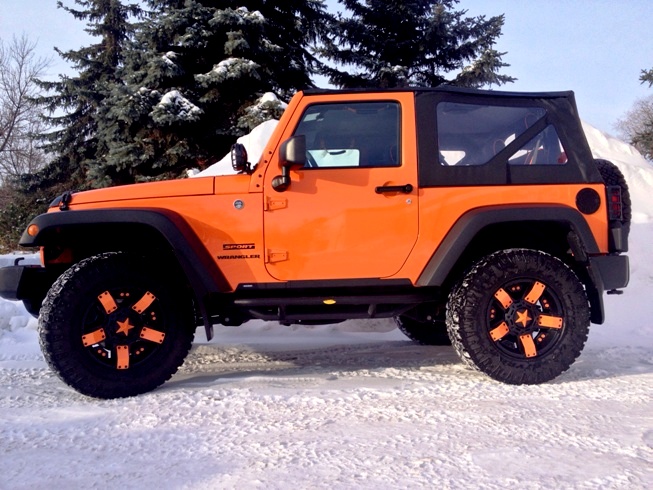 Orange you happy to go off-roading?
Chrysler/FIAT is bringing forth more technology and customization options to the new JK-generation Jeep Wranglers that serve up more power and greater efficiently while still staying true to their off-road identity. This orange 2012 Jeep Wrangler, nicknamed "Krush" has it all from the potent Pentastar V-6 engine to custom-tailored black and orange styling with all the off-road goodies to go along with it. From the ground up, it starts out with some customized XD Rockstar II wheels and suspension bits, and continues with the engine modifications and the bodywork to create a custom-tailored off-roader.
The 2012 Jeep Wrangler "Krush" has all sorts of bodywork and added styling bits to go along with its new set of XD wheels and suspension upgrades. Smittybilt side step bars invite occupants inside and sit between the new Rockstar II wheels. These are protected by Bushwhacker sill guards. Bushwhacker parts also replace the factory rear tailgate and bug deflector, while a Wild Boar air scoop sends fresh air into the engine bay. New Rugged Ridge headlight bezels, taillight and parking light Euro guards pair up with KC windshield fog lights to light a path at night. A new Rugged Ridge gas cap cover and grille inserts add that further touch of customization as well.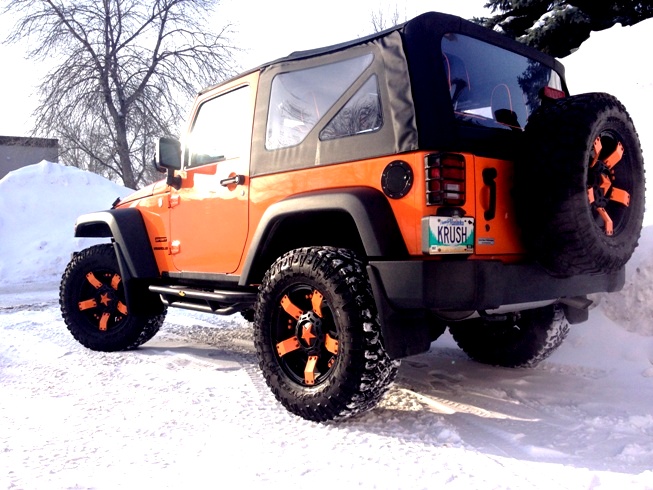 Driving all four XD Wheels is the 3.6-liter Pentastar V-6 engine that boasts more power and better fuel economy than the previous generation V-6 engine used in the Jeep Wrangler. The "Krush" Wrangler was also outfitted with a new black Magnaflow axle-back dual exhaust system to free up a few ponies for those Rockstar II wheels and add an aggressive soundtrack.
Underneath the orange and black body work of the "Krush" Jeep Wrangler are new suspension bits and XD wheels designed for the dirt, mud, rocks, and everything else the landscape decides to throw its way. Two Zone off-road coil spacers help accommodate the new Rockstar II wheels and raise the ride height a few inches to overcome off-road obstacles more easily. The new set of Rockstar II wheels were each given a custom orange finish to match the body of the Wrangler and mounted in a 17 x 9.0 fitment at the front and rear. Each of these XD wheels was equipped with LT 285/70 R18 Goodyear Duratrac tires for better all-terrain grip.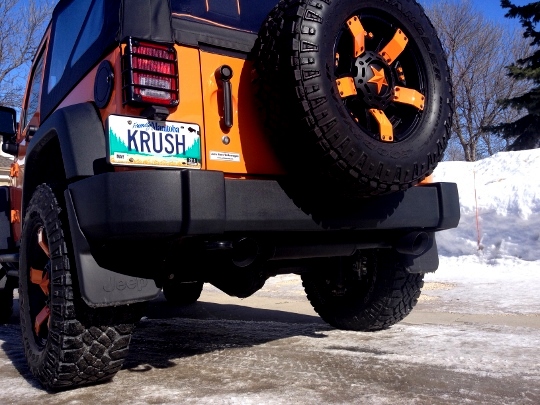 Inside, the cabin gets some custom-tailored goodies as well. Here, new Wet Okole custom seat covers were added along with Quadratec floor liners for added protection. To match the color scheme of the "Krush" a new orange and black steering wheel lock was installed along with EK Sports handles.
The 2012 Jeep Wrangler "Krush" is ready to crush any kind of terrain sitting in its path.
Fitment Specifications:
Wheels: KMC Rockstar II
Wheel Finish: Custom orange
Wheel Size: 17 x 9.0
Tires: Goodyear Duratrac
Tire Size: LT 285/70 R18