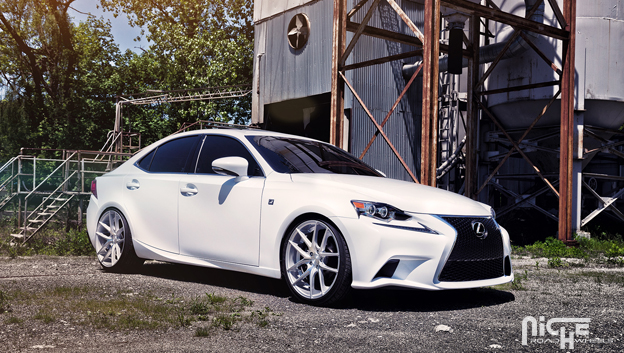 Just the right stuff.
The Lexus IS has always been the quiet entry in the premium sedan segment but its modern styling, high-tech capability, and refinement has been its hallmarks. Add in some athleticism with the F-Sport models, and you've got yourself a very good platform for driving enjoyment. Things start to get even better with the addition of a new wheel and tire package consisting of Niche rims and Nankang tires paired up with a lowered suspension.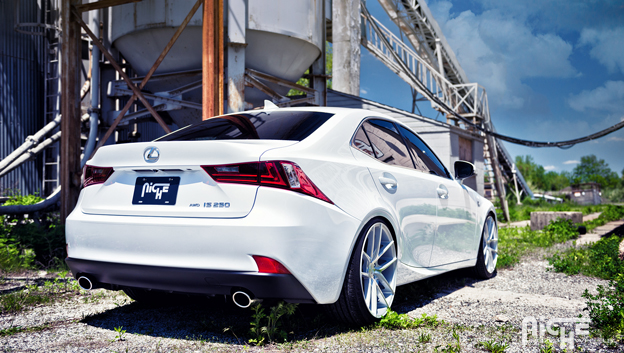 Right off the bat, this 2014 Lexus IS250 F-Sport is just right from the dealership. Its 2.5-liter V-6 engine sends 212 horsepower at 6,400 RPM and 192 lb-ft. of torque at 3,800 RPM to each of the rear Niche rims. Fortunately, this wheel and tire package is more than capable of handling the power and the added athleticism that comes with the F-Sport package.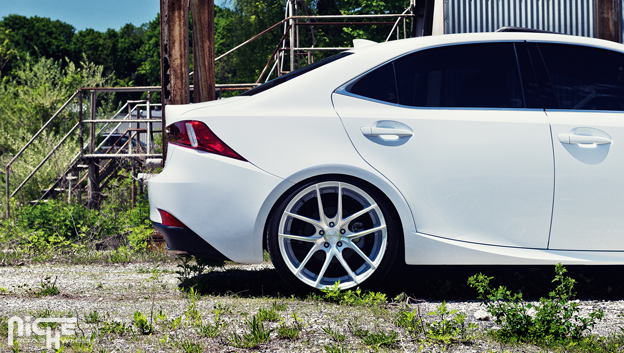 The new F-Sport package is an important detail on the Lexus IS250. The package adds more aggressive styling, a tighter suspension for better handling performance, new trim pieces, and other goodies including a nice factory wheel and tire package. Don't forget those special F-Sport badges either!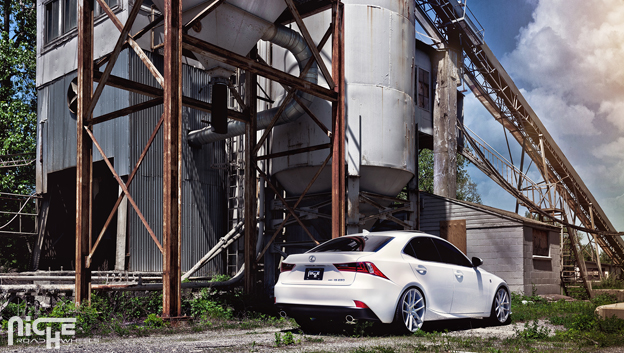 This 2014 Lexus IS250 F Sport, however needed a few aftermarket enhancements starting with the addition of a new set of Niche rims. The wheel and tire package chosen for this application were Niche Targa M131 wheels and a set of Nankang tires. The new Niche rims measure 20-inches in diameter at the front and rear and wear a slick Silver Machined finish that matches the modern styling of the white Lexus. New Nankang NS-20 tires were also chosen and installed in a 235/40/20 front and 245/40/20 rear setup. To complete the fitment, a new RSR Super Down lowering kit was installed that overall ride height just enough where any wheel gap is eliminated.
The fresh, modern look of the Lexus IS250 F-Sport gets even better and more athletic thanks to the new Niche Targa wheels and upgraded suspension.
Fitment Specifications:
Vehicle: 2014 Lexus IS250 F-Sport
Wheels: Niche Targa M131
Wheel Finish: Silver Machined
Wheel Size: 20-inches
Tires: Nankang NS-20
Front Tires: 235/40/20
Rear Tires: 245/40/20
Suspension: RSR Super Down lowering kit
Source: Niche Wheels