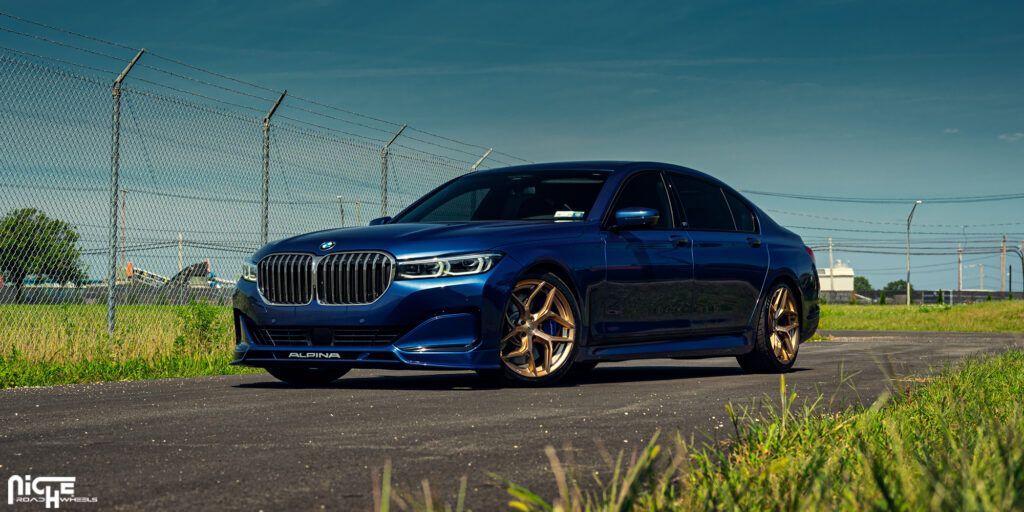 Bavarian exclusivity.
BMW doesn't offer an M-version of their 7-Series, but they don't need to because Alpina, the Bavarian tuning company that works closely with BMW, already have and it's phenomenal. The Alpina B7 has everything you could want and need in the 750Li that it's based on including some serious performance. To match that performance, this Alpina B7 xDrive has been outfitted with a new set of Niche wheels.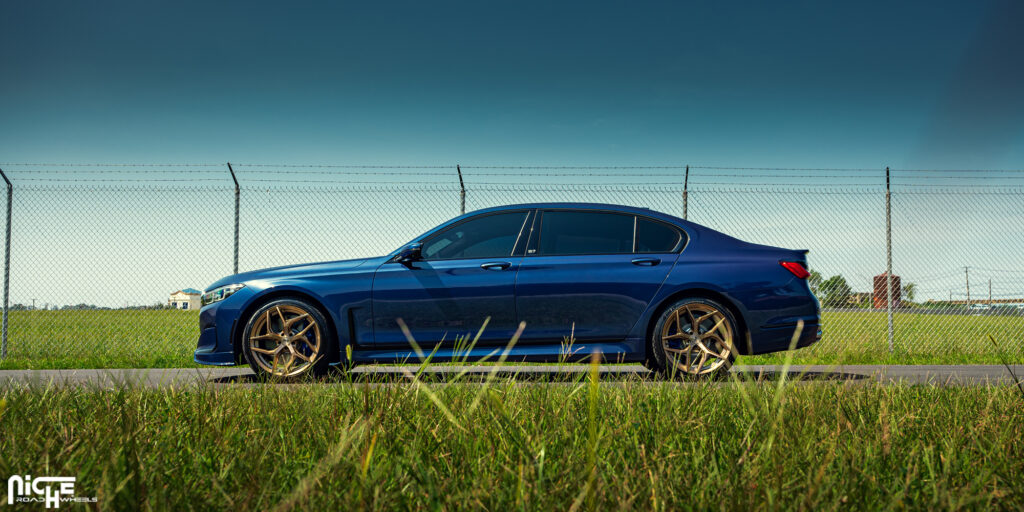 What really makes the Alpina B7 an absolute monster is the 4.4-liter, twin-turbocharged V-8 engine. Compared to its standard BMW counterparts, this engine is hand-built and tuned after being modified with a range of upgrades. Output is a staggering 600 horsepower from 5,500 to 6,500 RPM and 590 lb-ft. of torque from 2,000 RPM. That power is sent to all four Niche wheels through an eight-speed ZF 8HP automatic transmission for a 0-62 mph acceleration time of just 3.6 seconds while 124 mph is hit in just 11.7 seconds. Top speed is all the way back at 186 mph.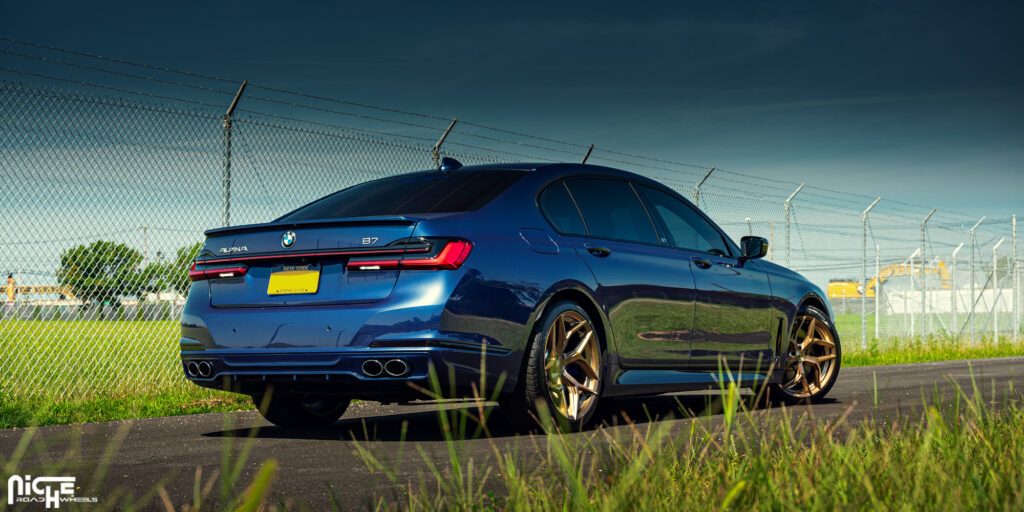 In order to handle that kind of speed and acceleration, Alpina gave the B7 xDrive a new aerodynamic kit. A new front fascia with splitter and deflectors helps reduce lift and redirect cool air to different components. Side skirts sit between the Niche wheels while a new rear bumper with diffuser and a trunklid spoiler helps calm airflow and keep that Bavarian butt planted.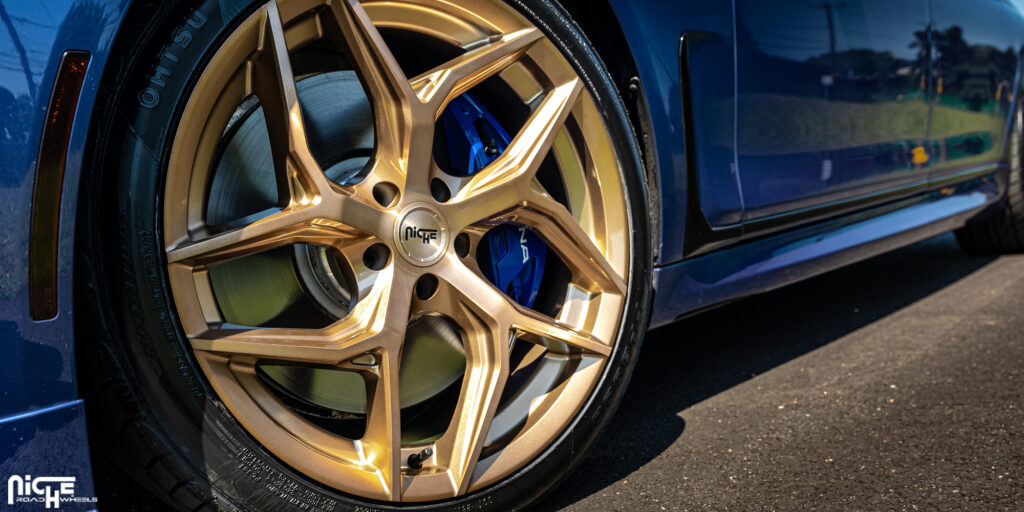 While the Alpina B7 comes standard with its own set of exclusive wheels, this B7 xDrive is even more special thanks to a new set of tailored Niche wheels. Here, the factory wheels were swapped out for new Niche Torsion – M267 rims. These rims feature a five Y-spoke design that twists to emphasize speed and movement. A concave face and step lip adds a special touch to these custom wheels that measure a large 20 inches in diameter. The new Niche Torsion – M267 rims also feature a Platinum Bronze finish that perfectly contrasts the vibrant Blue exterior and matching painted brake calipers. New Ohtsu FP8000 tires serve up some serious grip for the high-performance full-size luxury sedan.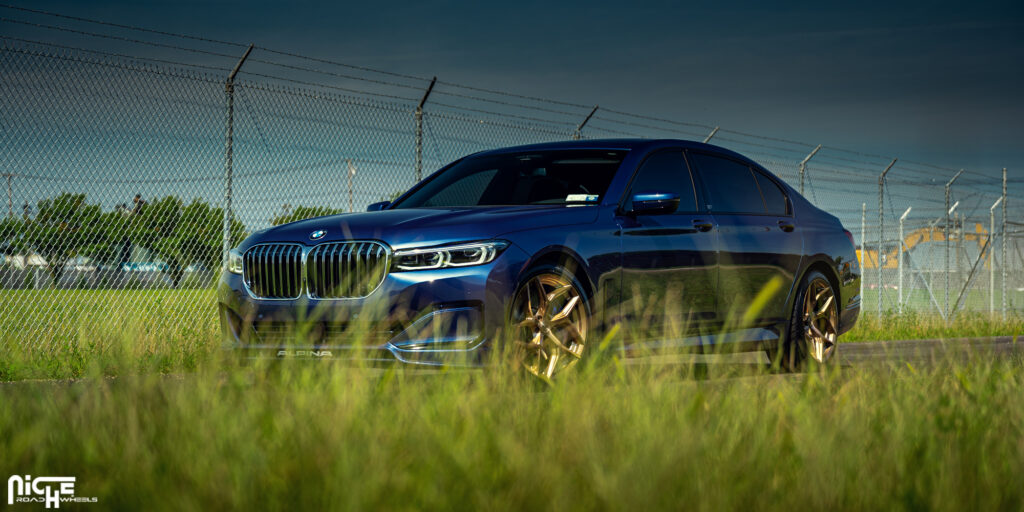 The Alpina B7 xDrive is one of the most exclusive models from BMW that you can get in the US and Canada, but this one with Niche Torsion – M267 wheels is even more unique.
Fitment Specifications:
Vehicle: Alpina B7 xDrive
Wheels: Niche Torsion – M267
Wheel Diameter: 20 inches
Wheel Finish: Platinum Bronze
Tires: Ohtsu FP8000
Source: Niche Road Wheels