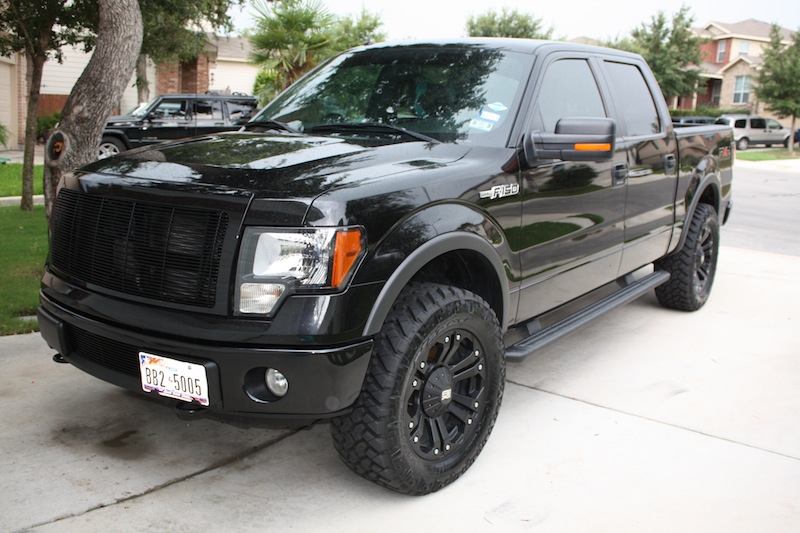 The black brute.
Having a black-on-black color scheme can make a vehicle a real head-turner on the road. The color instantly gives any vehicle it adorns a bit more snarl and intimidation. This 2010 Ford F-150 SuperCrew FX4 is one such vehicle and has a commanding presence thanks to its new XD Monsters, mean V-8 engine, and other goodies.
The black-on-black color scheme starts with the body and the black billet grille up front sitting between the Harley headlights. The same Harley lighting is worn at the rear for the taillights for a clean look. A new Line-X bedliner and step bars also add some practicality to the big brute.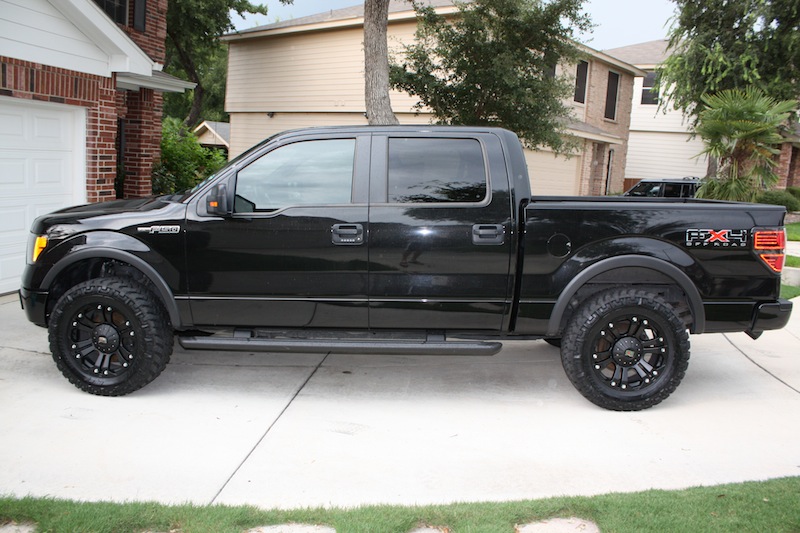 The menacing black theme is then carried over into the new set of off road wheels where the XD monsters are hanging out with their black finish. The new XD Monsters sit in a wide 20 x 9.0 +18 offset setup at the front and rear axles allowing the wheels to protrude a bit from the fenders. The new off road wheels were finished off with a set of Nitto Trail Grappler tires measuring 295/60/20 for that beefy look. To complete the new XD Monsters off road wheels fitment, the entire chassis was raised 1.5-inches thanks to an AutoSpring Level system.
Next up was the big 5.4-liter V-8 engine sitting under the sheetmetal. The V-8 engine easily pushes out more than its stock 320 horsepower, 390 lb-ft. of torque output thanks to a few goodies. Even more power is sent to all four of the XD Monsters from the new S&B cold-air intake with ram air scoop, 5 Star tuned SCT X3 tuner module, and Borla ProXS exhaust system.
Inside is where the sublime sounds are heard. An AudioControl LC7i, JL XD700/5 amplifier, JL 10w1v2-4 subwoofers, and Polk MM571 and MM6501 speakers erupt in audio bliss for an enjoyable ride, isolating the passengers from the outside.
This black-on-black Ford F-150 with off road wheels is one dark head-turner whether it's on or off the road.
Fitment Specifications:
Wheels: XD Monsters
Wheel Size: 20 x 9 +18 offset
Tires: Nitto Trail Grapplers
Tire Size: 295/60/20
Other Modifications:
-AutoSpring Level; 1.5-inches lower
-Line-X Bedliner and Step Bars
-Harley Headlights and Taillights
-Black billet grille
-Borla ProXS 40349 exhaust
-S&B cold air intake with ram air scoop
-5 Star tuned SCT X3 tuner