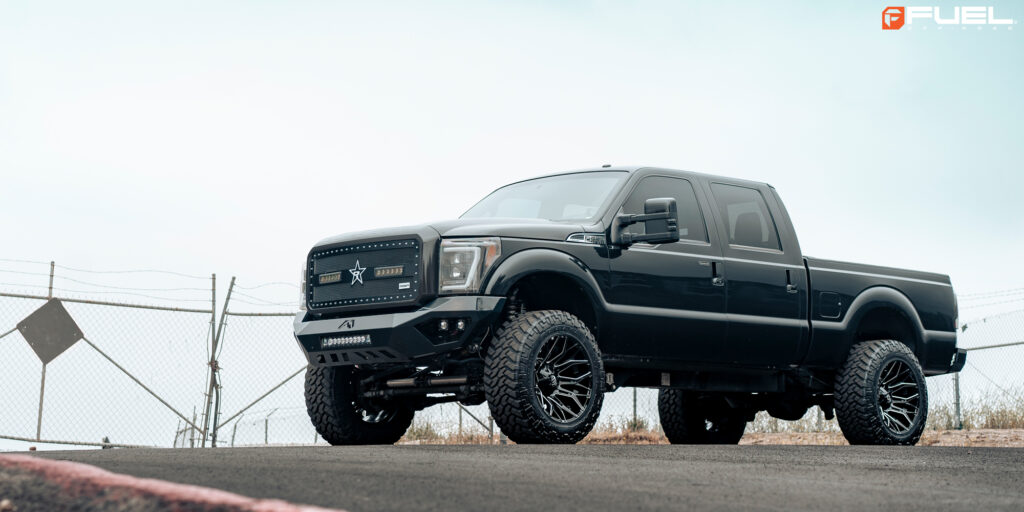 Super Duty defined.
Right from the factory, the Ford F-250 Super Duty is an absolute beast. It's big, brawny, has some serious muscle, and can two/haul a mountain. It's also the perfect starting point for owners that want a massive, commanding presence on or off the road and this lifted F-250 Super Duty on Fuel wheels is just that.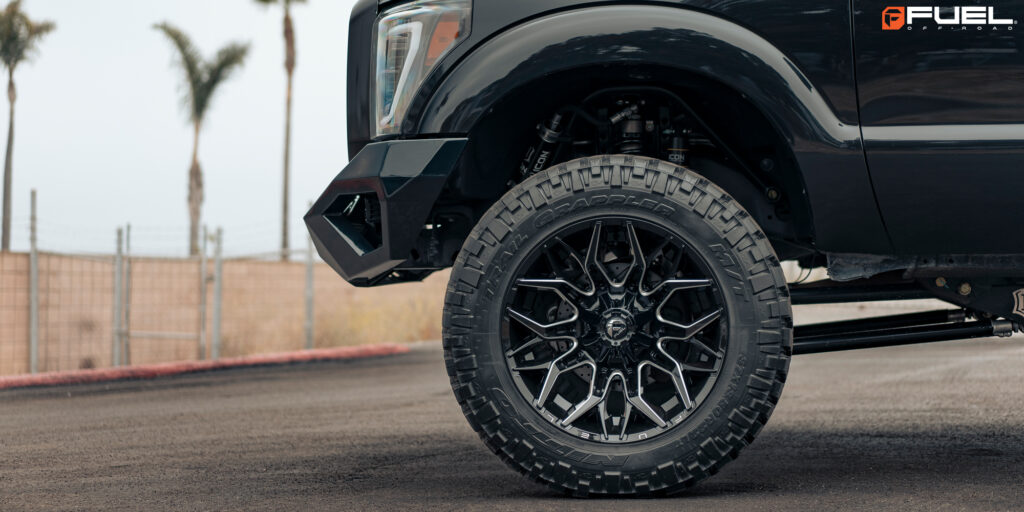 The Ford F-250 Super Duty comes with a choice of gasoline or diesel engines from the factory. This third-generation Lariat model comes packed with a BOSS SOHC 6.2-liter V-8 engine throwing down some pure, naturally-aspirated American muscle. Here, the V-8 generates 385 horsepower and 405 lb-ft. of torque. That's sent through a six-speed automatic transmission to the rear Fuel wheels for some serious oomph.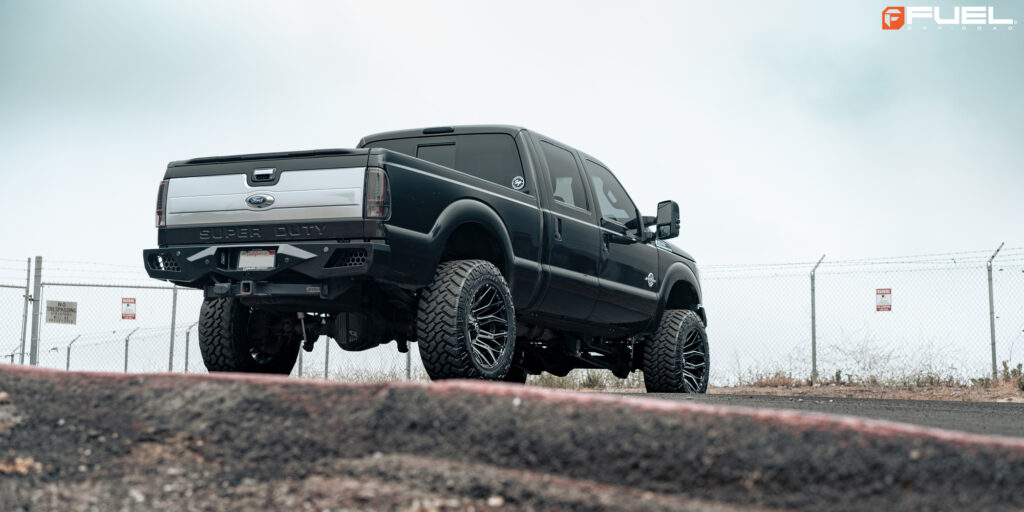 But that beefy engine is only part of the story in this Ford F-250 Super Duty. There's quite a few extra goodies that have graced this American brute. A full suspension lift kit raises the entire body considerably and makes room for the massive Nitto tires and Fuel wheels. There's a new front and rear bumper, the former featuring integrated LED lights and light bar. A new grille with integrated lights and mesh design stares ahead while custom headlights illuminate the road ahead.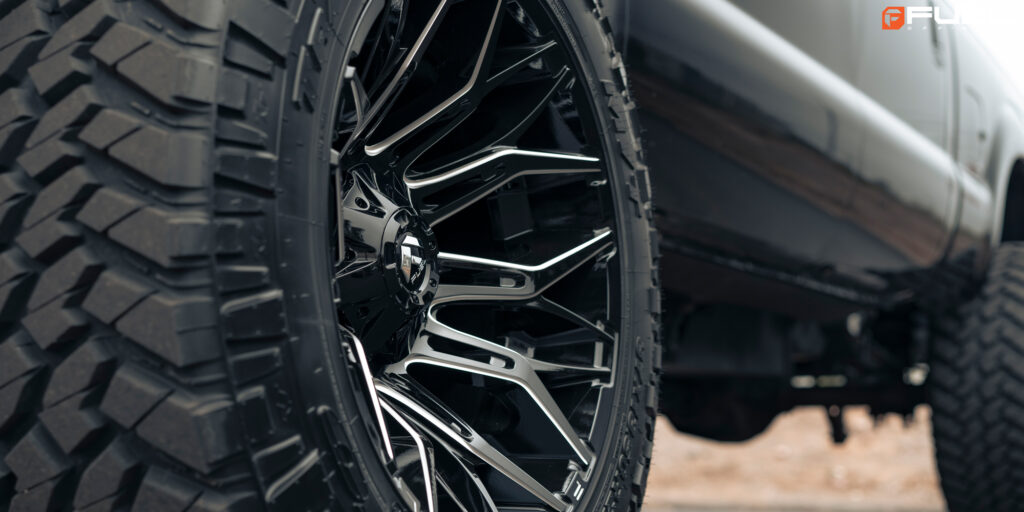 Below, the Ford F-250 sports a new set of Fuel Twitch – D769 rims with a unique two-layer, mesh-style design. These complex wheels add an intricate design element to the muscular truck and are finished in a Gloss Black with Milled accents. Each one of the new Fuel Twitch – D679 rims also measures a hefty 22 inches in diameter, which look right at home on the F-250 Super Duty. As an added bonus, the Fuel wheels are also shod in 37 x 13.50 R22 LT Nitto Trail Grappler tires for grip in any situation.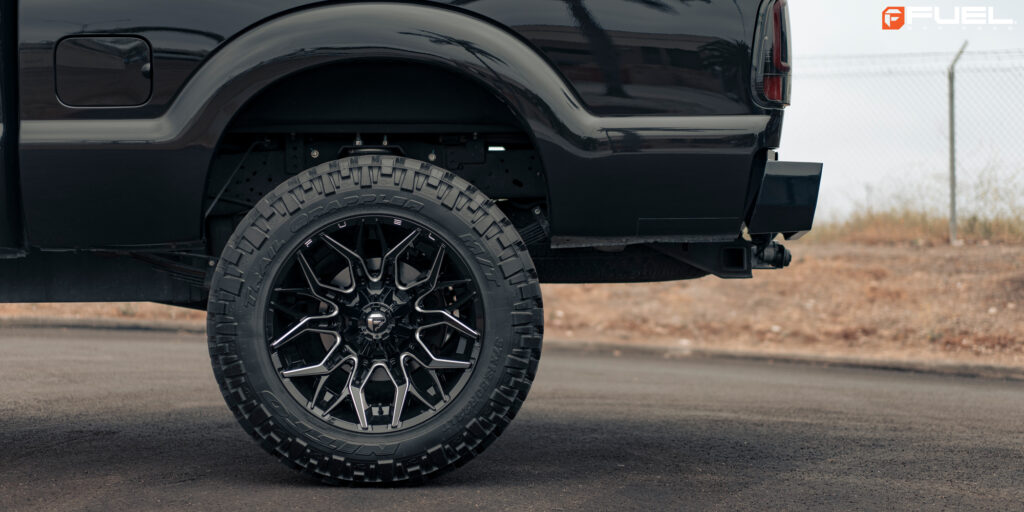 This Ford F-250 Super Duty is ready to exert its dominance as a beast on or off the road with its new Fuel Twitch – D769 wheels and Nitto Trail Grappler tires.
Fitment Specifications:
Vehicle: Ford F-250 Super Duty
Wheels: Fuel Twitch – D769
Wheel Finish: Gloss Black with Milled accents
Wheel Diameter: 22 inches
Tires: Nitto Trail Grappler M/T
Tire Size: 37 x 13.50 R22
Source: Fuel Offroad