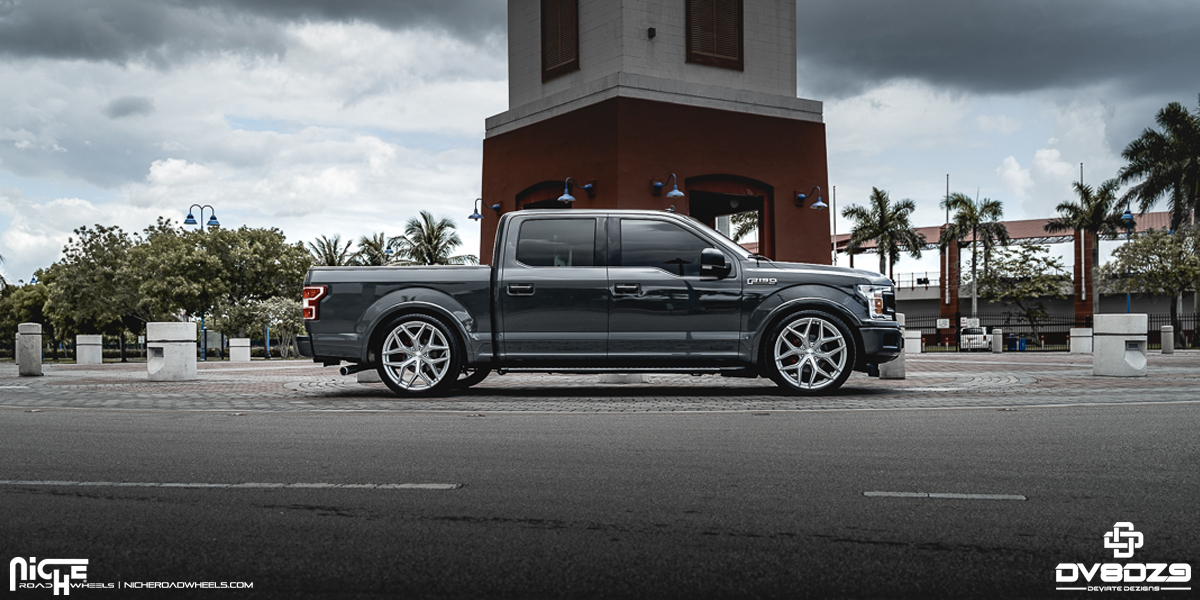 Not your average truck build.
Normally when it comes to wheel fitments and truck builds, we see giant lift kits, big mud tires, beadlock or deep dish wheels, all sorts of LED lights, hardcore bumpers, winches, and more. Not with this Ford F-150. Instead of going all-out for the off-road, they decided to make a pavement monster with a new set of Niche Wheels.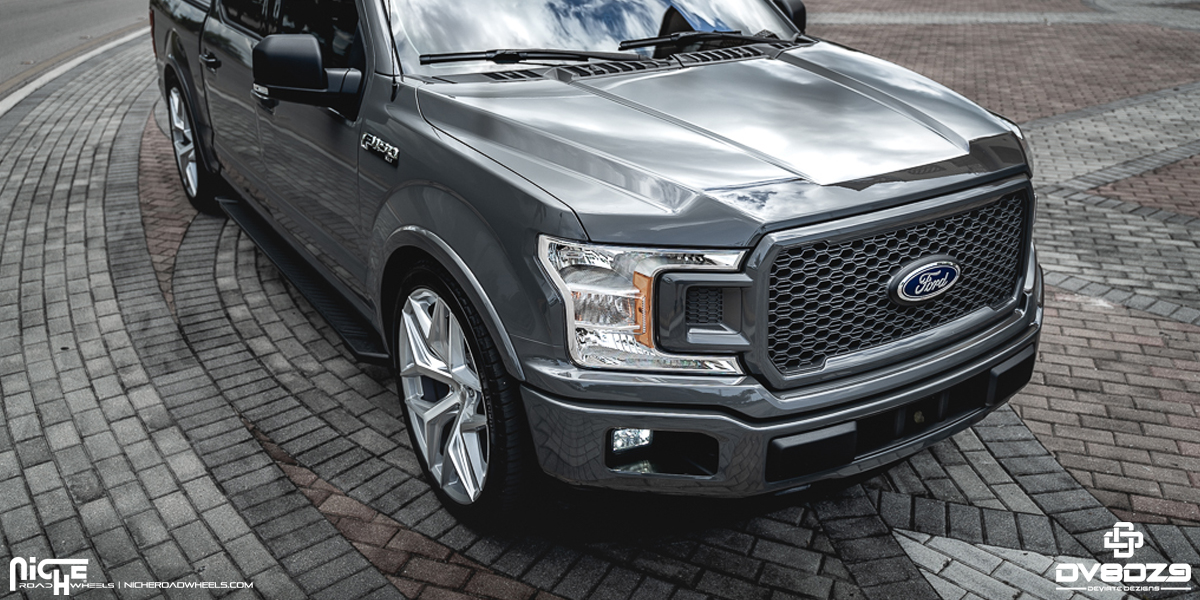 This Ford F-150 has all the capability you could want in a truck whether you're on or off the road. This owner decided to keep things on the asphalt and the vehicle is perfectly suited for the task. Even from the factory, there's a wide range of engines that send power to either the rear- or all-four Niche Wheels along with high-tech transmissions that focus on blending power and towing capability with fuel efficiency – and we can get down with that.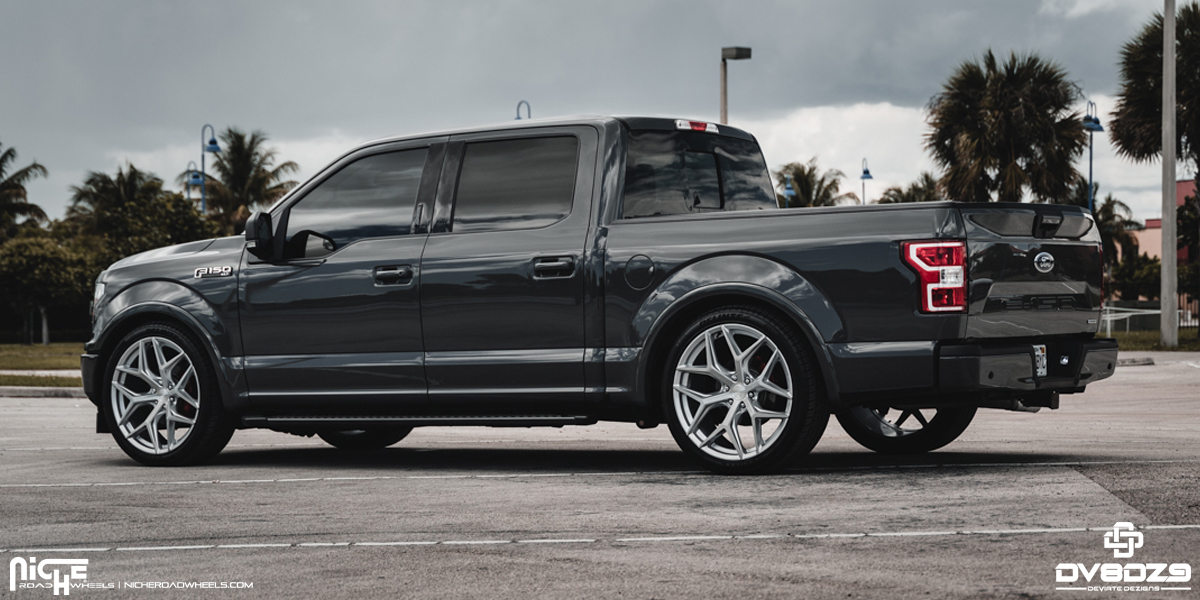 This thirteenth-generation Ford F-150 is all about style on the road and making a visual impact. Instead of a lift kit that raises the suspension a few inches, there's a new lowering kit that reduces the ride height and tucks the new Niche Wheels neatly beneath the fenders with the lower-profile tires. Each of the brake calipers have also been painted Red to add a bit of flair while the windows each received a dark tint.
For this build, the Ford F-150 XLT was outfitted with a new set of Niche Vice – M233 SUV wheels that are built for bigger vehicles such as SUVs or trucks. Here, the new Niche Wheels were fitted in a massive 24 x 10.0 fitment at the front and rear along with some suspension adjustments and modifications. The Niche Vice – M233 SUV rims were each given a Brushed Silver finish that gives their six-split-spoke design an eye-catching appeal.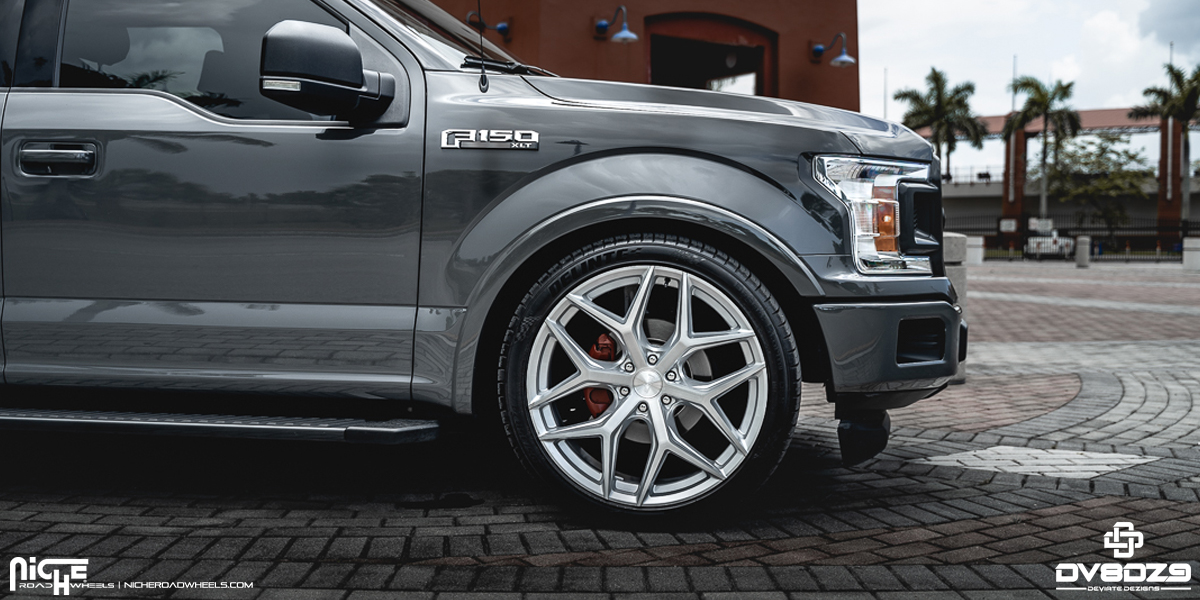 While other truck drivers are trying to show off their brawn and muscle with huge lift kits and modifications, this one is cruising cool with its Niche Vice – M233 SUV rims and lowered suspension.
Fitment Specifications:
Vehicle: Ford F-150 XLT
Wheels: Niche Vice – M233 SUV
Wheel Finish: Brushed Silver
Wheel Size: 24 x 10.0
Source: Niche Road Wheels
Credit: @dv8dz9