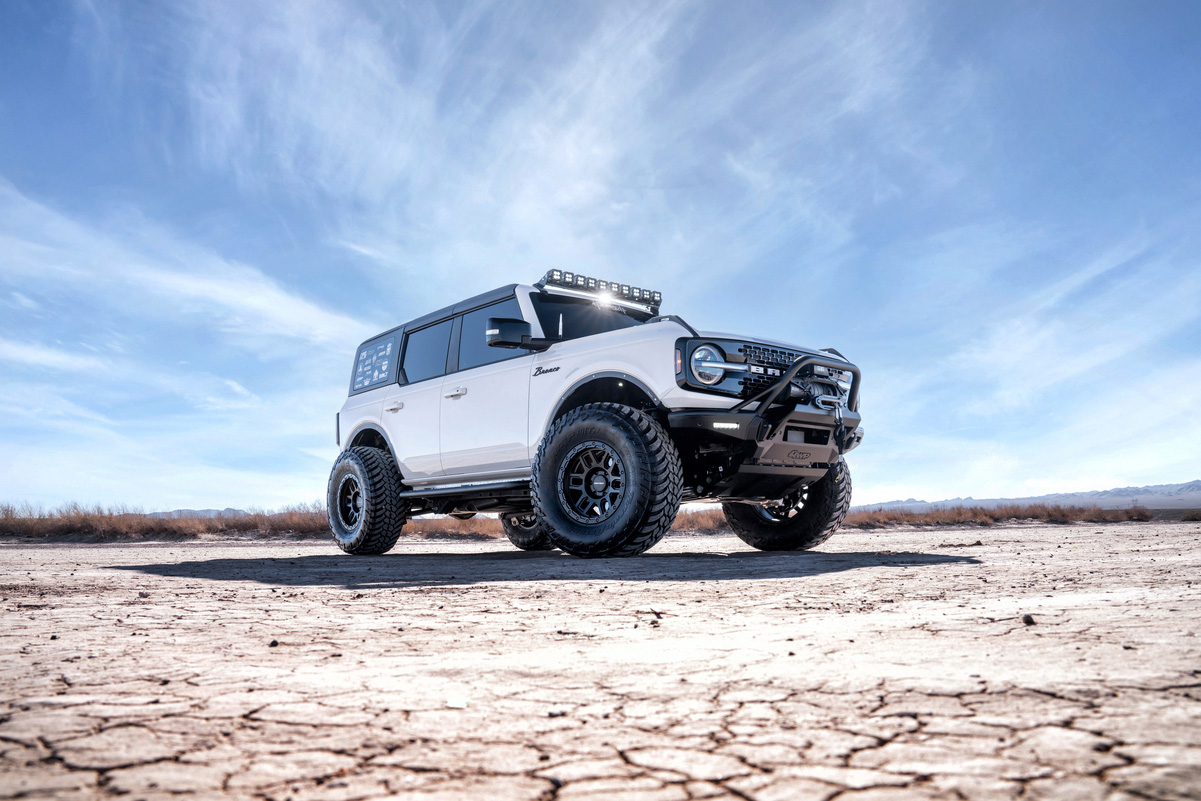 Stop shopping for rims and tires and start buying. WheelHero offers several rim financing options so you can stop dreaming about those gloss black Moto Metal MO970 rims and pull the trigger and make that purchase today.
Rim Financing with Affirm
The easiest way to finance those rims at check-out is with Affirm financing.
How it Works
Just enter the make and model of your vehicle into the WheelHero website. The proprietary fitment program only displays the wheels and tires that are guaranteed to fit. Shop to your heart's content and add your wheels and tires to the shopping cart. You'll get an estimate of the monthly charge to pay through Affirm.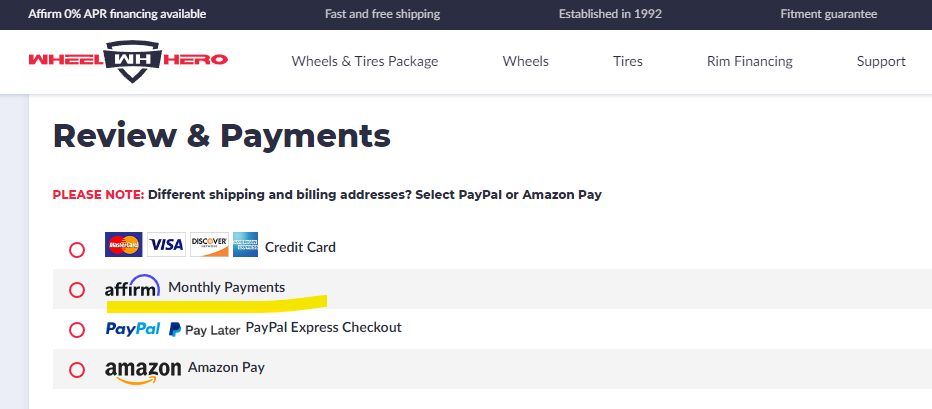 When you are ready to check out, select Affirm Monthly Payments as the payment method from the cart page. You'll need to fill in a little bit of information to see if you qualify, but hey, checking won't hurt your credit score. So, go ahead and see how much you qualify for and your interest rate. Payment options depend on your purchase amount.
Affirm rim financing allows you to make payments in three, six, or twelve monthly installments. And you won't pay a penalty if you pay it off sooner. Affirm rim financing may even save you money over high-interest credit cards. And remember, checking eligibility won't ding your credit score.
Rim Financing with PayPal Buy Now Pay Later
Do you have a PayPal account? If so, you could be eligible for the PayPal Buy Now, Pay Later program. This rim financing option is exclusively for people with an existing PayPal account.
How it Works
Like the Affirm process, you just cruise over to the WheelHero home page and enter the details about your vehicle. Pick the rims and tires from the options available. Remember, if you enter the right information, WheelHero guarantees the wheels you see are the wheels that fit.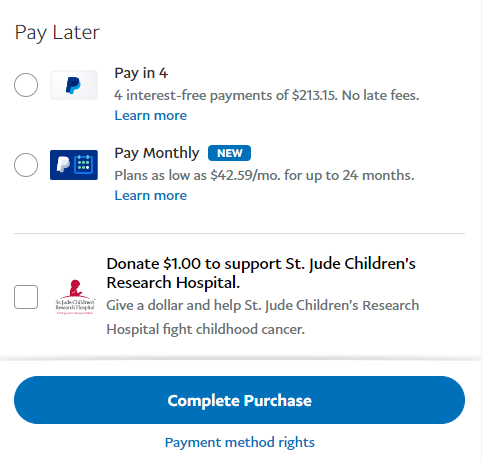 After you select your wheels, at checkout select the PayPal option. Then, select the Buy Now Pay Later option. You'll know in seconds if you've qualified. The Buy Now Pay Later option through PayPal allows you to split your purchase into 4 payments. You can use your PayPal app to make the remaining payments and even set up auto-pay for the ultimate convenience. With Buy Now Pay Later through PayPal you avoid interest charges and using this option won't impact your credit score. That's important if you're just starting or working on repairing your credit.
You may even be able to make more than 4 payments when using Buy Now Pay Later. PayPal recently launched an expansion of its flexible payment options. The new Pay Monthly Service allows buyers to pay back the purchase over a six-month, 12-month, or 24-month period.
Amazon Pay – A Great Alternative for Financing Rims
Okay, this one may sound like you're just putting those rims on a credit card, but if you play it right, Amazon Pay is an awesome way to finance those rims.
How it Works
First, you need to get an Amazon Rewards Visa card. If you're already a Prime member, apply for the Amazon Prime Rewards Visa card. These cards are issued through Chase, and you may not get instant approval. In fact, their anti-fraud department may send you a letter asking you to call and confirm you've made the application. A hassle, but worth the wait.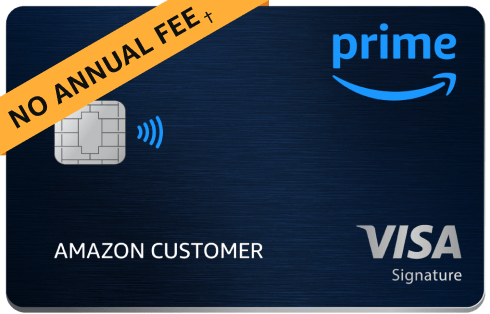 Once approved, you automatically get $50 loaded to the Rewards card and $100 to the Prime Rewards card. Okay, that's not financing – that's free money to spend!
Next, set your new card as your Amazon Pay method. This allows you to check out at other web stores, like WheelHero using your Amazon account.
Now you are ready to go shopping. Just as with the other rim financing methods, you enter the make and model of your vehicle (including the lift if you are shopping for a truck or Jeep) to see the wheels and tires guaranteed to fit. Put your rims in the shopping cart and proceed to checkout.
At checkout, select the Amazon Pay method. You'll be prompted to enter your Amazon credentials. Then boom! You are checked out. Here's what you get with this financing.
The first $50 or $100 is free.
You automatically get 1% cash back to apply to your balance.
While WheelHero stands behind every wheel they sell, you also get the reassurance that your purchase is guaranteed through Amazon's A to Z guarantee.
Using a Standard Credit Card for Rim Financing
Of course, if you've already got a credit card with an excellent rate and awesome points or cash back, there's no need to do anything more than enter your card information at checkout. Your data is secure. Feel free to use your debit card if that's how you roll.
No matter how you pay for your wheels at WheelHero when you buy a complete wheel and tire package, you'll get free mounting, balancing, and free shipping too. Check the home page for coupon codes that are available from time to time. When it comes to rim financing options, your hero is WheelHero.