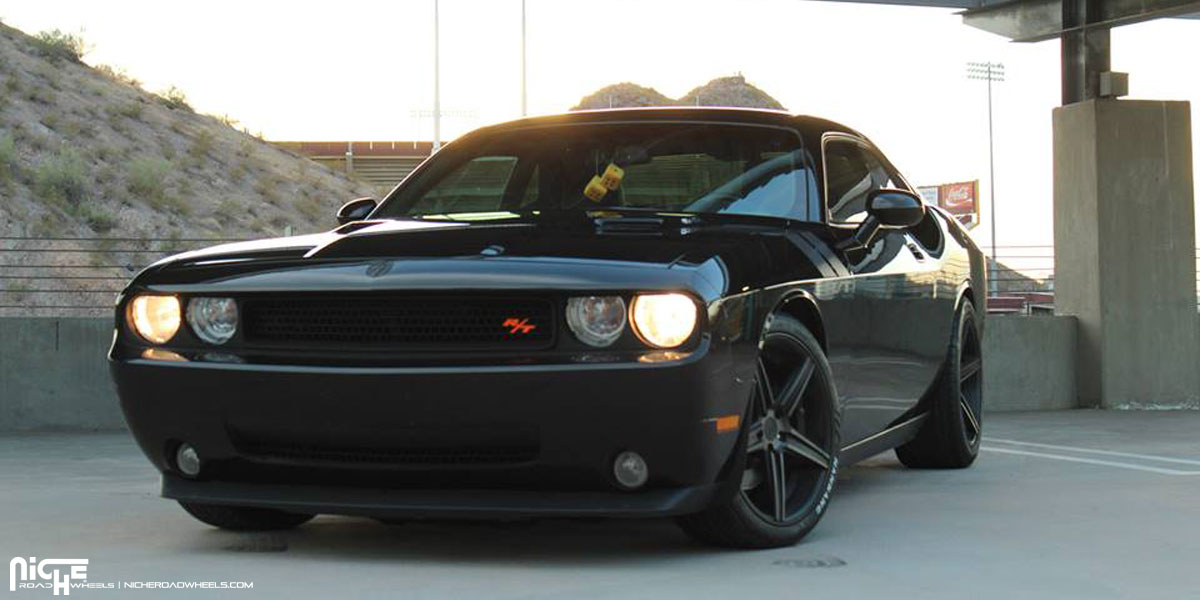 American muscle time!
We won't ever get tired of good ol' fashioned American muscle cars. Their brute power, rear-wheel drive layout, and in-your-face style is what we're all about here at WheelHero. This Dodge Challenger wearing a set of Niche Wheels is a mean blacked out machine that's got everything a modern day muscle car lover could ask for in a vehicle.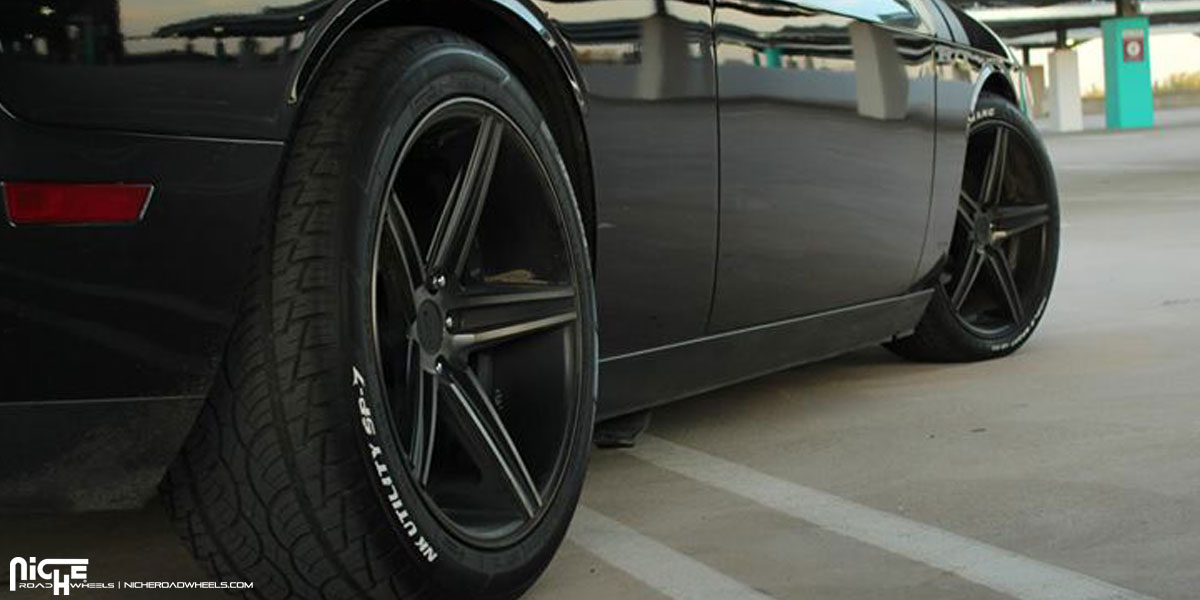 Right off the bat, this Dodge Challenger R/T packs quite a punch. Its rear Niche Wheels are powered by a mighty 5.7-liter HEMI V-8 engine pushing out 372 bhp and 398 lb-ft. of torque. The classic HEMI nameplate is worn proudly, reminiscing of the innovative HEMI engines that ruled the road in the 60s and 70s. The naturally-aspirated V-8 is not afraid to let loose and kick out the rear wheels as they attempt to grab at the pavement for traction.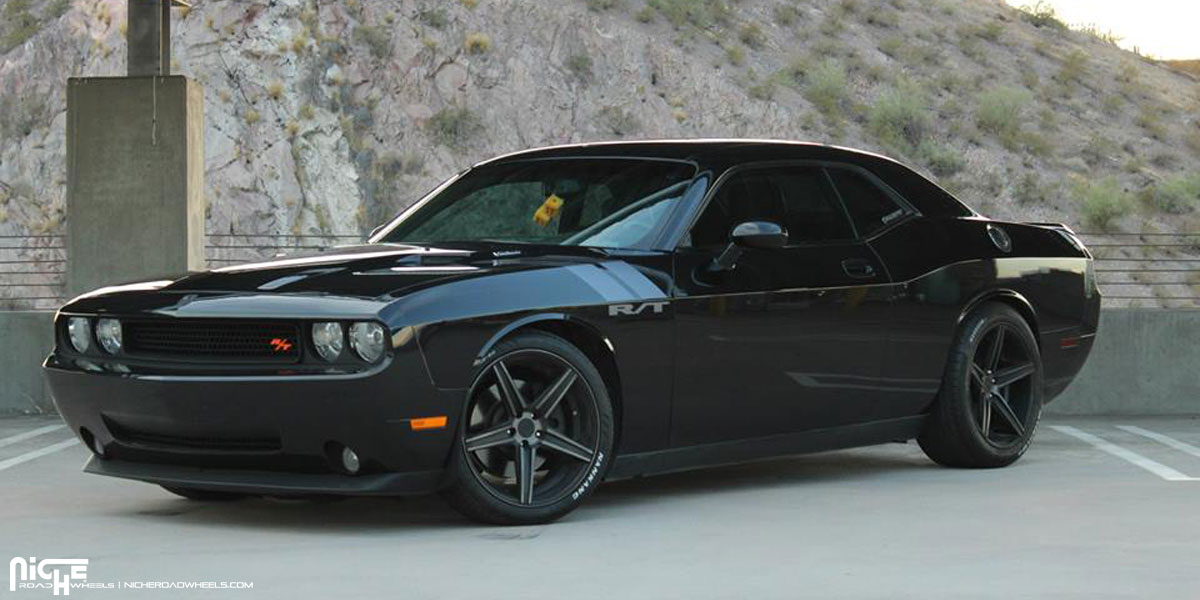 But performance is only part of the story as to why this Dodge Challenger R/T is a quintessential muscle car. Niche Wheels also played a big part in the vehicle's transformation. A new set of Niche Apex – M126 rims were installed in a staggered 20 x 8.5 front and 20 x 10.5 rear setup with 245/40/20 and 295/40/20 sports tires that can handle the high-output HEMI.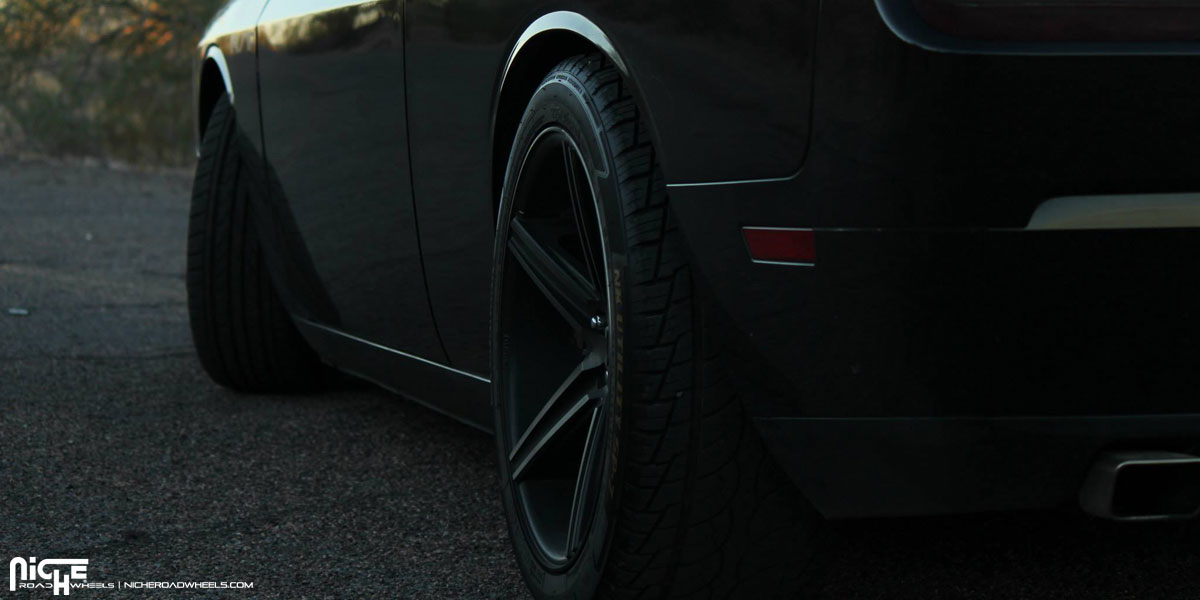 The fitment shines through thanks to a new set of MOPAR Stage 1 lowering springs the drop the ride height of the Dodge Challenger R/T considerably and sharpen up its handling skills a tad. The last part of the new Niche Wheels is a Black and Machined finish with Dark Tint color to match the black paint of the muscle car.
Power, performance, and a sinister style is what makes this Dodge Challenger R/T a head-turning muscle car on the street.
Fitment Specifications:
Vehicle: Dodge Challenger R/T
Wheels: Niche Apex – M126
Wheel Finish: Black and Machined with Dark Tint
Front Wheels: 20 x 8.5
Rear Wheels: 20 x 10.5
Front Tires: 245/40/20
Rear Tires: 295/40/20
Suspension: MOPAR Stage 1 Lowering Springs
Photo Credit: Cody Buchda
Source: Niche