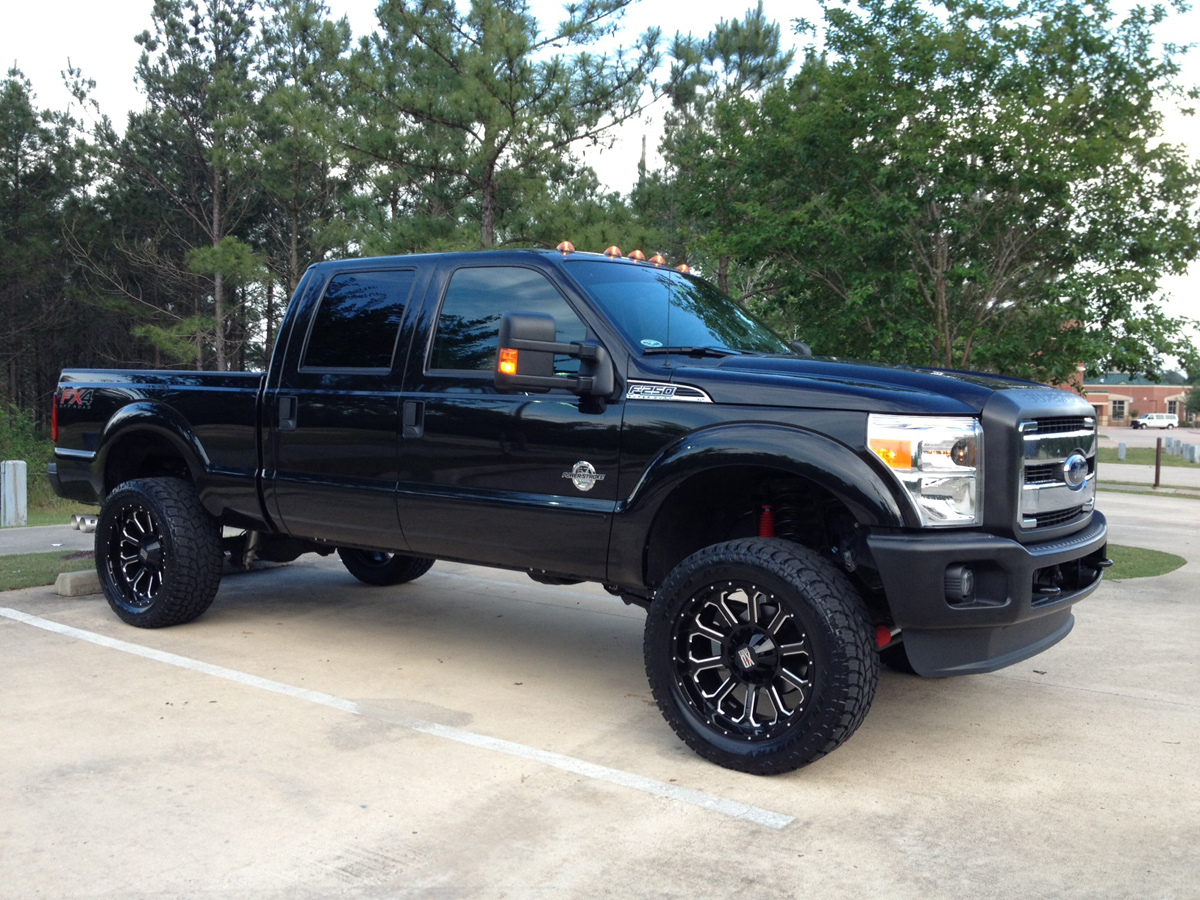 Get your Bomb on!
A big, badass truck is always fun to drive around. They dominate the asphalt landscape and command attention. Off the roads, they're more than capable of handling their own. They can tow, haul, and carry while asserting themselves as the beasts of the streets. This 2012 Ford F250 PowerStroke has it all from new XD rims to beefed up stocks and power steps. The modified truck is big and beefy, and its new Ford F250 wheels are more than happy to pound the pavement or any terrain thrown their way, so watch out!
The 2012 Ford F250 is more than capable right from the factory of commanding attention. It's bigger and badder than your average F150 pickup truck and for good reason. These monsters were built to work, and do it well. Turning those mighty XD rims is a 6.7-liter PowerStroke V-8 turbodiesel engine. Those large-displacement oil-burners send a total of 400 horsepower at 2,800 RPM and massive 800 lb-ft. of torque from just 2,800 RPM to either all four or the rear Ford F250 wheels.
With enough power to move a mountain and the size of a small building, there's not much that the 2012 Ford F250 cannot handle. So, this owner decided to take it a step further with a host of upgrades such as XD rims, a raised suspension, and new power steps.
To start things off, the factory suspension was upgraded with a new Rancho Lift and RS9000XL shocks to give the Ford F250 wheels more vertical clearance. A set of dual stabilizers rounded off the suspension modifications. Next up was a new set of XD rims. Here, the factory Ford F250 wheels were swapped out for new XD Bomb wheels that measure 22 inches in diameter and wear a new set of 35-inch Toyo A/T II tires that grip in almost any off road situation.
But the exterior of the truck wasn't finished there. The Ford F250 was outfitted with new AMP PowerSteps that automatically deploy to help occupants enter and exit the truck.
Fitment Specifications:
Vehicle: 2012 Ford F250
Wheels: XD Bomb
Wheel Diameter: 22 inches
Tires: 35-inch Toyo A/T II
Suspension: Rancho Lift, RS9000XL shocks, dual stabilizers
Other: AMP PowerSteps