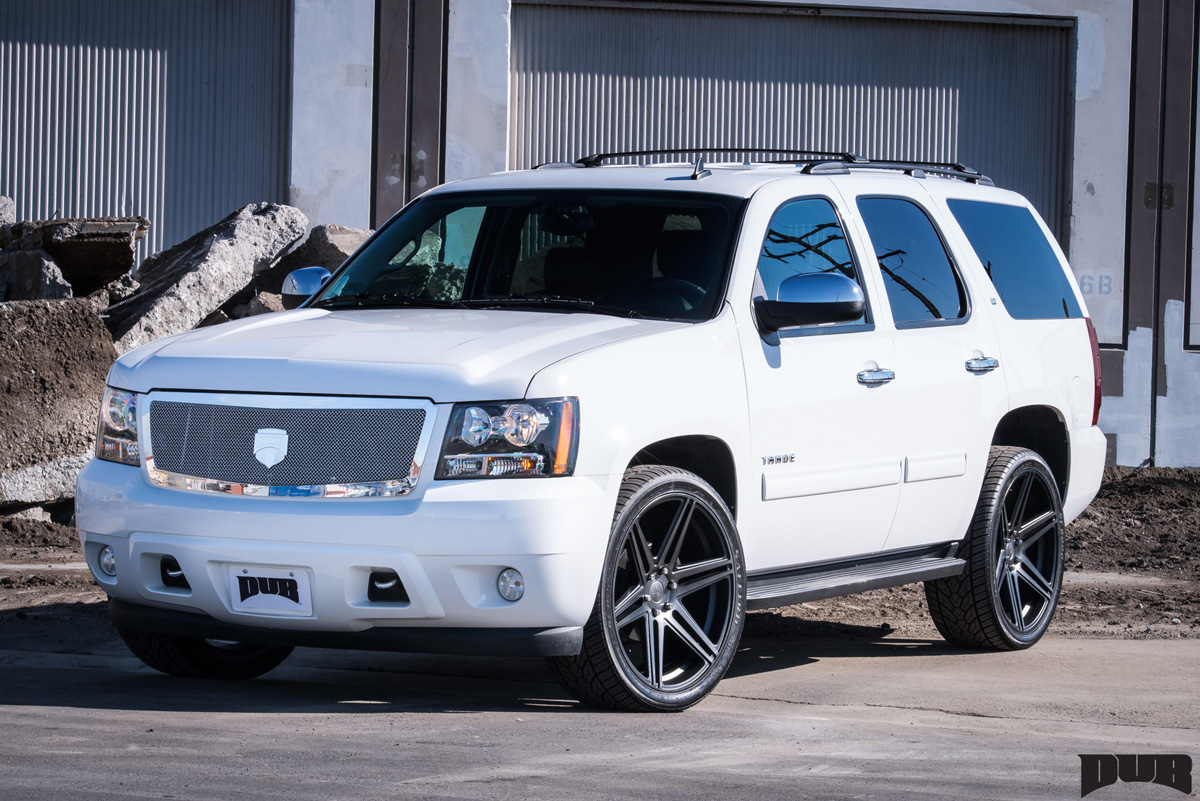 The big American rolls hard.
The Chevrolet Tahoe is the classic American SUV. It has a more than capable four-wheel drive system (or rear-wheel drive if you so choose), a big old V8 and some chrome Chevy Tahoe wheels right from the factory. It's big, sucks gas, and gets the job done whether it's hauling, towing, or carrying people and/or equipment. The gasoline crisis that caused prices to skyrocket has since settled down, but not the Tahoe. This white American bad boy carries with it a new set of DUB rims, custom grille, and that classic American SUV mentality.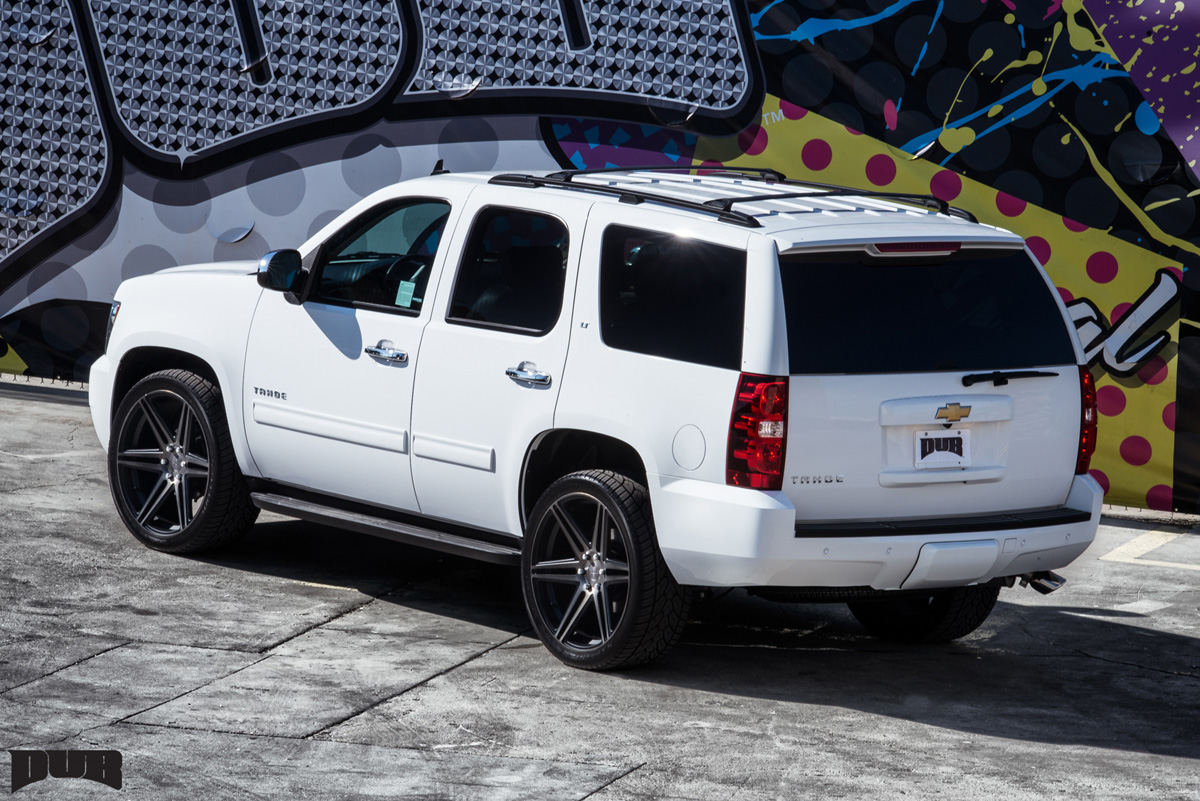 What makes the Chevrolet Tahoe so successful is its versatility. It may not be the most efficient but it does almost anything well and packs quite a punch. The factory Chevy Tahoe wheels all turn in unison thanks to a classic four-wheel drive system and a big ol' 6.2-liter, naturally-aspirated Vortec 6200 V-8 engine. In total, the V-8 engine throws down a whopping 405 horsepower and 417 lb-ft. of torque to all four of the new DUB rims that were just installed.
Right from the factory, the big SUV rides on some large and in charge chrome Chevy Tahoe wheels. These often don't do the SUV justice, which is why a new set of DUB rims were chosen for this application. The white Tahoe was stripped of its factory rollers and given a new set of one-piece, DUB Skillz – S123 wheels. These one-piece cast DUB rims feature a six twin-spoke design with a subtle concave that adds the necessary width and beefiness for the large SUV. Here, the Skillz wheels were installed in a 24 x 10 setup at the front and rear and wear a Black and Machined finish with dark tint to contrast the factory paint.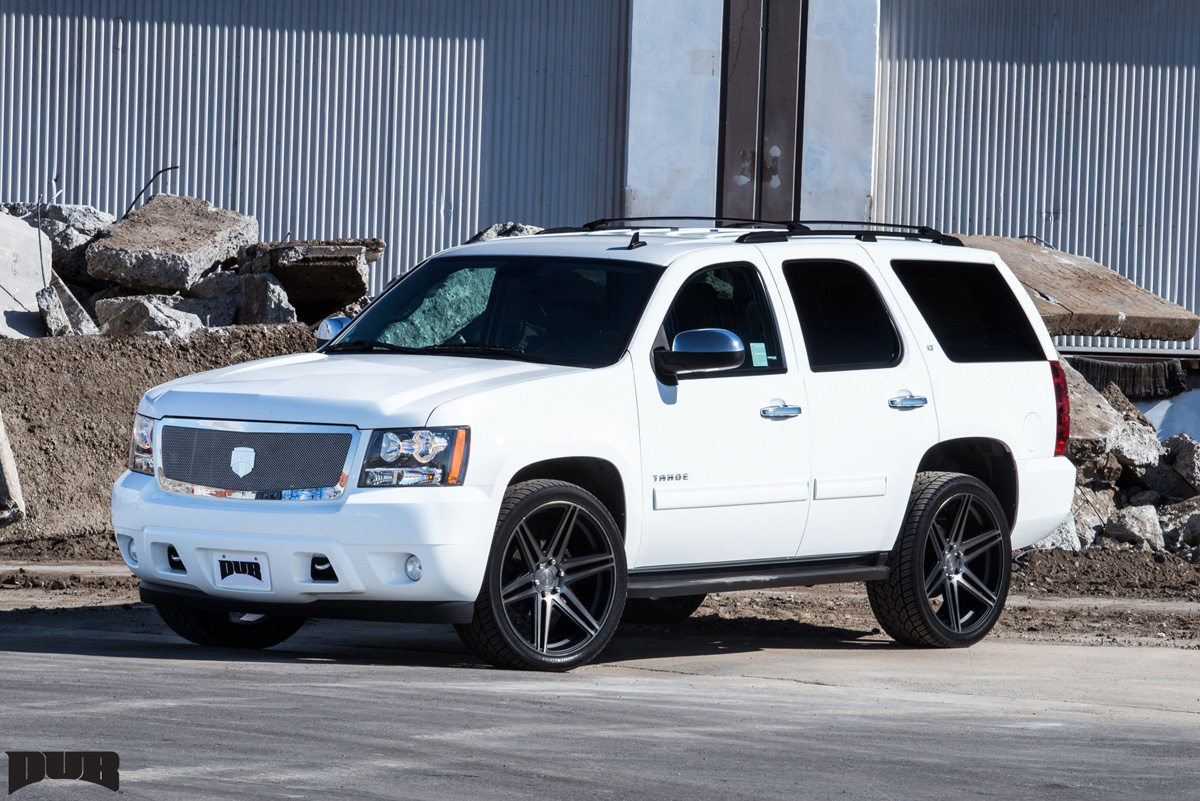 The SUV wasn't done there. To complement the addition of the new Chevy Tahoe wheels, the front grille was swapped out for a new DUB unit with clean mesh and a chrome finished outer trim. With the added stance and shimmer, this Tahoe is easily a head-turner.
Fitment Specifications:
Vehicle: 2011 Chevrolet Tahoe
Wheels: DUB Skillz – S123 one-piece concave
Wheel Finish: Black and Machined with dark tint
Wheel Size: 24 x 10