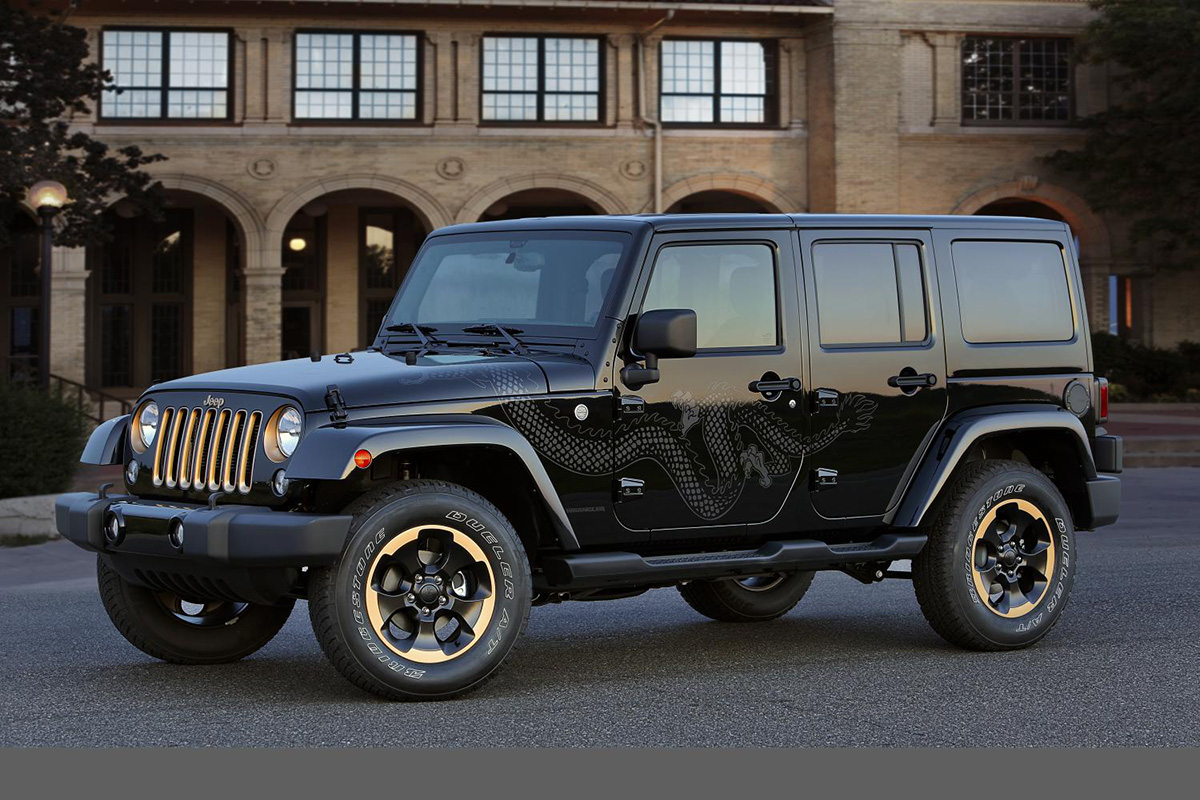 Tapping into the some Far East style.
In 2012, Jeep introduced a new Wrangler Dragon Design Concept at the Beijing International Automotive Exposition. The concept was met with praise in a number of markets along with enthusiasts around the world, so Jeep decided to put the concept into production. The new Jeep Wrangler Dragon Edition limited-production model is currently in showrooms and boasts a wide range of new accessories ranging from special-finished Jeep Wrangler rims and body styling to Black and Bronze satin gloss interior appointments.
"When we introduced the Jeep Wrangler Dragon Design Concept last year, we received tremendously positive feedback," said Mike Manley, President and CEO – Jeep Brand, Chrysler Group LLC. "Our loyal Jeep enthusiasts asked us to build this unique Wrangler, and we are delivering exactly what they've asked for. The new 2014 Jeep Wrangler Dragon Edition boasts a stunning, unique, upscale design with styling cues that make it unlike any Wrangler ever seen before."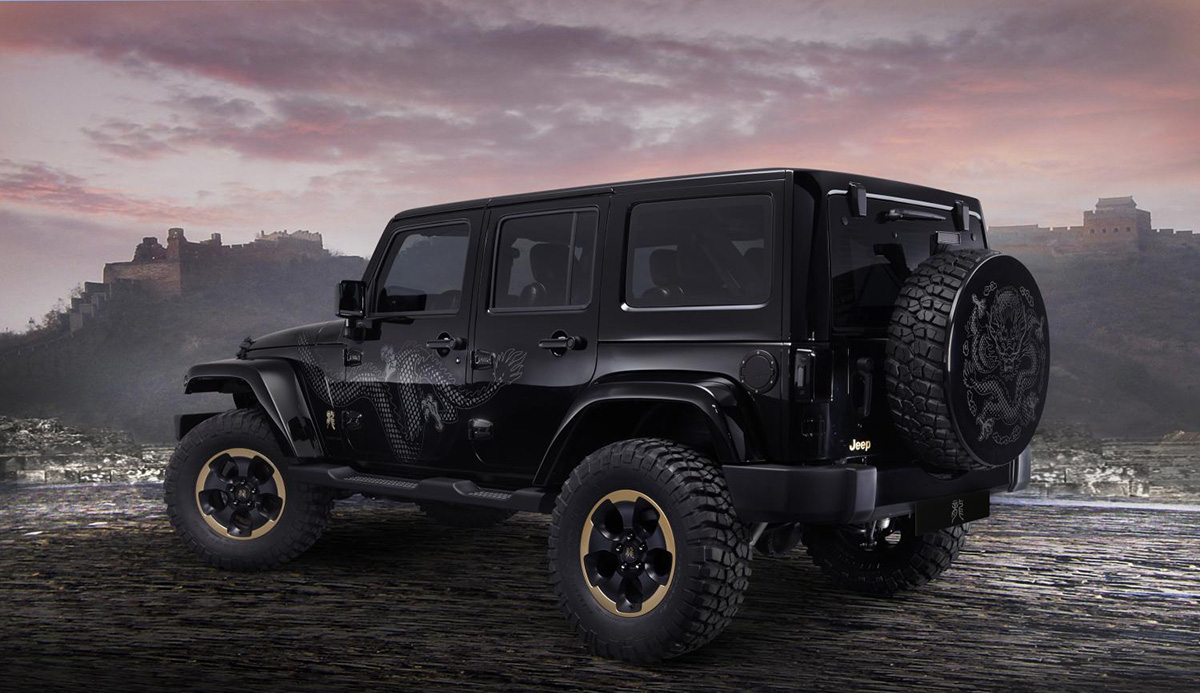 The Dragon is an important symbol in Asian cultures. It symbolizes strength, power, aspiration, royalty, and good fortune. These characteristics were points of emphasis when designers created the new Dragon Edition, using upscale materials and Black and Bronze satin gloss Jeep Wrangler rims, body work, and interior styling, and more.
The new Dragon Edition is only available in black as a four-door unlimited model with three-piece hard top. Designers used Bronze Satin Gloss features throughout such as inside the front grille slats, headlight borders, and Jeep badge. Contrasting Gloss Black is found on the front and rear bumpers while a black spare wheel cover and MOPAR fuel filler door also wear the dark color. Pointing to its inspiration is a Dark Charcoal dragon figure worn on the hood and driver's side of the SUV. A new set of 18-inch Jeep Wrangler rims feature a five-spoke design and matte black finish with Satin Bronze high-gloss edging.
At the heart of the new 2014 Jeep Wrangler Dragon Edition is the award-winning 3.6-liter Pentastar V-6 engine. The engine sends a total of 285 horsepower and 260 lb-ft. of torque through the strong four-wheel drive system to the 18-inch Jeep Wrangler rims while achieving an impressive 21 MPG.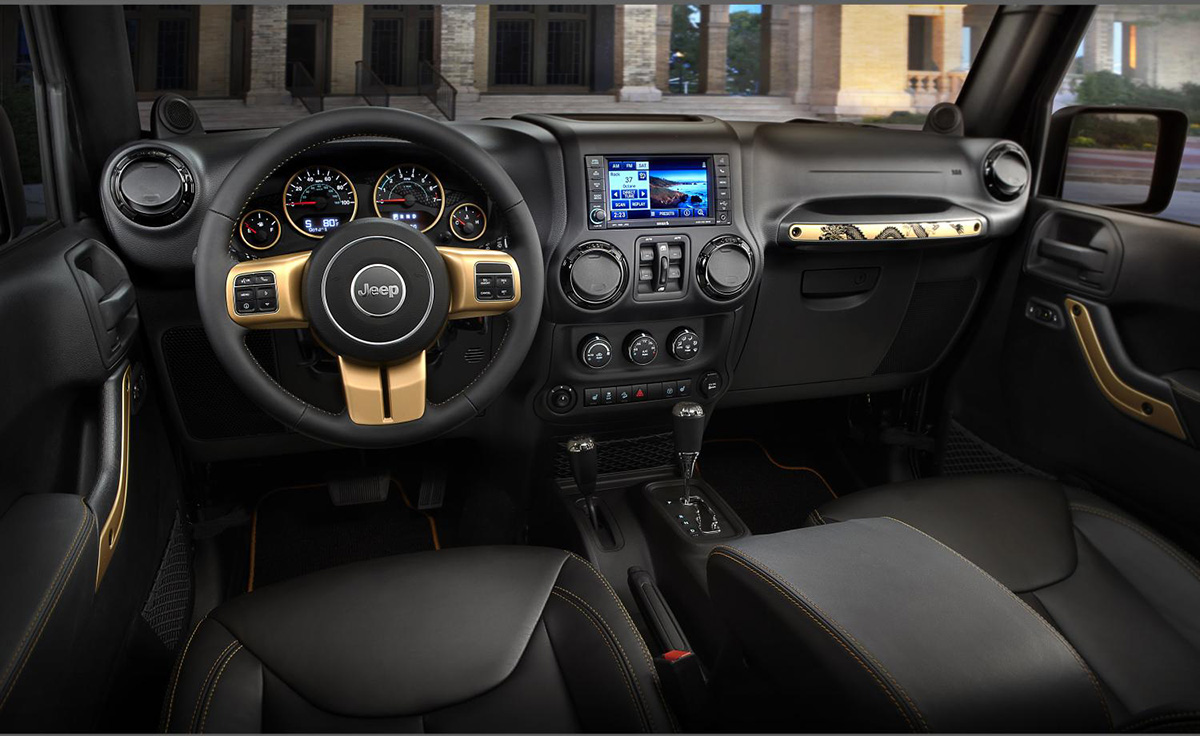 Inside, the black and bronze dragon theme continues. Passengers are held by heated black nappa leather seats with Satin Bronze Dragon Scale on the outside of the bolsters. The center console, armrests, and steering wheel also wear bronze scales, while high gloss black adorns the instrument panel bezels and door handles. The steering wheel spokes and passenger-side grab handle wear Satin Bronze along with the bound floor mats. The finishing touch is a dragon graphic overlay in the gauge cluster.
Pricing for the 2014 Jeep Wrangler Dragon Edition will start at $36,095 MSRP.