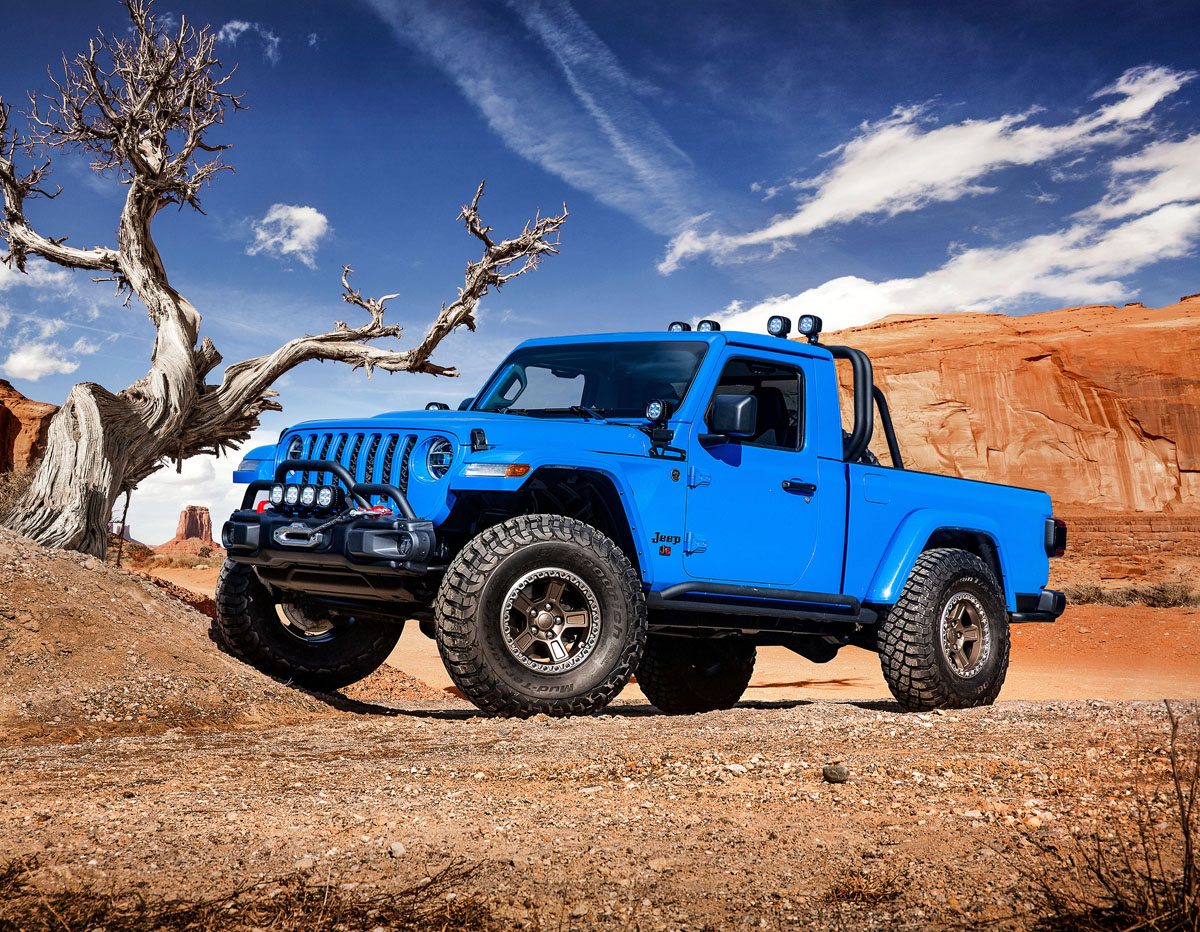 All truck with a retro look.
Every year, Jeep enthusiasts gather in Moab, Utah, for the annual Easter Jeep Safari to experience some of the most challenging trails and beautiful scenery America has to offer. The Jeep brand also comes every year with concept vehicles sporting new parts, retro looks, and more as their truck wheels are ready to hit the trails.
At this year's 53rd Easter Jeep Safari , six different concept vehicles were unveiled each showcasing a mix of new looks, prototype and production Jeep Performance Parts, new truck wheels, and lots more.
"Customization is one of the highest priorities for Jeep brand enthusiasts. This is why we have proactively developed a portfolio of more than 200 exclusive parts and accessories for the all-new Jeep Gladiator," said Steve Beahm, Head of Parts and Service (Mopar) and Passenger Car Brands, FCA – North America. "This portfolio is backed by a factory warranty and has been put through tens of thousands of hours of development, testing and validation, providing our customers a great array of products and peace of mind. At the 2019 Easter Jeep Safari, we will be inspiring our customers by showcasing just a fraction of what is currently available in our catalog and also some conceptual accessories that might make it into production in the near future."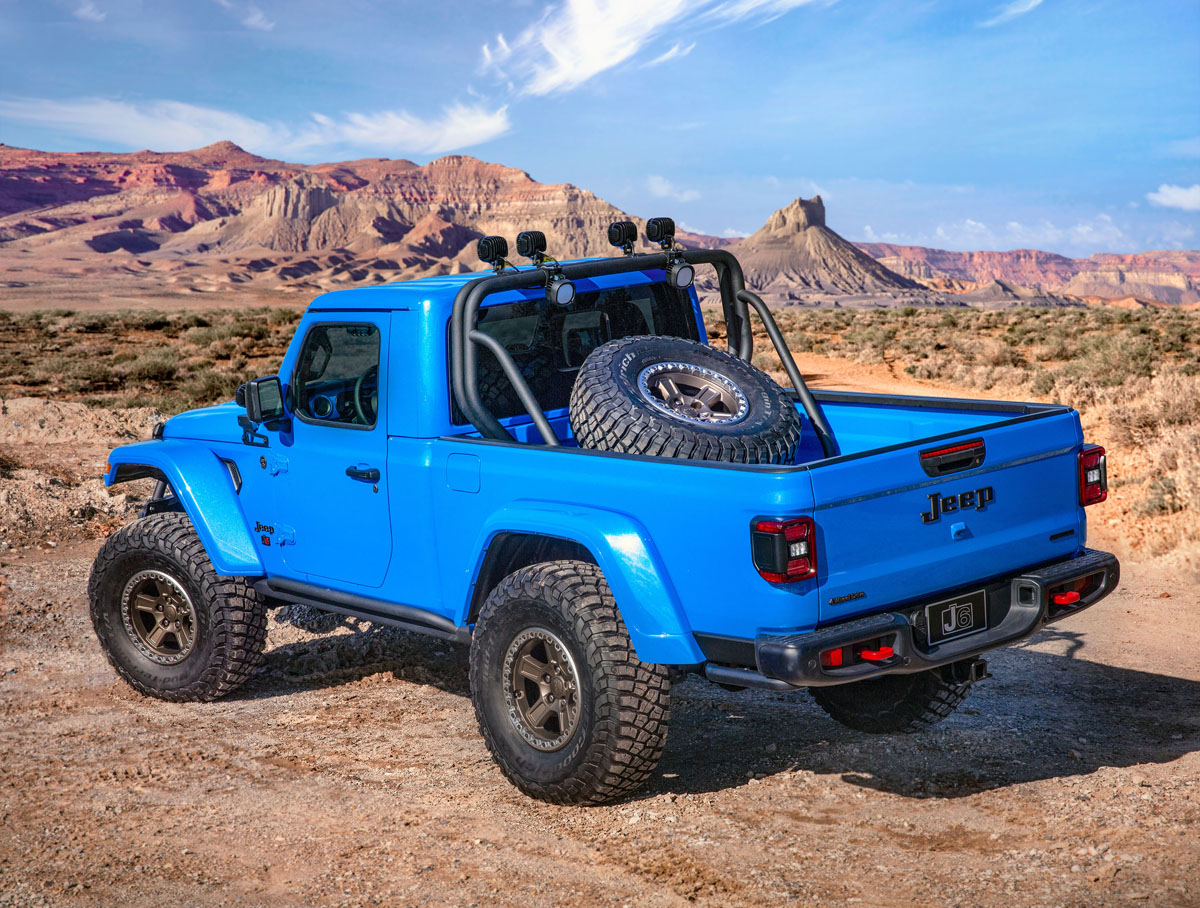 The new Jeep J6 concept is based on the Wrangler Rubicon in a two-door configuration to maximize cargo space for the new six-foot functional bed "box" area. This is 12-inches longer than the standard Gladiator bed. The Jeep and Mopar team went back to the 1970s when designing the J6 concept and used a Metallic Brilliant Blue paint to pay homage to the 1978 Jeep Honcho.
The new Jeep J6 concept features a prototype body-color spray-in bedliner with a 2.25-inch steel prototype sport/roll bar with a set of four 5.0-inch Jeep Performance Parts LED lights. There's also a prototype spare tire carrier for a 37-inch tire in case one of the truck wheels suffers a flat.
At the front of the Jeep J6 concept is a prototype 2.0-inch steel stinger bar that bolts directly to the Rubicon front bumper. This bar is also the mounting point for four 5.0-inch Jeep Performance Parts LED lights while two additional ones sit near the A-pillars for a total of 10 lights. Staring ahead is a custom Mopar Satin black grille and Mopar hood latches on the standard hood. Rock rails made from 2.0-inch steel tubes welded to the standard Jeep Gladiator rails sit along each side. A removable hard top sits above while classic Jeep J6 badging is proudly worn on the tailgate and fenders.
New prototype 17-inch beadlock truck wheels with a deep dish design are featured on the Jeep J6 concept. Here, the new truck wheels feature a Brass Monkey finish with Silver beadlock ring to contrast the Metallic Brilliant Blue exterior. A new Jeep Performance Parts lift kit allows for 37-inch tires to be used. Beneath the hood sits a 3.6-liter Pentastar V-6 engine with more power thanks to a Jeep Performance Parts cold-air intake.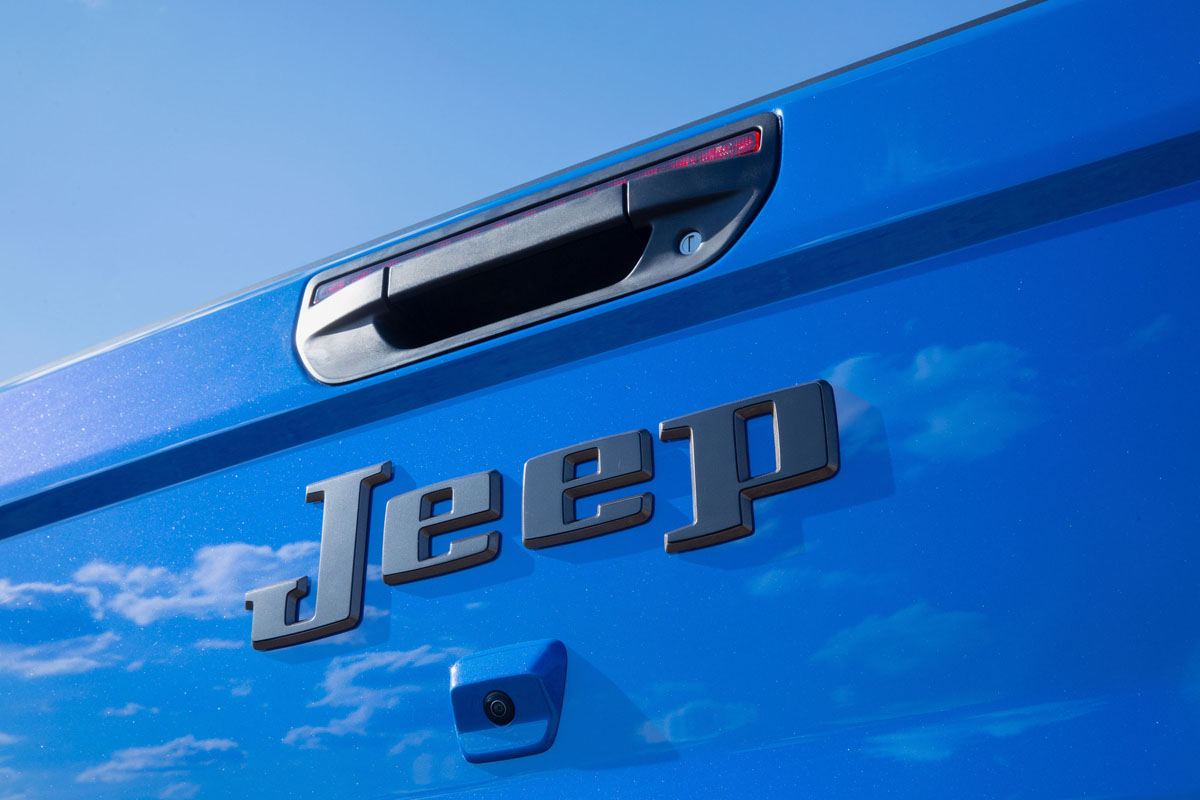 Inside, the Jeep J6 concept features Katzkin leather seats and armrests with body-colored stitching. The instrument panel also features body-colored inserts. A classic Jeep badge is worn by the horn pad while an auxiliary switch bank allows drivers a centralized location to operate all of the lights and trailer brake controller. A new set of all-weather floor mats, molded door sill guards, and bright pedal kit completes the transformation.
The new Jeep J6 concept is just a concept model not designed for production. However, many of the Jeep Performance Parts seen here will likely make it to production or already have.
Source: Jeep