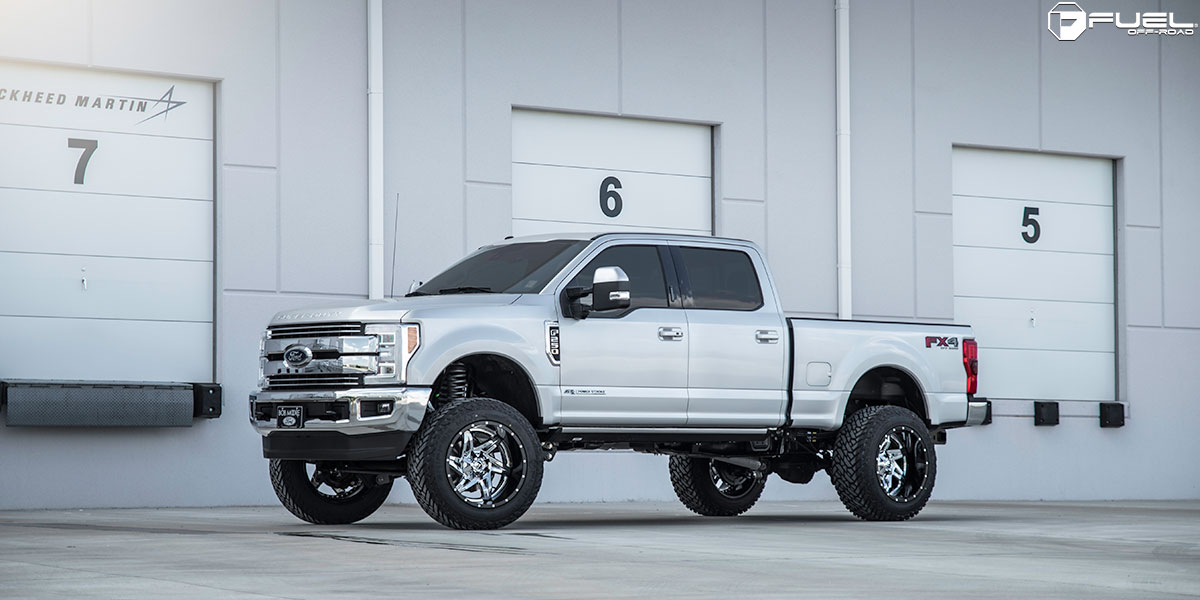 Get ready to rock!
It's time to get some serious power and style for the road ahead and there's nothing that will make a statement quite like this Ford F-250 Super Duty riding on Fuel Wheels. This beast of a machine is big, bad, and loves to turn heads with its fitment.
There's a lot to like about the Ford F-250 Super Duty. This work-focused machine is the perfect tool for those looking to haul, tow, and get the job done right. There's space, capability, technology, and, of course, power. Under the hood of this Silver Ford F-250 Super Duty is a 6.7-liter Power Stroke turbodiesel V-8 engine. The foce-fed oil-burner creates 440 horsepower at 2,800 RPM and 925 lb-ft. of torque for the Fuel Wheels to consume and allows the truck to move mountains in the process.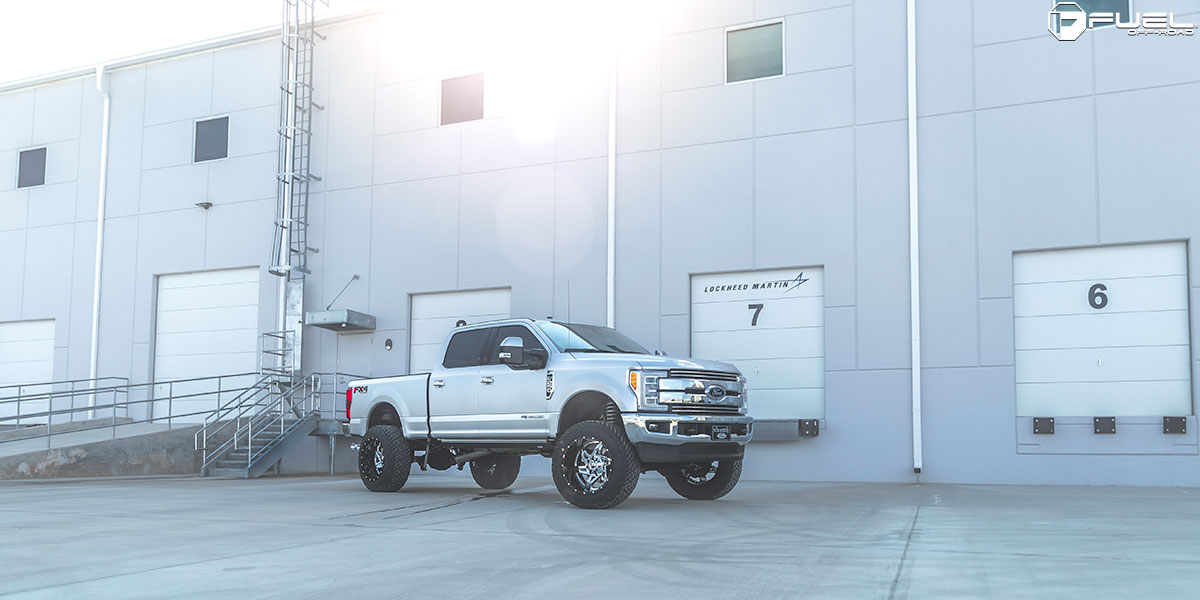 While this Ford F-250 Super Duty was designed for work, it also has a bit of style to it as well thanks to a new set of Fuel Wheels and a lift kit. The entire body of the truck was raised considerably thanks to a new suspension lift kit that provides the new set of rims and tires with more than enough clearance.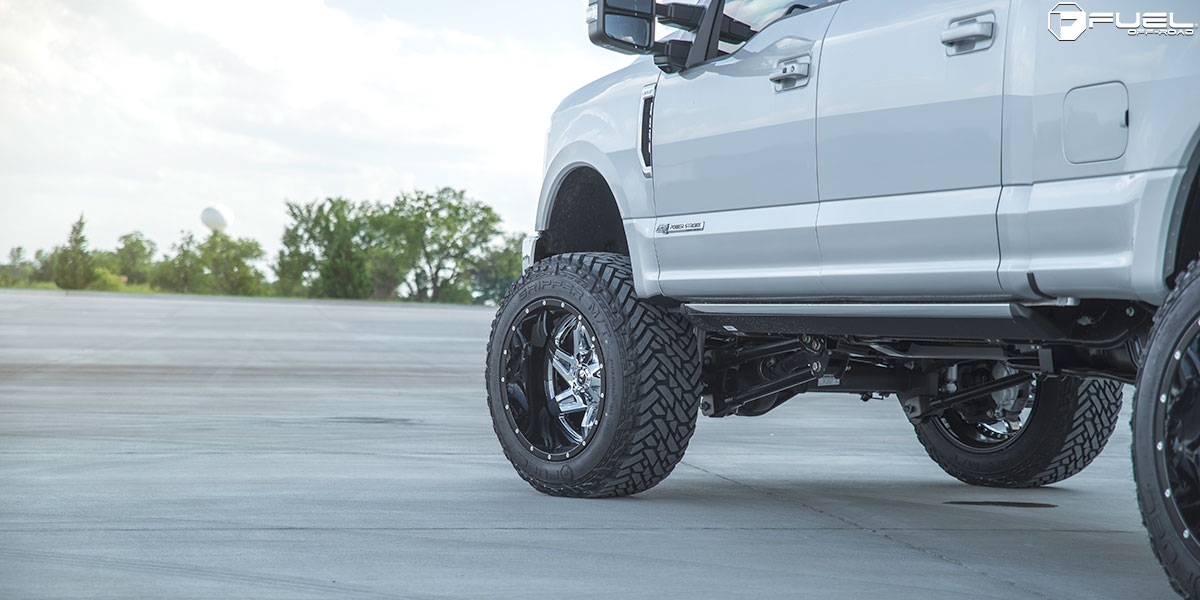 The massive fitment starts with a set of new Fuel Rocker – D272 rims with a unique six twisting spoke design with deep lips and exposed hardware. The Fuel Rocker – D272 rims measure a hefty 22 x 14 at the front and rear, and feature a Chrome finish with Gloss Black lips that perfectly match the exterior of the Ford F-250 Super Duty. Each one of the Fuel Wheels also wear a set of meaty 38/15.5 R22 Fuel Gripper M/T tires for superb traction in a variety of different terrains.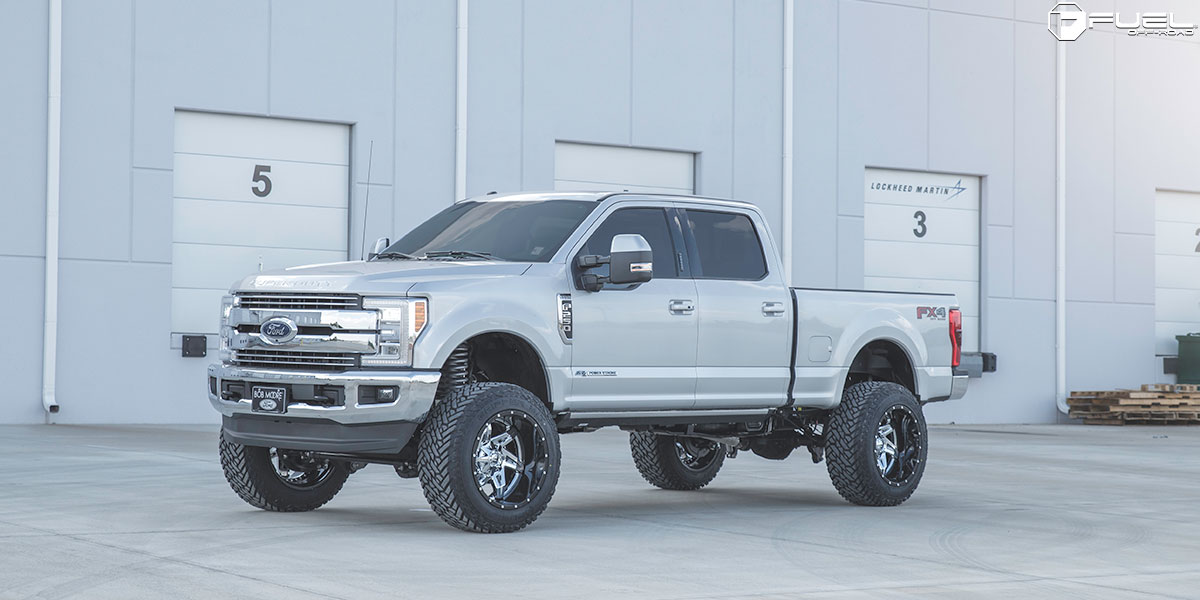 This Ford F-250 Super Duty with Fuel Rocker – D272 rims is ready for anything that work has to throw at it with some serious style.
Fitment Specifications:
Vehicle: Ford F-250 Super Duty
Wheels: Fuel Rocker – D272
Wheel Finish: Chrome with Gloss Black lip
Wheel Size: 22 x 14.0
Tires: Fuel Gripper M/T
Tire Size: 38/15.5 R22
Source: Fuel