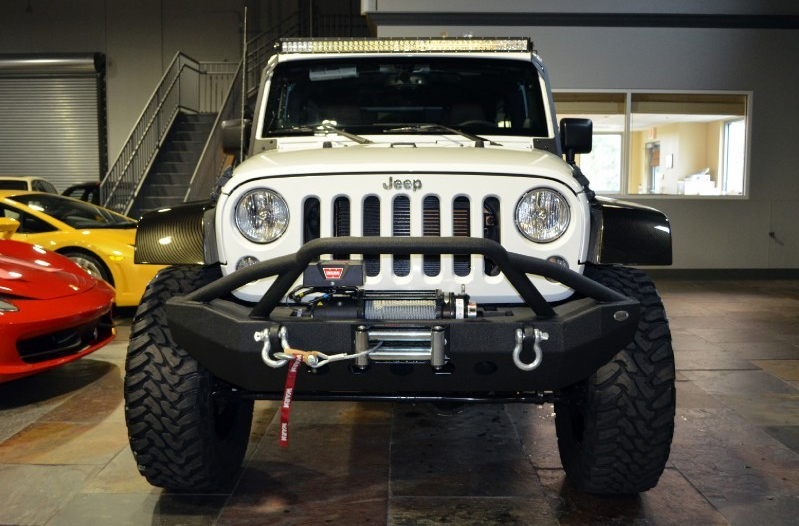 Time to go into the dirt, mud, and water.
In the SUV marketplace, Jeep has made a name for itself in the world of off road driving. Decades of being able to power through dirt, rocks, mud, water, hills, and anything else thrown its way have made the brand a go-to for go-anywhere automotive enthusiasts in the automotive world. What makes the Jeep Wrangler so likeable is its ability to be modified extensively with off road wheels, suspension upgrades, drivetrain modifications, and more. This 2014 Jeep Wrangler Unlimited Rubicon with XD wheels, JK performance parts, and carbon fiber upgrades is the perfect vehicle for those looking to conquer the rough terrain and look good in the process.
The featured 2014 Jeep Wrangler Unlimited Rubicon was ready for anything right after it rolled off the factory line. There was more planned for this Jeep in terms of fun and driving ability, however.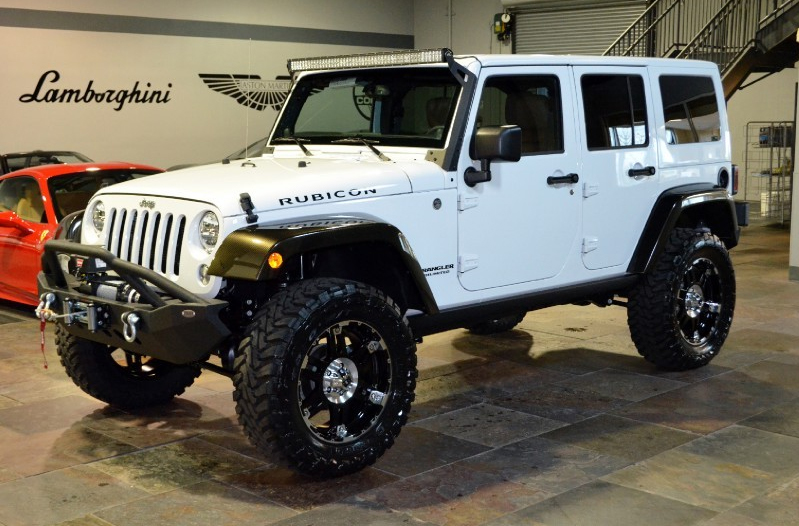 One of the first things on the list was a net set of off road wheels that would replace the standard rims. New XD Wheels were selected, specifically the XD 797 Spy wheels in a mighty 20-inch setup for the SUV. The new rims were given a set of beefy Toyo Open Country tires that measure 35×12.5×20 to handle all sorts of terrain.
With meaty rubber overcoming anything in its path, the next step was to upgrade a few other aspects of the 2014 Jeep Wrangler Unlimited Rubicon. A new JK exhaust extension kit and steering stabilizer system were both installed, with the latter keeping the new XD wheels pointed in the right direction. A 50-inch LED light bar with bracket helps to light the way and illuminate the night for evening expeditions in the wilderness. Covering the new XD wheels is a new set of lightweight carbon fiber fender flares that also do the job of looking good in the mud. The final touch, just in case others without off road wheels get stuck, is a VR8000 winch.
Off road performance and style is the name of the game with this 2014 Jeep Wrangler Unlimited Rubicon. Nothing will get in its way and nothing will stop the SUV.