Mickey Thompson Deegan 38 Tire Reviews, Feedback, & Opinions
What to expect from the all-purpose, mud-terrain tire.
When a tire manufacturer collaborates with a racing driver, good things usually happen. That's exactly what occurred when Mickey Thompson created the Deegan 38 tire in cooperation with Brian Deegan. Whether it's Motocross, rally, or off-road racing, Deegan has the hardware to prove that he can drive fast. Deegan and Mickey Thompson both know what makes a good tire, and the new Mickey Thompson Deegan 38 tire is the perfect example of a great collaboration.
The new Mickey Thompson Deegan 38 tire features bright "DEEGAN 38" lettering on each sidewall on the 15-, 16-, 17-, and 18-inch sizes while the big, bad 20-inchers get stylized black sidewalls. The tire boast a wide outer-void that allows it to self-clean while having a commanding, terrain-gripping look. The inner-void sections have been designed to reduce noise and keep a larger contact area for maximum grip on- and off-road. Even though these tires are made for high-performance off-road traction and grip, they have a superb spring quality that makes for great all-season performance and allows the tire to conform to changes in surfaces.
What makes the Mickey Thompson Deegan 38 tire so spectacular is its ability to perform off-road while keeping a calm and confident attitude on pavement. These qualities make them perfect for your truck or SUV as they are more than capable of handling any kind of mud or dirt while providing a quality ride on asphalt.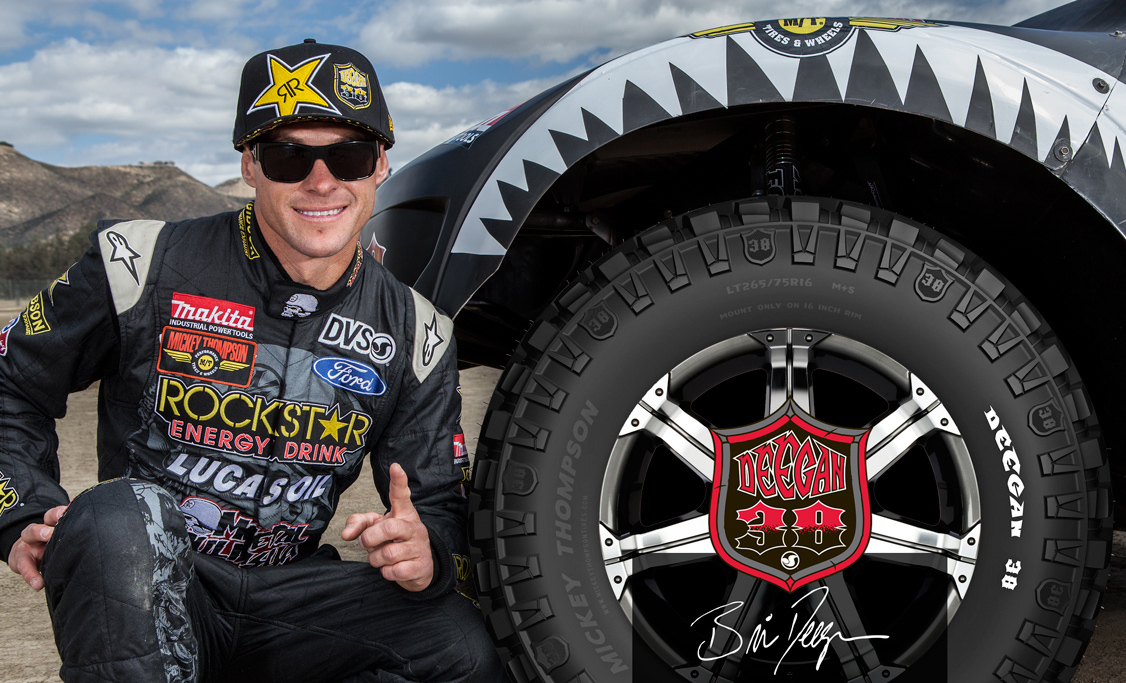 We spared you the time and hassle of finding out how good these tires actually are and compiled some comments from real drivers using Mickey Thompson Deegan 38 tires:
Mickey Thompson Deegan 38 Feedback
"Excellent experience with Mickey T's had both ATZ and MTZ very nice tire, softer than BFG's"
– Stainless Works
RaptorForum.com
"Fairly mild mannered on the street. They're louder than stockers but not even close to a Toyo MT. I didn't want a loud tire and these won't bother me at all. To say I put these to the test today would be an understatement. They're amazing in the dirt. I'm happy."
– Factive
RaptorForum.com
As new reviews emerge we'll be sure to update this post.
Click Here To Buy Mickey Thompson Deggan 38 Tires Here