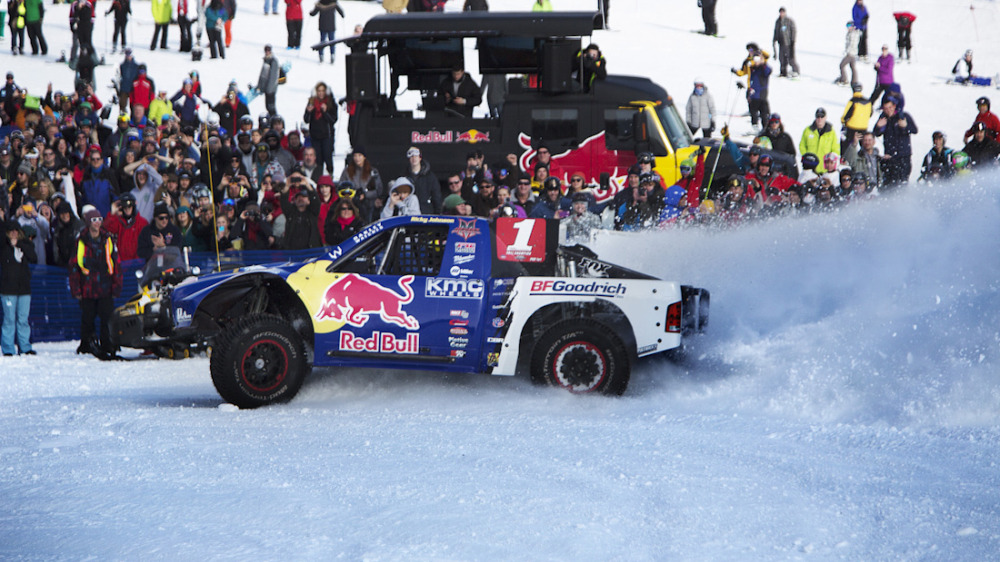 From the desert to the frozen tundra.
Off road racing trucks may be known for their epic battles across harsh desert sands and slippery mud and dirt, but Red Bull is looking to change things up a bit with their new Frozen Rush. The inaugural 2014 Frozen Rush in January will feature KMC Wheels drivers as they battle it out against the competition looking to take home the victory in the first-ever event.
On January 10th, eight drivers of Pro 4 race trucks will head to Maine to battle it out in the inaugural Red Bull Frozen Rush. Of the eight, three drivers will drive under the KMC Wheels name: Bryce Menzies, Ricky Johnson, and Carl Renezeder. The three will push their 900 horsepower Pro 4 race trucks through the snow, slush, and ice as they try to be the first to win the event.
"The world needs to see what a Pro 4 can do in the snow," driver Ricky Johnson told Red Bull, who tested conditions in his Pro 4 earlier this year on a snow-covered mountain slope normally reserved for skiers and snowboarders. "I was really inspired by what my Pro 4 could do when challenged with the unique terrain," Johnson told Red Bull. "I'm excited to see what these trucks are made of when the action of racing head-to-head is thrown in there. There is a lot to look forward to."
The format for the Red Bull Frozen Rush will be a one-on-one, single elimination bracket-style event. Two drivers will race on the nearly mile-long course at a time with the loser being eliminated. The trucks will work to conquer runs, jumps, drifts, and even slalom gates as they try to come out with the victory.
KMC Wheels along with the rest of the competition worked hard to modify their Pro 4 race trucks to ensure maximum traction and reliability throughout the course of the elimination-style event. Each truck saw its KMC wheels outfitted with new BF Goodrich studded and treaded Mud-Terrain off road tires to cut through the powdery white stuff. The trucks were also modified to handle the colder temperatures instead of the heat they normally face in desert conditions.
Supervising and overseeing the competition during the race will be the United States Auto Club, which is the sanctioning body behind the Traxxas TORC and National Sprint Car series.
The inaugural Red Bull Frozen Rush is scheduled to be held on January 10th in Maine. We'll be cheering on KMC Wheels and their drivers!