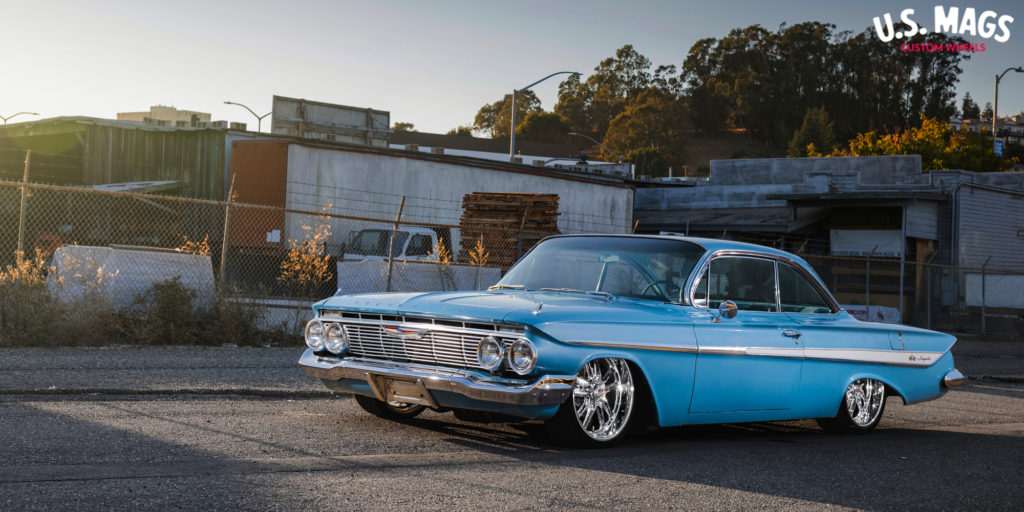 American masterpiece.
The Chevrolet Impala has been a mainstay in the American passenger car game since 1957. It went on a few brief hiatuses from 1985 to 1994, and 1996-1999, but has always lived on in the hearts of collectors and American car enthusiasts. This 1961 Chevrolet Impala coupe is beaming with old-school style with a custom twist from its lowered suspension and US Mags wheels to the shimmering Chromework throughout the body.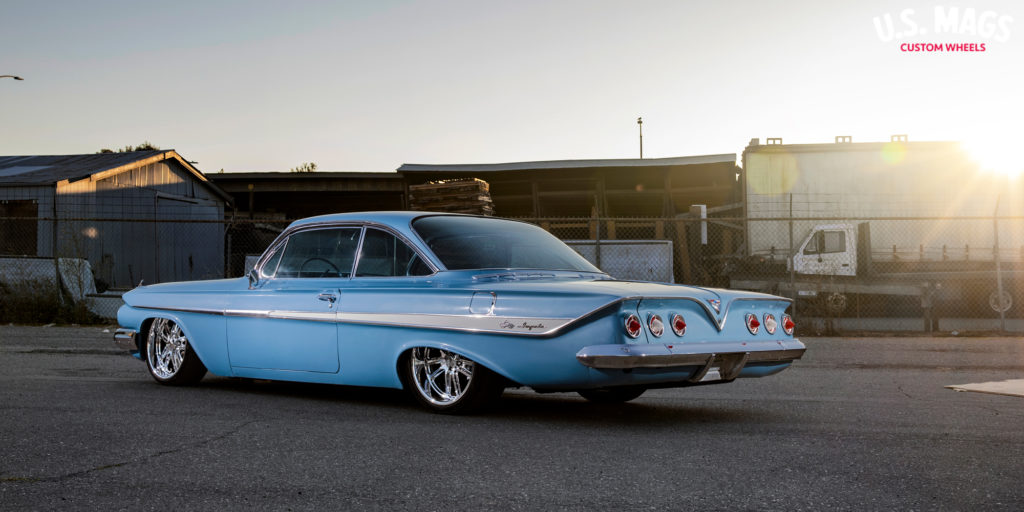 The third-generation Chevrolet Impala brought the futuristic, space-age models of the '50s into the modern age. Aspects that were popular in the '50s were slowly phased out over the evolution of the model throughout 1960-64, but the 1961 model retains some classic design cues that makes it quite the classic. The swooping side-line extends the length of the car and pairs perfectly with the new US Mags wheels while the rear boasts a modern take on the iconic rear taillights. A bright, large Chrome grille stares ahead with confidence.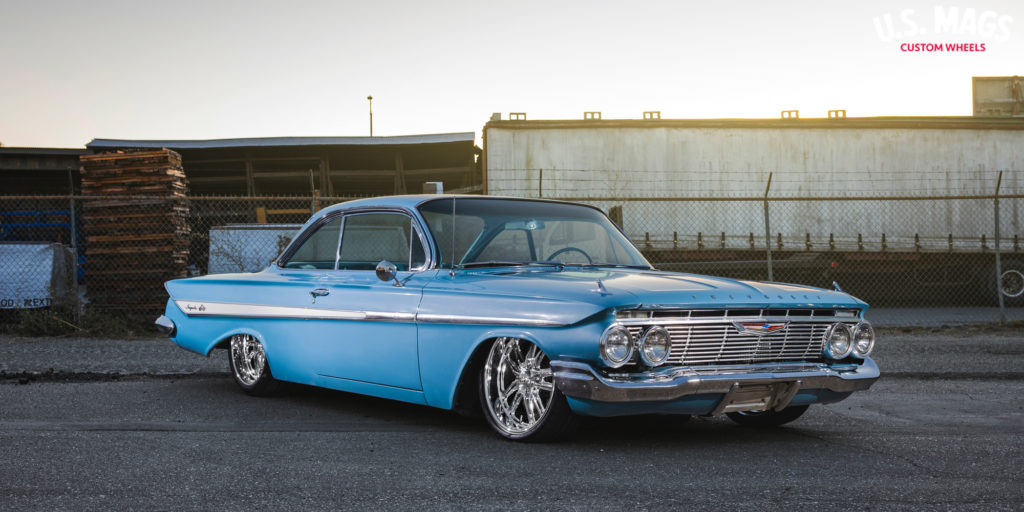 The 1961-model-year Chevrolet Impala saw the introduction of the Super Sport model for muscle car fans to take advantage of at the dealership. Customers could opt for a choice of inline-six of V-8 engines that were revamped in 1962 with added power and performance to drive the rear US Mags wheels. This might not have the massive 7.0-liter 427 cubic-inch V-8 found in the 1963-model-year cars, but it still has more than enough power to haul around some serious style.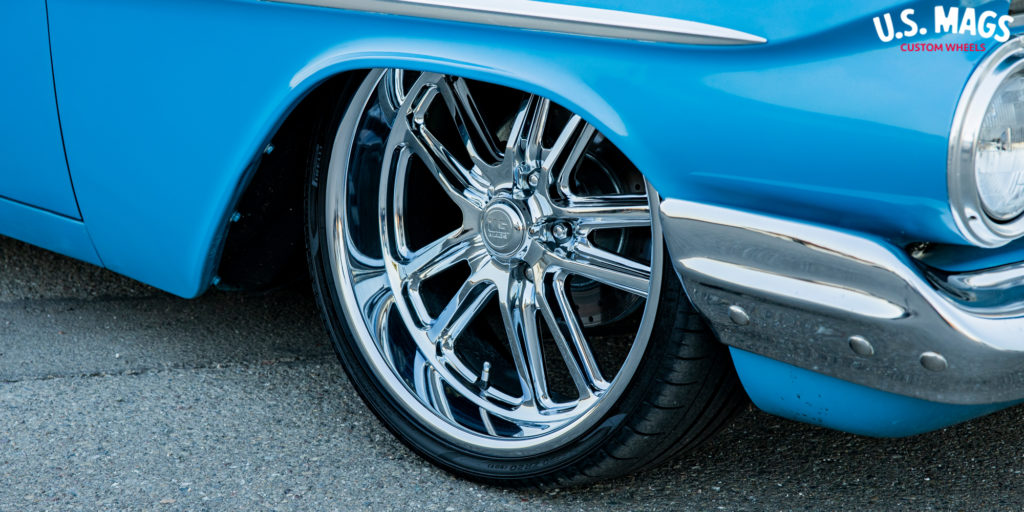 This Chevrolet Impala features a few new goodies to make this restored muscle machine a show stopper. The entire suspension is lowered and brings the new US Mags wheels right beneath the fenders for a low, nothing-but-cool look. New US Mags Bullet – 131 rims were chosen for this classic with their old-school five twin-spoke design and deep lip. Each one of the US Mags wheels measures 20 inches in diameter and features a shimmering Chrome finish that matches the exterior trim pieces perfectly.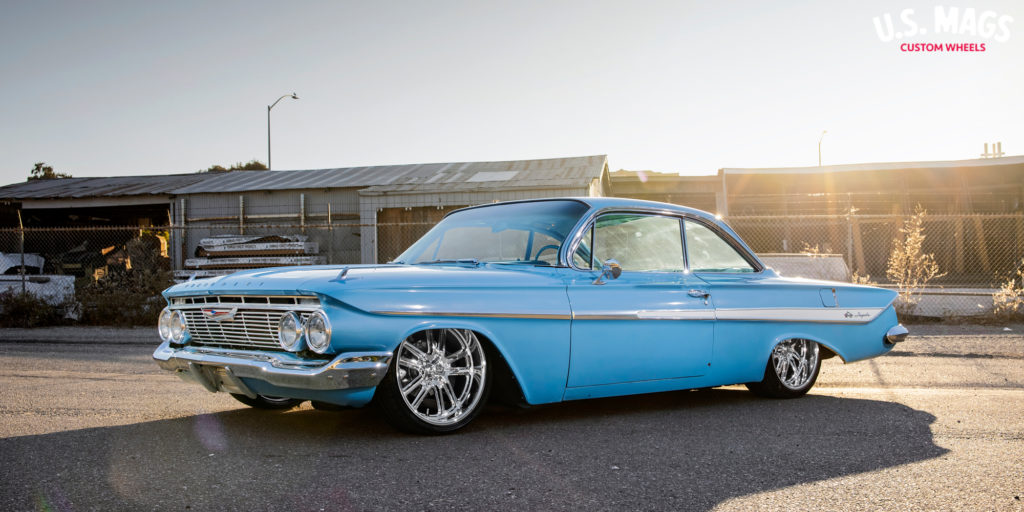 This Chevrolet Impala is nothing short of a true head-turning machine thanks to its beautiful restoration, lowered suspension, and US Mags Bullet – U131 wheels.
Fitment Specifications:
Vehicle: Chevrolet Impala
Wheels: US Mags Bullet – U131
Wheel Finish: Chrome
Wheel Diameter: 20 inches
Source: US Mags