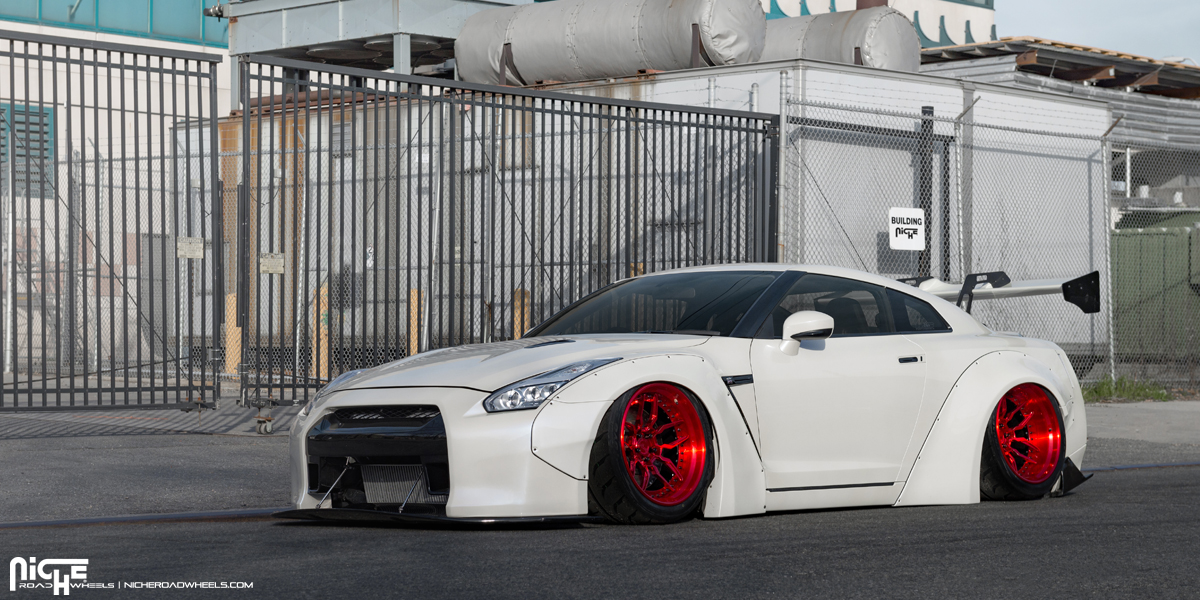 Wide 'n' Low!
The R35 Nissan GT-R has tons of potential oozing from its twin-turbocharged V-6 engine, all-wheel drive system, and advanced electronics. While it has the ability to take down higher priced exotics, it also can stop traffic with its looks, just like this bad boy wearing a full widebody aerodynamic kit and Niche Wheels.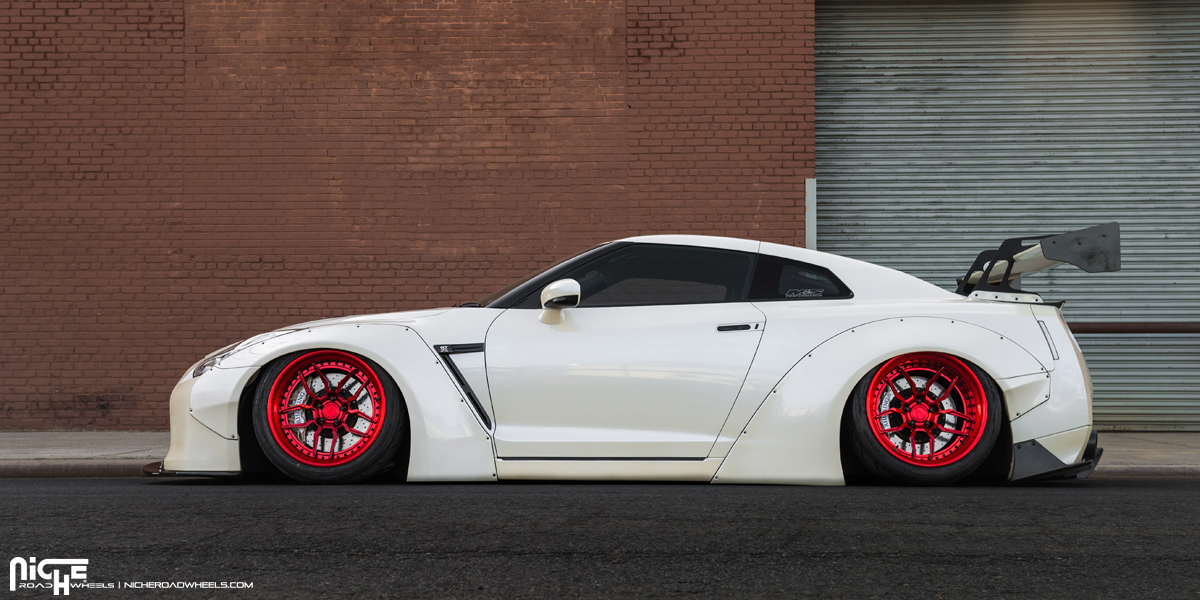 This rather polarizing – yet head-turning – Nissan GT-R commands attention with its powerful body work. A full widebody aerodynamic kit was installed starting with a new front bumper sporting larger air intakes to feed the twin-turbo engine and a new splitter. Flared front and rear fenders with exposed bolt apertures house the wide Niche Wheels beneath. At the rear, a new bumper meshes with the rear fender flares while a diffuser helps calm airflow from the super car's underbelly. A large wing proudly sits atop the ducktail trunklid for all sorts of downforce.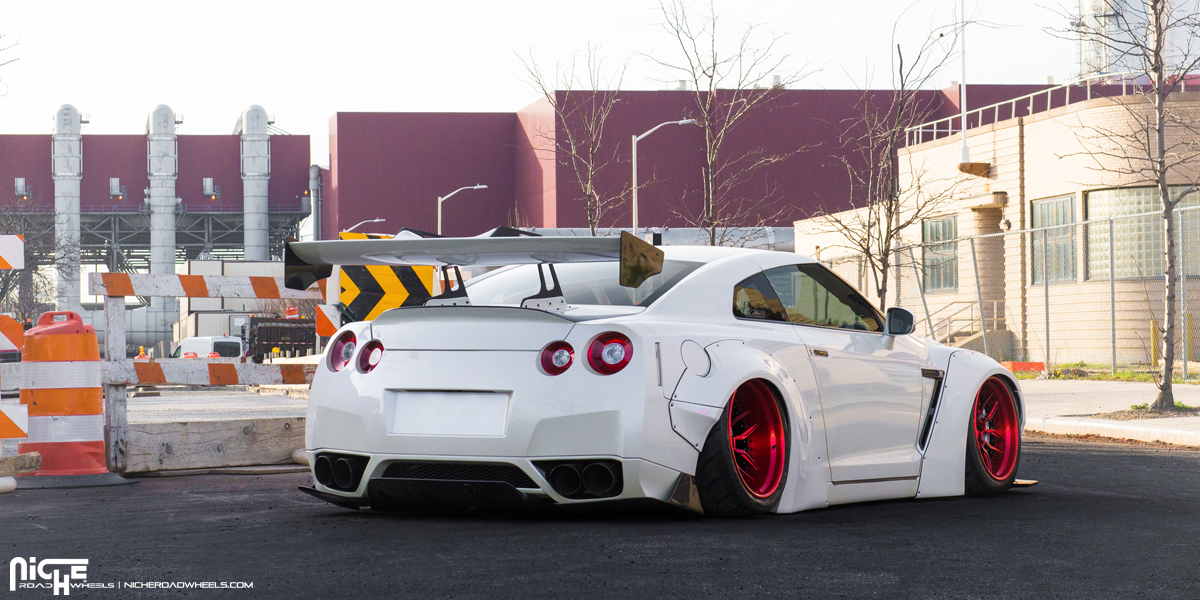 Under the ventilate hood sits a twin-turbocharged 3.8-liter V-6 engine that might sound rather diminutive in displacement, but churns out quite a bit of power in stock form. Thanks to a few modifications, that number is likely far exceeding the factory output as it spins all four Niche Wheels through the advanced all-wheel drive system.
After all those upgrades, the chassis was set to get refined. Here, a new set of Niche Wheels and air suspension were thrown on to complete the transformation. For this application, a new set of Niche Nero rims were chosen for their deep lip look. The 20-inch alloys were given a vibrant Brushed Candy Red Gloss finish that easily stands out from the white body work. To complete the fitment, a new air suspension was installed that brings the Niche Nero rims even closer to the body for a very low stance.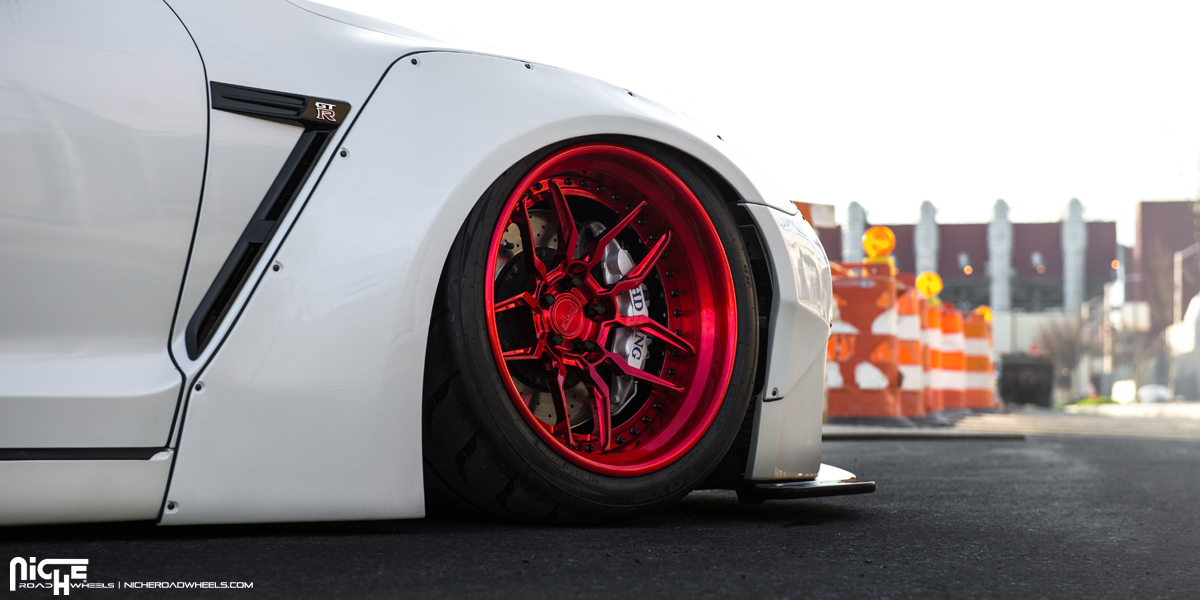 While all-out performance may take a back seat to style with this R35 Nissan GT-R, you can bet that this Godzilla can still move with the best of them.
Fitment Specifications:
Vehicle: R35 Nissan GT-R
Wheels: Niche Nero
Wheel Finish: Brushed Candy Red Gloss
Wheel Diameter: 20 inches
Source: Niche