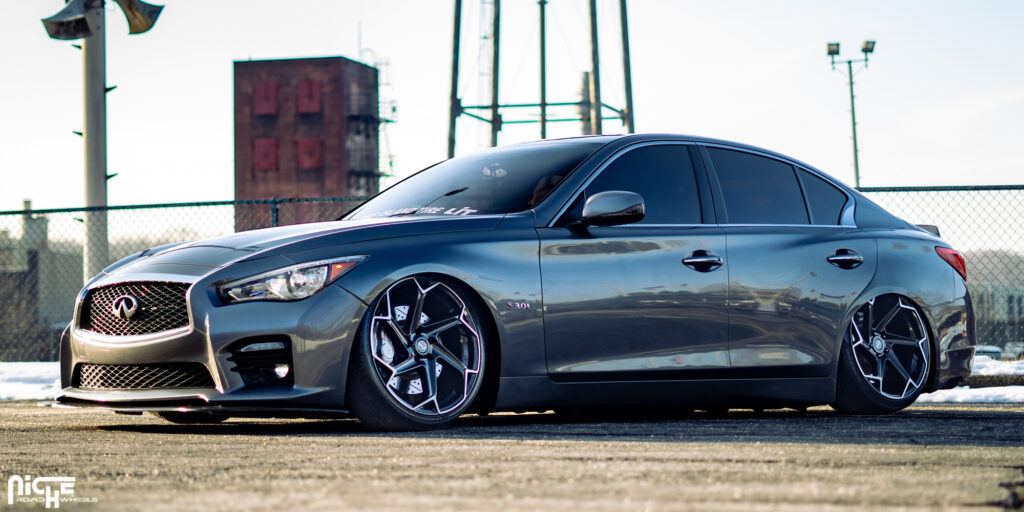 Turbo twist!
The popular Infiniti G Sedan has grown up a bit and morphed into the Infiniti Q50 luxury sport sedan. This Infiniti Q50 S isn't your average sports sedan either, it's the Red Sport 400 and it's been custom tailored with a new suspension, new engine upgrades, brakes, and Niche wheels.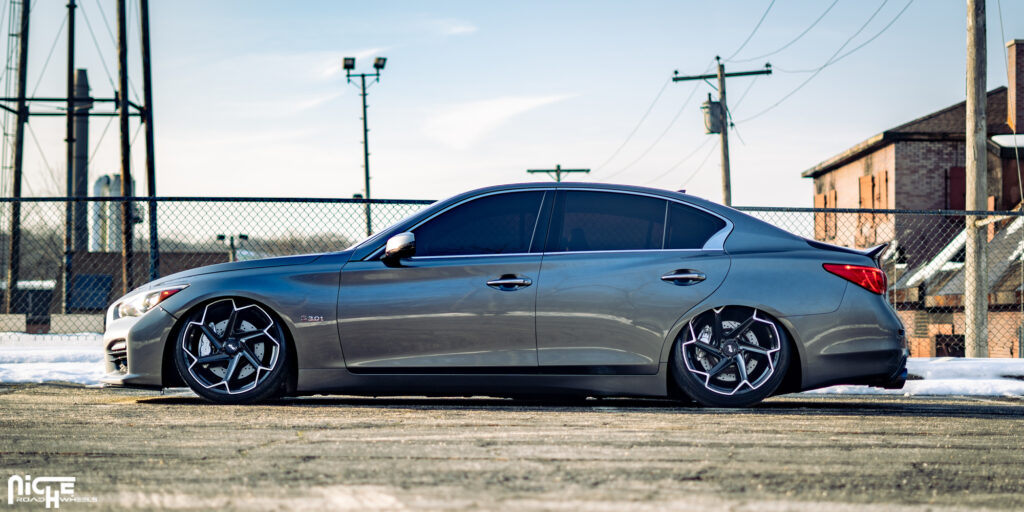 There's the standard Infiniti Q50 and then there's the Q50 Red Sport 400. This is a true sport sedan that's armed with a twin-turbocharged Nissan VR30DDTT 3.0-liter V-6 engine. This bad boy cranks out 400 horsepower at 6,400 RPM and 350 lb-ft. of torque from 1,600 to 5,200 RPM. That's sent through a seven-speed automatic to all four Niche wheels, allowing for a 0-60 mph acceleration time of just 4.5 seconds, flat. There's also quite the exhaust note rumbling from the new exhaust system with larger tailpipes.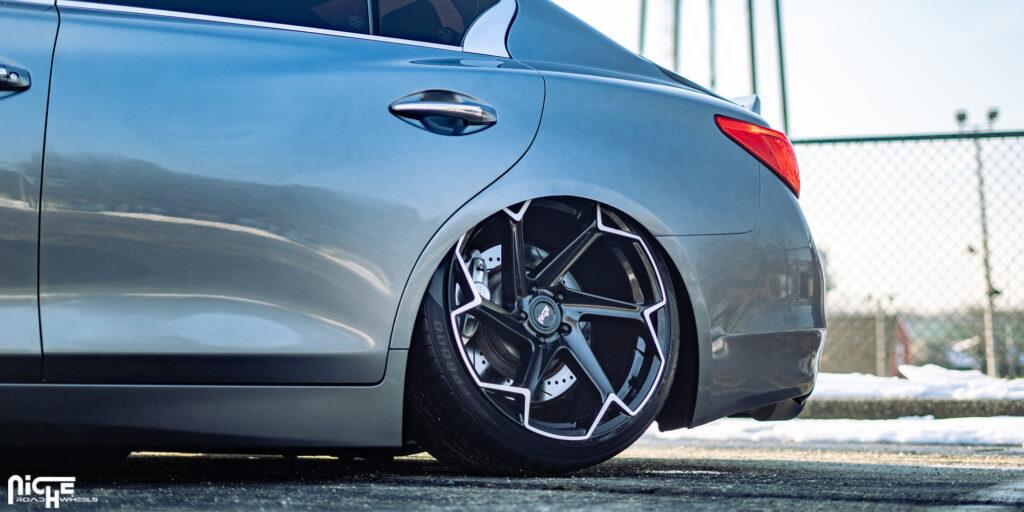 The Infiniti Q50 Red Sport 400 comes with quite a few goodies right from the factory. There's sport brakes with four-piston front and two-piston rear calipers, a new Digital Dynamic Suspension setup, sport seats, magnesium paddle shifters, exterior badging, and a new sport-styled front fascia along with loads of others features. This, however, has been modified to set itself apart from the pack with a new suspension, inner fenders to make room for the new Niche wheels, exhaust, and more.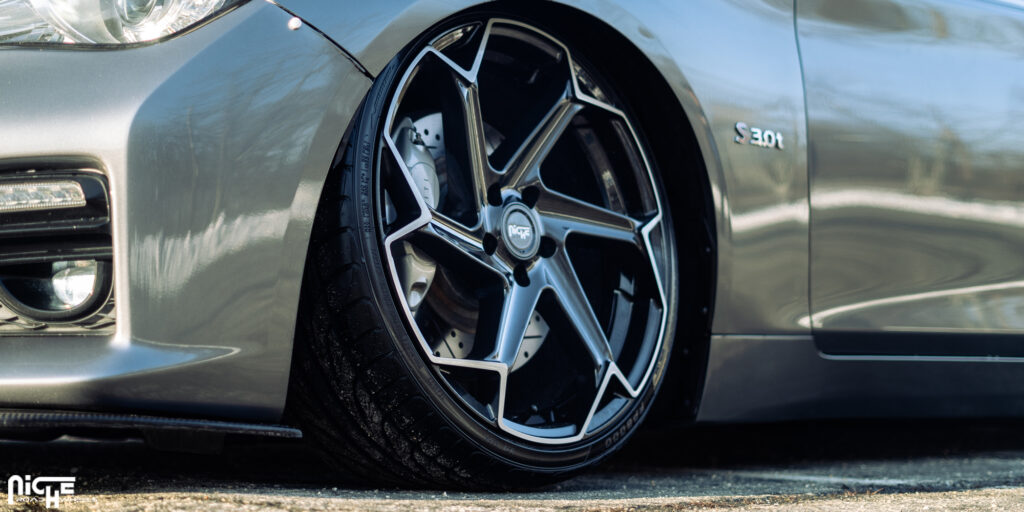 This Infiniti Q50 Red Sport 400 boasts a full air suspension setup that lowers the ride height considerably and neatly tucks the new Niche Flash – M255 rims beneath the fenders. These Niche wheels feature a six-Y-spoke design with concave depth, chiseled lines, and a directional twist for a powerful, dynamic look. Here, the Niche Flash – M255 rims were installed with a Gloss Black face and Brushed face finish that complements the exterior well. Each wheel also wears an OHTSU FP8000 tire with directional tread design.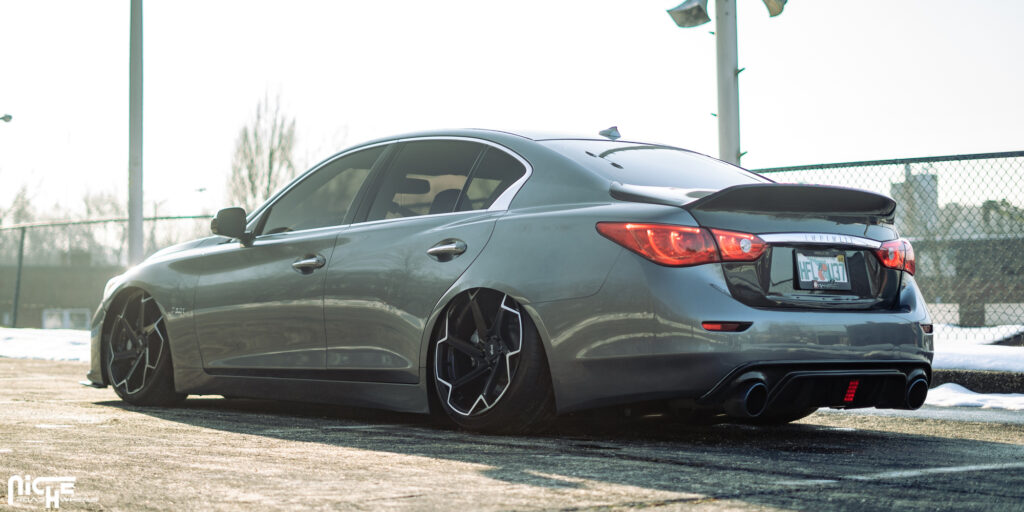 This Infiniti Q50 Red Sport 400 is a monster of s sport sedan and quite the head turner thanks to its lowered suspension and Niche Flash – M255 wheels.
Fitment Specifications:
Vehicle: Infiniti Q50 Red Sport 400
Wheels: Niche Flash – M255
Wheel Finish: Gloss Black with Brushed Face
Tires: OHTSU FP8000
Source: Niche Road Wheels