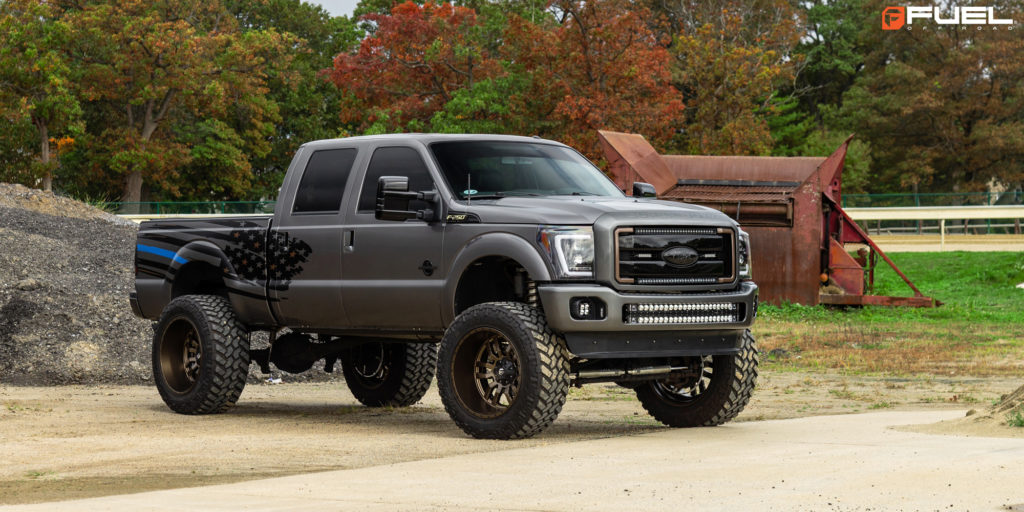 Going Big.
There's nothing like a big, lifted truck owning the road or anywhere off the pavement. The Ford F-250 Super Duty provides the perfect platform for those looking to create an intimidating truck and this one has all the inspiration that you could ask for. Not only is it a big, mean commanding machine, but it's also sporting all sorts of custom upgrades visually and mechanically from special graphics to new Fuel wheels.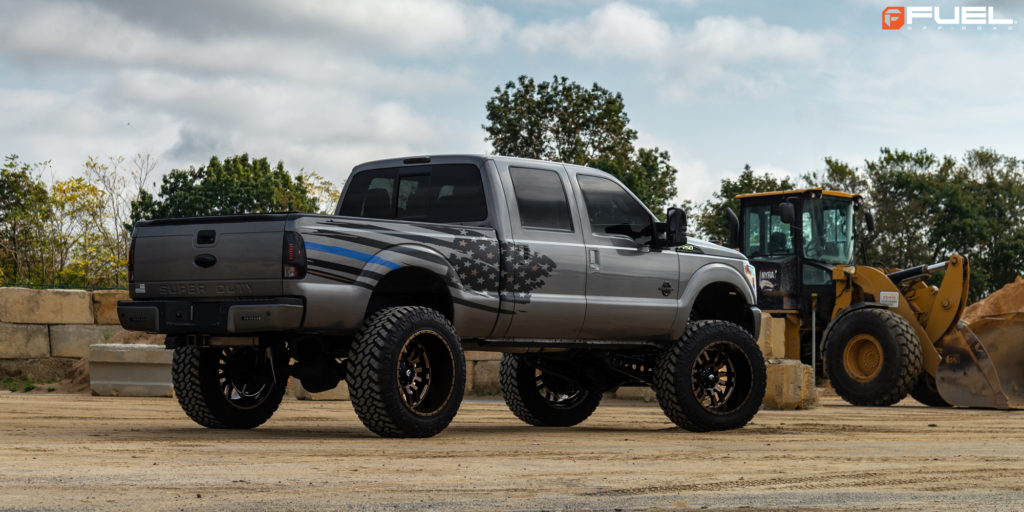 This Ford F-250 Super Duty is all sorts of muscle to back up its big-time looks too. Under the hood, there's the mighty 6.7-liter PowerStroke turbodiesel V-8 engine cranking out 450 horsepower at 2,800 RPM and 935 lb-ft. of torque at 1,800 RPM. That's paired with a TorqShift six-speed automatic transmission to the rear Fuel wheels. That's more than enough to move a small building with ease, so this bad boy isn't all looks with nothing to show for them.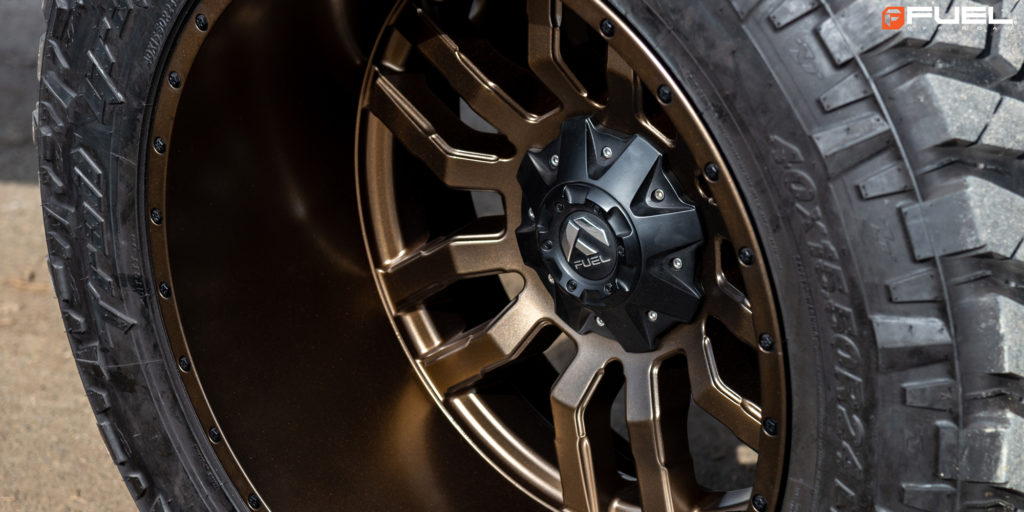 Elsewhere, there's loads of goodies. A new grille with integrated LED lights sit up front while a new bumper with LED light bars is positioned below. New dark-tinted windows hide occupants from prying eyes and a new American flag "Thin Blue Line" decal flies at the rear. A new suspension lift kit and upgrades allow for more ground clearance and make room for the new Fuel wheels and Nitto tires.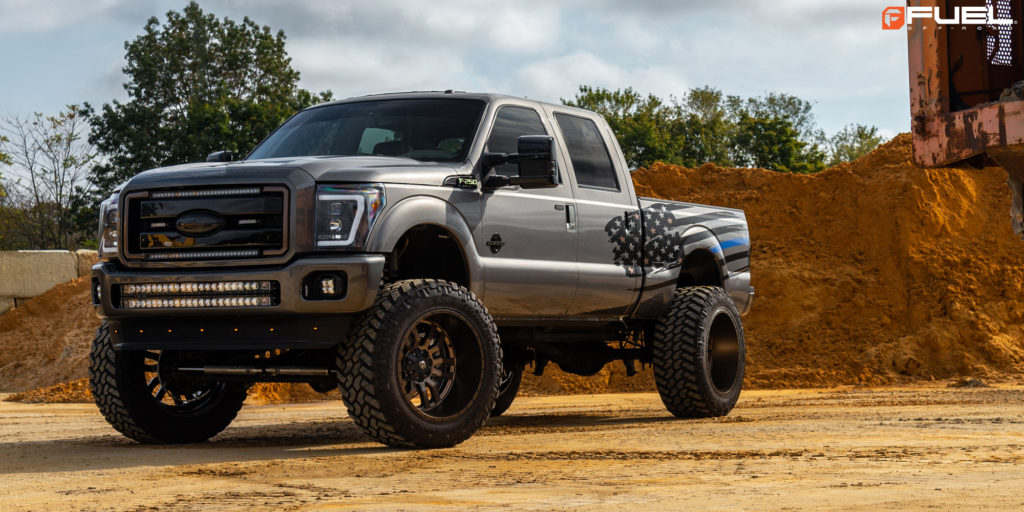 What really makes an impact is the new set of Fuel Sledge – D631 rims. These Fuel wheels measure a hefty 24 inches in diameter at the front and rear. Each one of the Fuel Sledge – D631 rims features a deep lip with six split-spokes extending from the center and a custom-tailored Bronze finish. New Nitto Trail Grappler M/T tires measuring 40 x 15.50 R24 help grab any kind of terrain that this Ford F-250 Super Duty might encounter.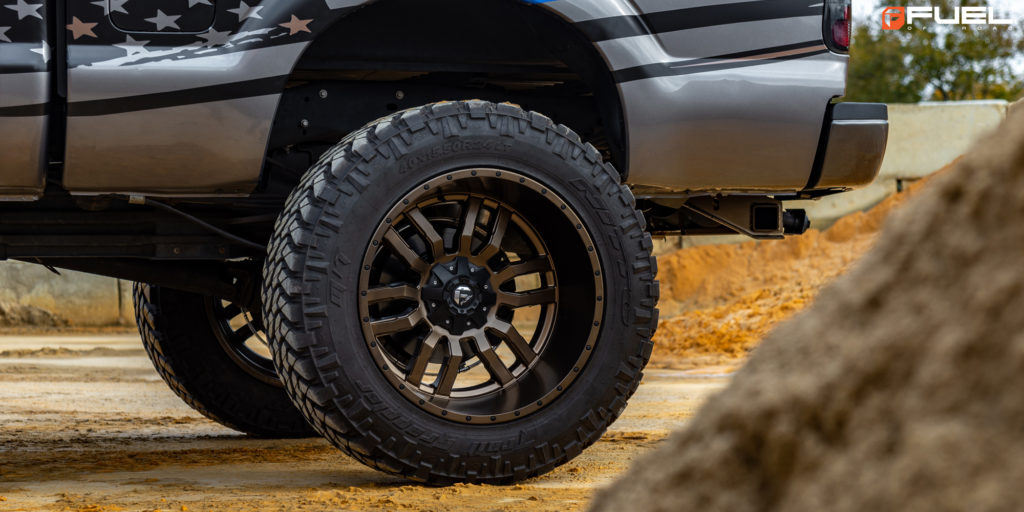 This Ford F-250 Super Duty is the king of the road or off the road thanks to its new upgrades and Fuel Sledge – D631 wheels.
Fitment Specifications:
Vehicle: Ford F-250 Super Duty
Wheels: Fuel Sledge – D631
Wheel Diameter: 24 inches
Wheel Finish: Custom Bronze
Tires: Nitto Trail Grappler M/T
Tire Size: 40 x 15.50 R24
Source: Fuel Offroad
Credit: @illusions_nyc