The vintage Chevy gets some boost!
Classic cars are a thing of beauty. Their lines, shapes, and figures aren't likely to ever be replicated due to new crash and safety standards. But, that doesn't mean that we can't still enjoy them for the stunning pieces of automotive art that once were. Even after their bodies have begun to wither away and succumb to rust, there's still life left in them. Just ask James McKey and his new "Boosted 54" project car that's being restored with a twin-turbocharged V-8 and American Racing Wheels.
The Portland, OR resident began building the car late in 2012 with the goal of combining a classic design with modern technology for an exciting driving experience. He began the build by getting the shell of a 1954 Chevy 210 off of Craigslist and trading it for a motorcycle. This isn't a basic restoration either with McKey's desire to include some modern technology. "I'm able to use some personal creativity within this build," said McKey, "It's one thing to have a cool looking car. But we want to get out and see what it can do."
The "Boosted 54" project will have it all from a roaring, force-fed V-8 Chevy engine to a set of custom rims from American Racing Wheels, and even parts from other vintage and classic cars to create a true masterpiece of automotive customization and creativity.
Beneath the hood of the "Boosted 54" will be a 5.3-liter Chevrolet LS V-8 engine. But McKey wasn't just going to leave it stock. The engine will be fed by a pair of Garrett turbochargers with all of the necessary modifications and upgrades to ensure the setup works properly. The engine will also be positioned in a way that allows the majority of its weight to be centered, allowing for better balance and handling. The goal for the twin-turbocharged LS V-8 engine is to send a total of 850 horsepower to each of the rear American Racing Wheels.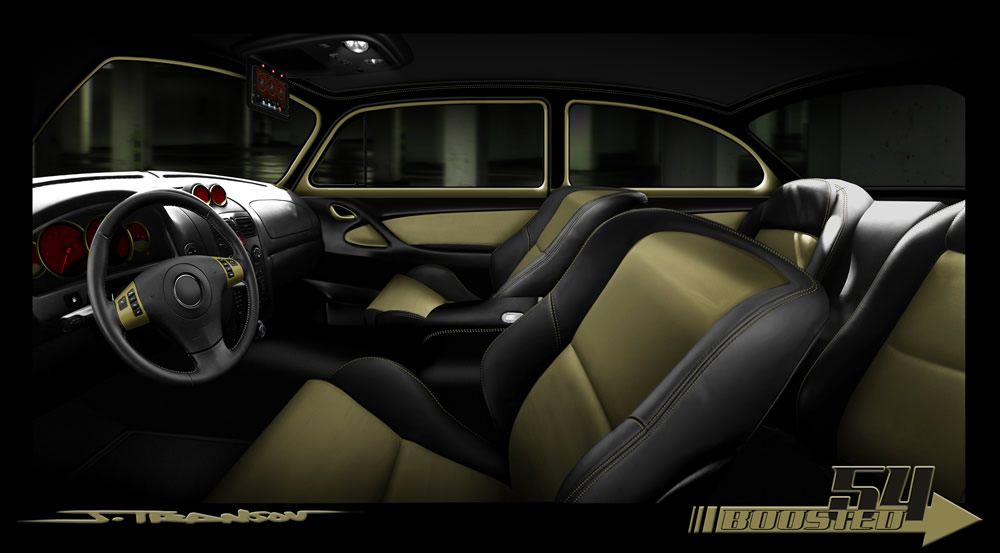 McKey is also utilizing a number of classic parts from junkyards to create his masterpiece. Items such as a dashboard from a Pontiac GTO will be installed to match the curves of the exterior. A touch screen monitor will pop out of the headliner, and drivers will be able to hide the array of gauges with a moving panel. The car will also be fitted with a MB Quart sound system as well.
The entire body of the "Boosted 54" will be restored, painted, and given a smooth finish while other trim pieces will be anodized. Putting all of the power to the road are a set of 18.0 x 8.0 front and 20.0 x 10.0 rear American Racing Wheels. McKey opted for a new set of VN701 Nova custom wheels to give the car an "American Muscle" look.
The "Boosted 54" project car built by James McKey will make its debut at the 2013 SEMA Show in November.
Source: www.boosted54.com